2021 POH Winner– Villa Homes: Farmhouse Chic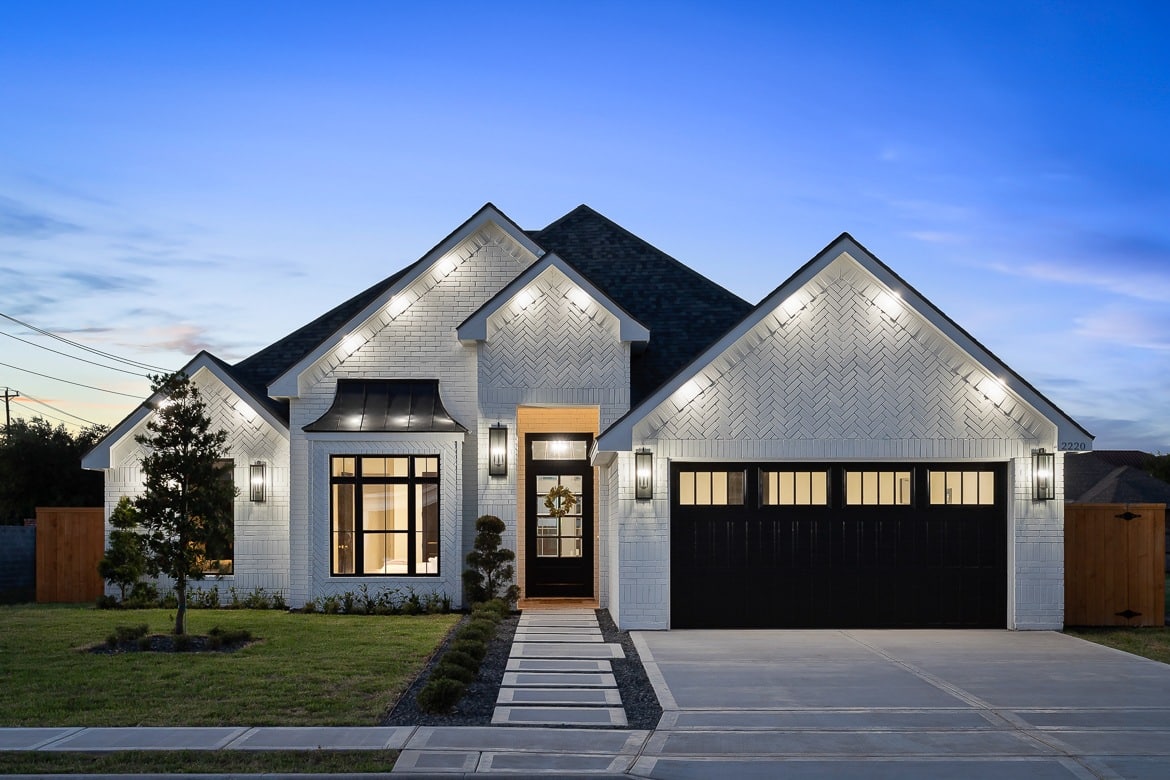 Home by: Villa Homes
Subdivision: North Pointe
City: McAllen, Tx
Home Specs: 4 Bed / 2.5 Bath / 2 Garage / 2,238 Sq. Ft. (Living) / 2,906 Sq. Ft. (Total)
Property Status: Model Home – North Pointe Sub. 2220 Jefferson Ave., McAllen Tx.
2021 RGVBA Parade of Homes Award:
"Best Home in the $351-400K Category"
---
For anyone who enjoys the nostalgia of a country farmhouse but needs modern conveniences, Villa Homes' award winner in the "Best Home: $351K-400K" category is spot on. The exterior of this 4 bedroom, 2.5 bath home utilizes white painted brick in a herringbone design with dark wood and sable accents. A large bay window, oversized wood and glass entry door, and recessed lighting add a homey and welcoming aspect.
The interior embraces the farmhouse appeal of shiplap design wood accents, immaculate white painted brick, vibrant white cabinetry with a country flair, a large farmhouse kitchen sink, and wood-look plank ceramic flooring.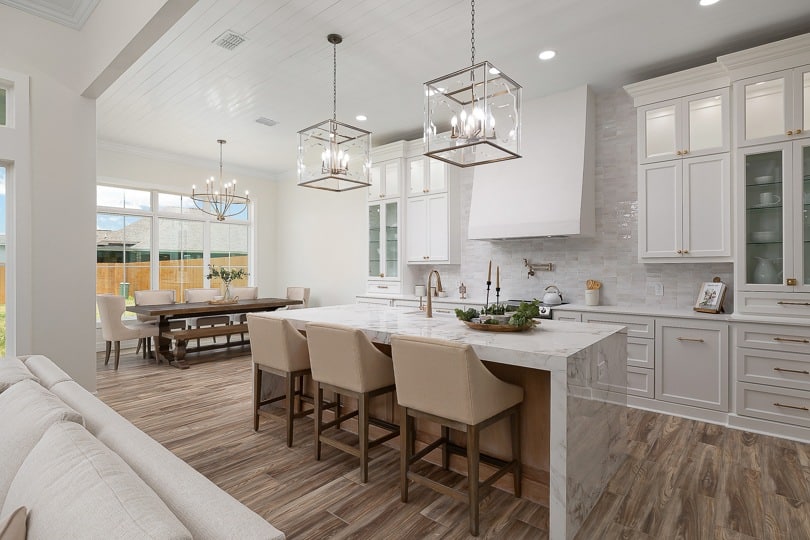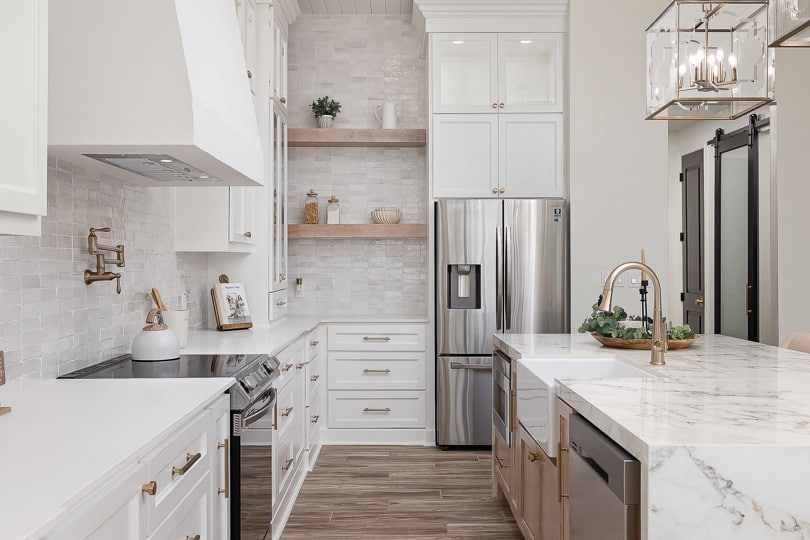 Then, Villa Homes seamlessly added the modern appeal of an open concept floor plan, oversized windows, porcelain countertops, eye-catching modern gold and glass chandeliers, and leading-edge appliances and accessories. It is certainly easy to understand why the judges in the 2021 Parade of Homes chose this home as a great example of cohesive construction and design.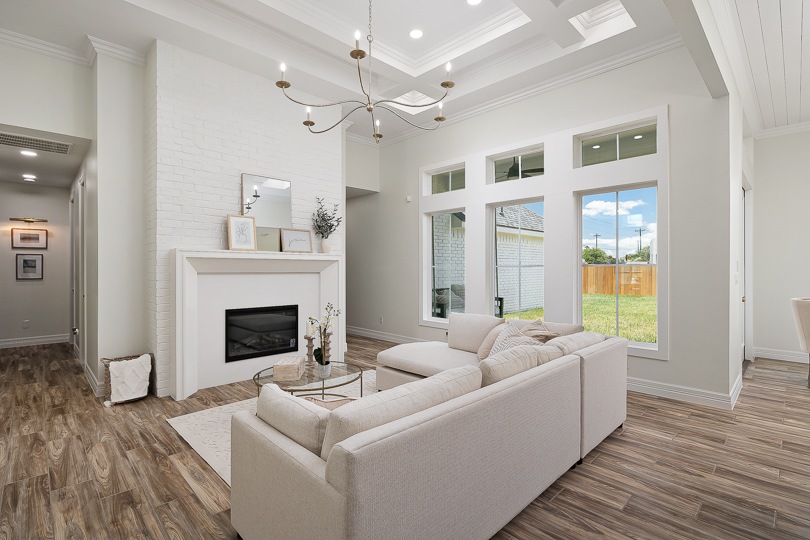 Villa Homes has expanded its share in the luxury home market rapidly since it was created in 2013 by Emigdio Villanueva, Sr. and his sons, Emigdio, Jr. and David. The success of this family-owned and operated company is truly a team effort by its founders, their family members, and a cadre of draftsmen, designers, field project managers, assistant managers, and office and finance personnel, each doing their part—and doing it well.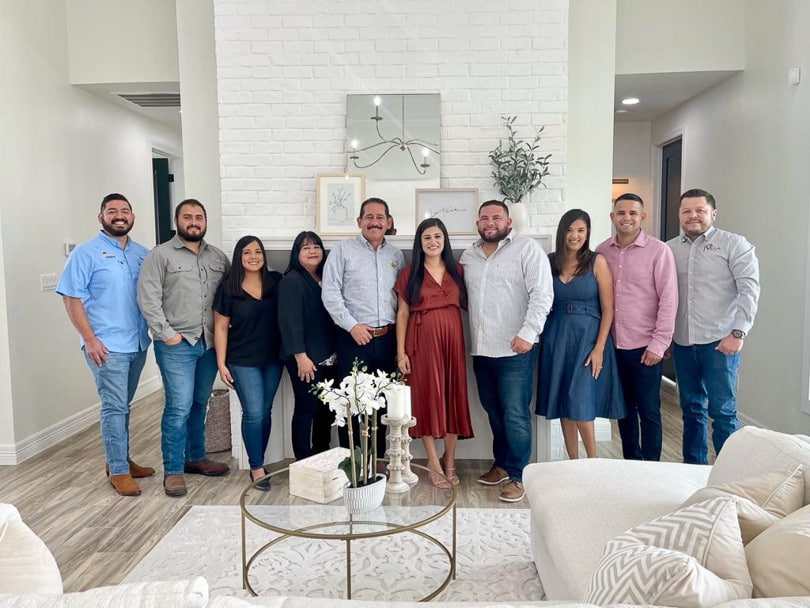 There is a definite synergy of talents with Villa Homes' team members. Each provides his/her personal skills, creativity, and passion that, when combined, create extraordinary homes of luxury, style, and master craftsmanship. And there's no better proof than the awards the company has received from their Parade entries over the years, which have been impressive—including "Best of Show" in 2018.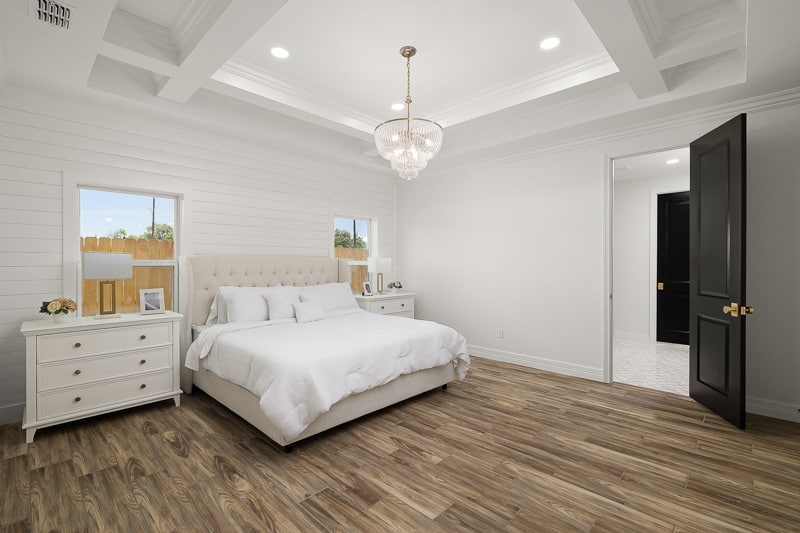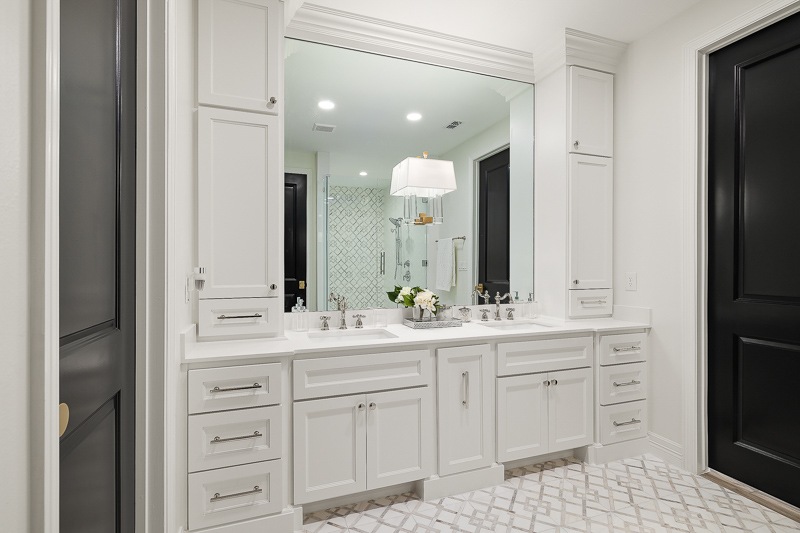 The company provides "turnkey" service. Their standard custom home package includes all the upgrades popular with homebuyers, including high-ceilings, designer lighting fixtures, stunning flooring and countertops, and also landscaping. Homebuyers will enjoy Villa Homes' friendly, helpful, and transparent way they do business. A superior homebuying experience is one of the top reasons for Villa Homes' excellent rating for customer service, which is amazing since, at any given time, the company has over 40 homes under construction.
To accommodate their growing business, Villa Homes just moved into a new, contemporary, and beautifully designed office building of almost 7,500 square feet that includes an elegant Material Selections Showroom to facilitate homebuyers in making those decisions.
Photos by: Photograph RGV
HOME FEATURES:
Beautiful modern Farmhouse style home
Spacious open concept living areas
Unique brick accent entertainment center
Wood detailing throughout the home with shiplap accents
Custom kitchen cabinetry with a large island
Butler's pantry for excellent kitchen storage
Luxury porcelain countertops
Marble finishes throughout restrooms
Brick finish flooring on outside patios
You can visit Villa Home's award-winning model home at North Pointe –
2220 Jefferson Ave. in McAllen, Tx by making an appointment, Monday through Saturday.
Enjoy The Virtual Tour
Of This Award-Winning Home!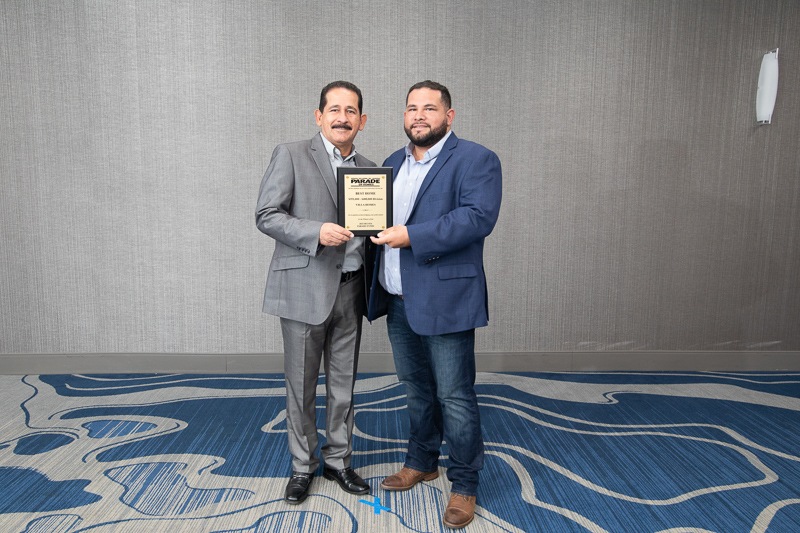 (L-R) Emigdio Villanueva Jr. & Emigdio Villanueva III
DISCLAIMER: The home in this feature and the price category in which it won awards may not currently be built at that price range due to the current pandemic-spurred shortages and higher prices of construction materials.
Get In Touch With Villa Homes
Contact Villa Homes for a consultation on having them build your new dream home.
© RGV New Homes Guide, 2021. Unauthorized use and/or duplication of this material without express and written permission from this site's author and/or owner is strictly prohibited. Excerpts and links may be used, provided that full and clear credit is given to RGV New Homes Guide with appropriate and specific direction to the original content.