2021 POH Winner– PinPoint Construction: Under The Tuscan Sun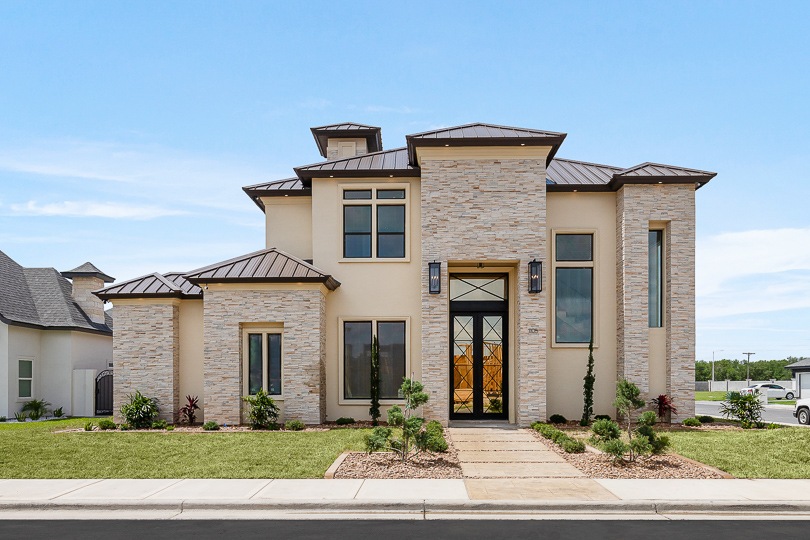 Home by: PinPoint Construction
Subdivision: West Ridge Estates
City: Pharr, Tx
Home Specs: 4 Bed / 1 Study / 3.5 Bath / 2 Garage / 2,959 Sq. Ft. (Living) / 3,682 Sq. Ft. (Total)
Property Status: Model Home – 1105 W. Fig Ave. Pharr, Tx
2021 RGVBA Parade of Homes Awards:
"Best Model Home in the $501-550K Category," "Best Kitchen," & "Best Master & Bath"
---
Utilizing earthy colors combined with a contemporary aesthetic, PinPoint Construction created a 2 story Tuscan style home that was awarded "Best Home: $501K-550K." The exterior has clean lines with warm stone, soft honey gold stucco, and expansive windows. The 14 foot iron and glass entry door then centers the eye to the overall beauty of the exterior.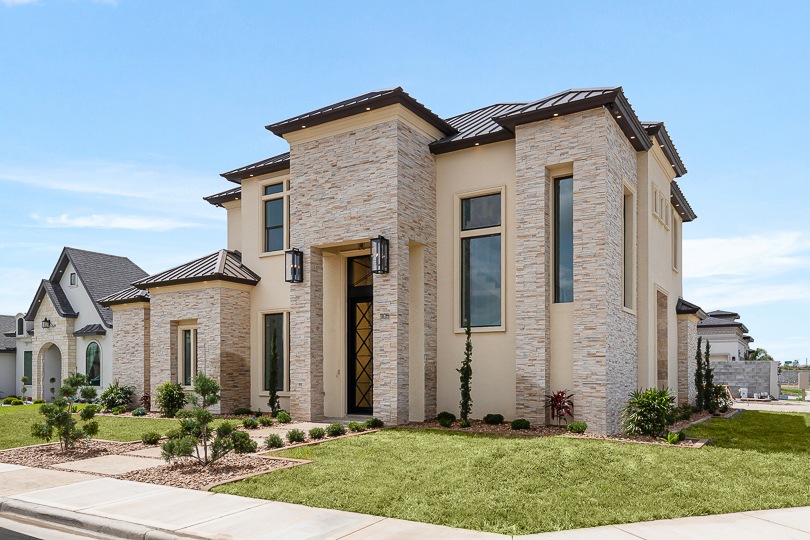 The interior of this home has a surprise—a kitchen design that won another award for PinPoint Construction: "Best Kitchen." Lofty custom cabinets in deep gray contrast with brilliant white, while modern crystal and gold chandeliers atop an oversized island with a marbled quartz countertop, a Butler's pantry, and a massive stainless refrigerator, all blend together for design perfection.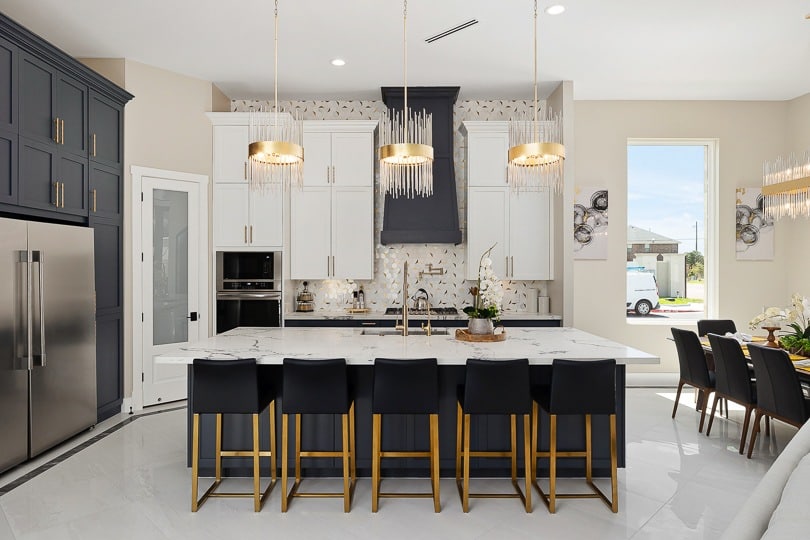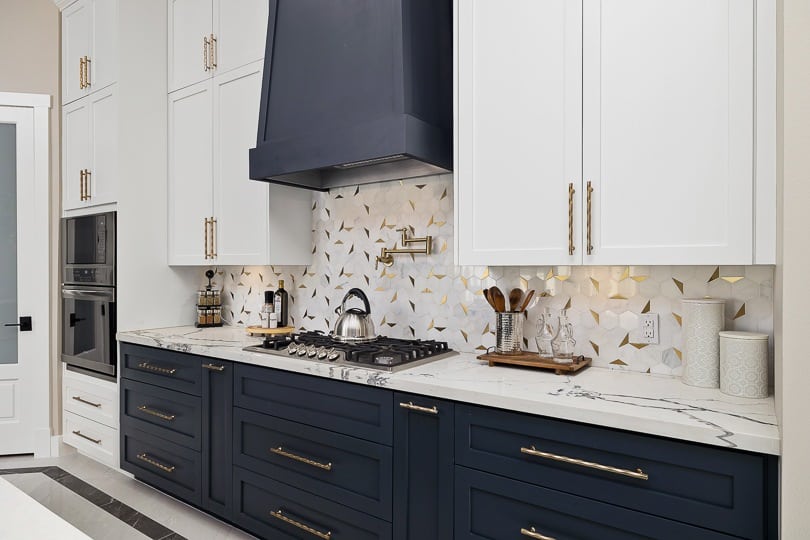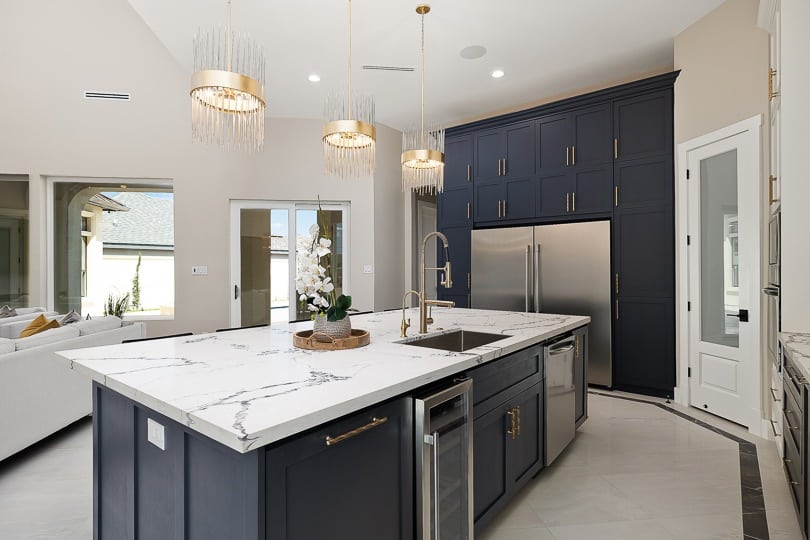 The Master Suite acquired yet a third award: "Best Master Bed and Bath." A haven of privacy, the Master bedroom has intricate ceiling designs, large airy windows, a sitting area , and dramatic porcelain flooring. The Master bath area includes a fantastic walk-in glassed shower and an enormous closet with custom cabinetry. Three awards for one home—certainly a testament of merit.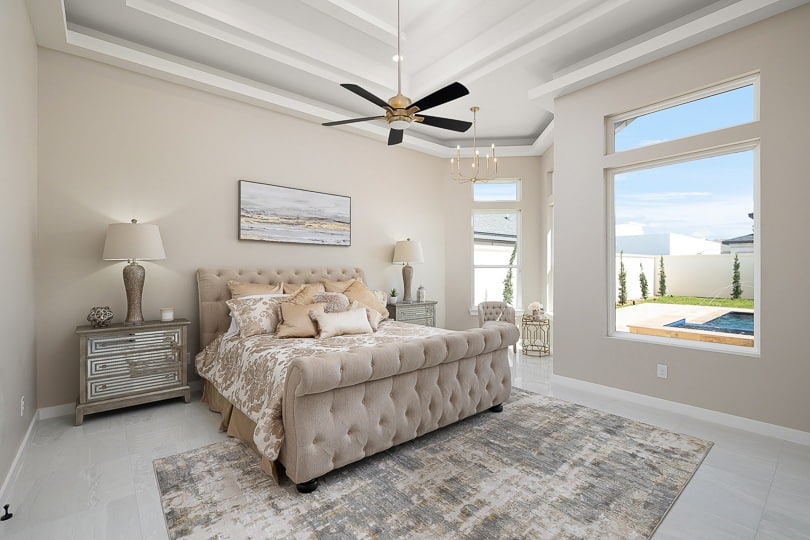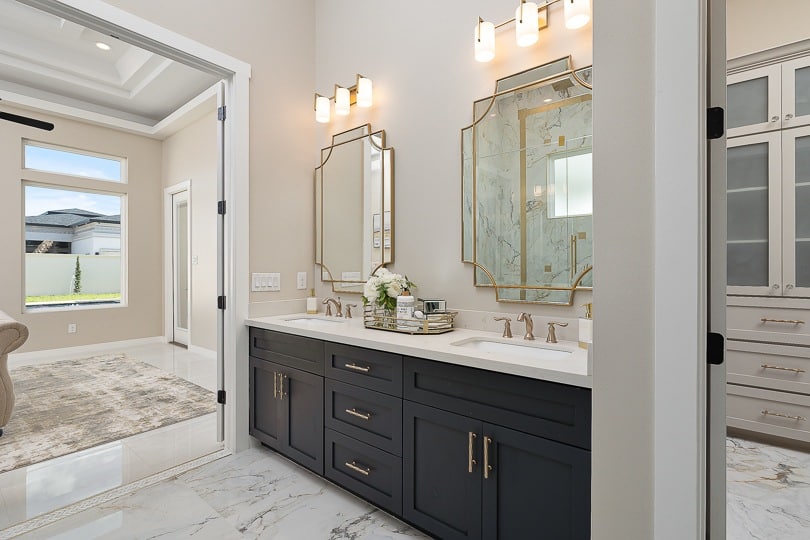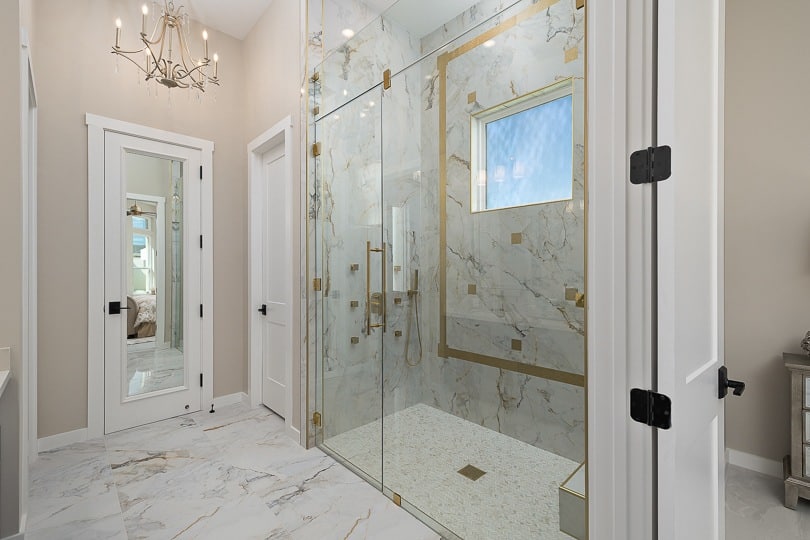 As a longtime member of the Rio Grande Valley Builders Association, this is not the first time that PinPoint Construction has won Parade of Homes awards. From 2005 on, the company under Scottie Ruiz has earned a well-deserved reputation for building some of the finest luxury homes in the Rio Grande Valley.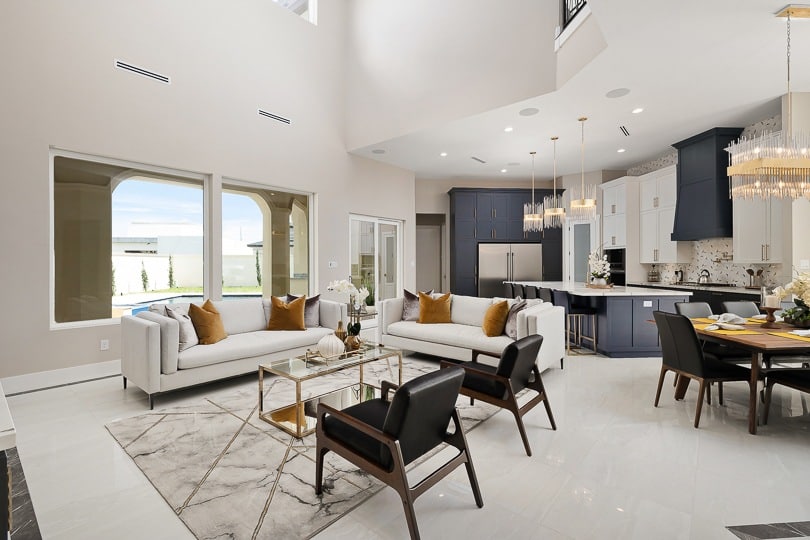 Scottie Ruiz is personally involved in every project. He does not limit his duties and responsibilities to just being the owner of the company who spends his time in the office. Typically, he is on the jobsite making sure that projects are on schedule and that the quality of the work being done is up to his strict standards. And with construction projects all over Hidalgo County and stretching as far as Harlingen and South Padre Island in Cameron County, Scottie spends most of his time out of the office doing what he does best for his customers—keeping an eye on the construction of their homes.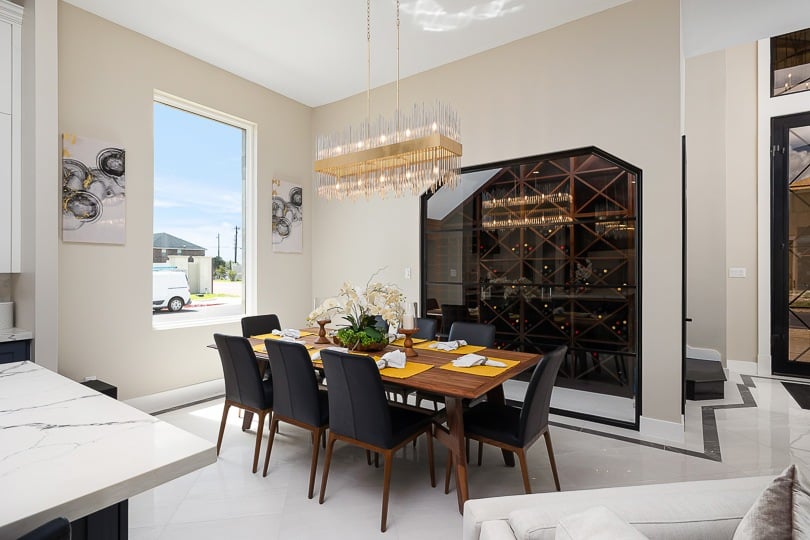 PinPoint Construction offers turnkey service, plus their flexibility allows them to build homes for a variety of budgets. More importantly, rather than impose their styles, designs, or ideas on customers, PinPoint focuses on listening to what each client wants and then follows through.
Building superior homes using high-quality products is tough. But for Scottie Ruiz, what makes the process worthwhile is remembering who he is doing this for and what it means for his homebuyers—a home of happiness for a lifetime.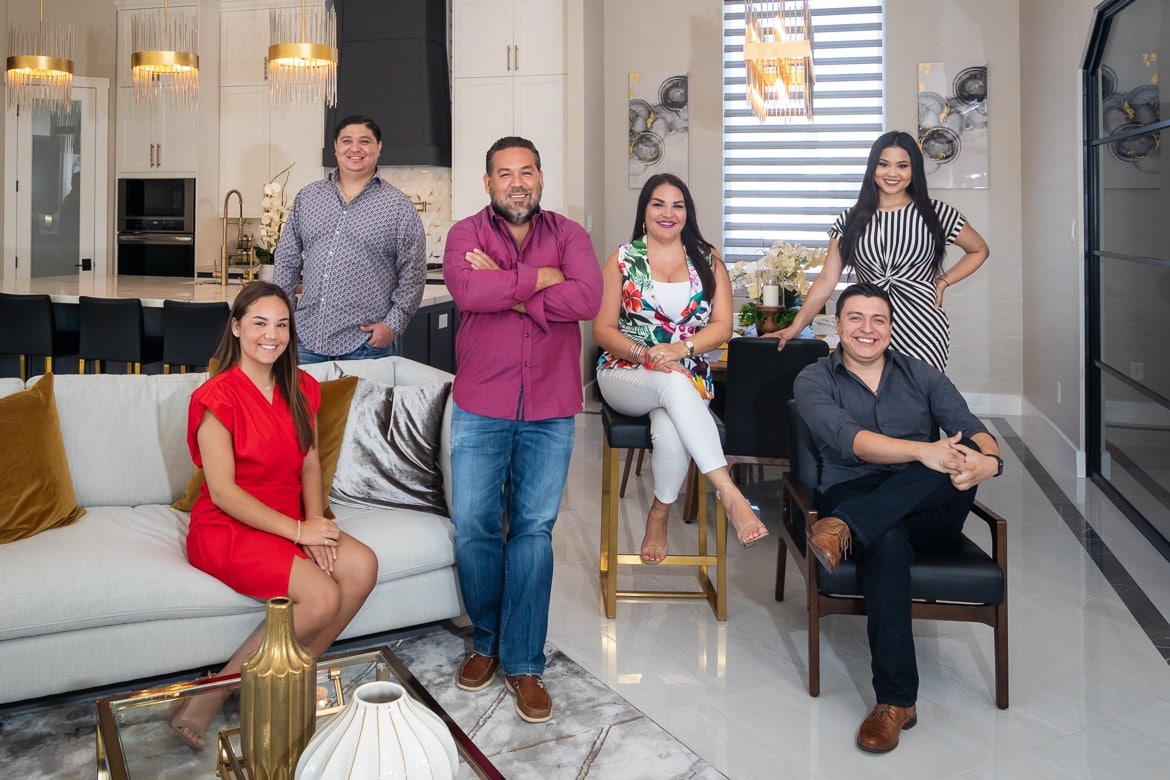 As part of PinPoint Construction's commitment to superior construction, the company has recently become a member of the BUILT TO SAVE® program to certify its homes as high-performance. PinPoint Construction offers residential and commercial construction throughout the Rio Grande Valley.
HOME FEATURES:
Sleek contemporary

stucco and stone exterior with metal roof
Professionally landscaped lawn with sprinkler system for instant curb appeal
Stamped driveway leading to exquisite 14ft iron and glass front door
Interior with open floorplan, perfect for entertaining
Custom cabinetry throughout with oversized island in kitchen
Eye-catching quartz countertops and porcelain tile throughout
Spacious Master suite with impressive Master bath and closet
Upstairs loft overlooking first floor
Extended back patio next to a sparkling pool for outdoor living
Energy efficient with spray foam insulation & double panel insulated windows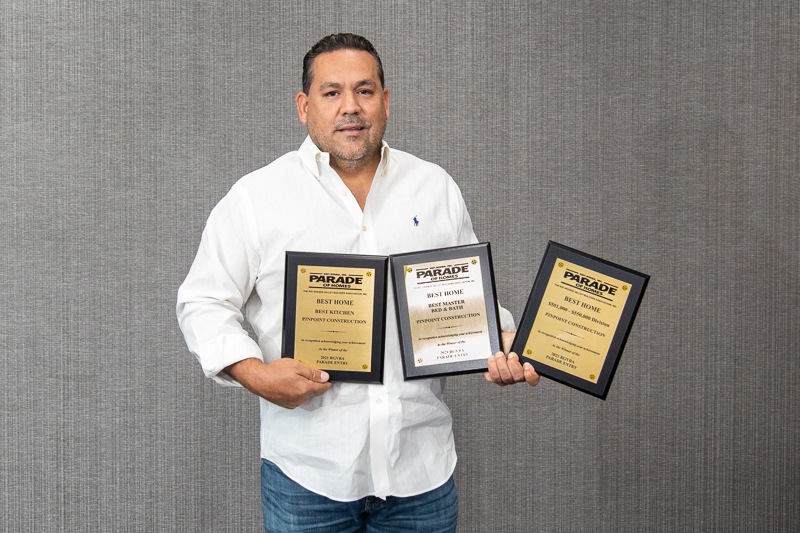 DISCLAIMER: The home in this feature and the price category in which it won awards may not currently be built at that price range due to the current pandemic-spurred shortages and higher prices of construction materials.
© RGV New Homes Guide, 2021. Unauthorized use and/or duplication of this material without express and written permission from this site's author and/or owner is strictly prohibited. Excerpts and links may be used, provided that full and clear credit is given to RGV New Homes Guide with appropriate and specific direction to the original content.