Villanueva Construction: A Winner in Amenities, Efficiency—and Price!
Home by: Villanueva Construction
Style: Craftsman Ranch
Subdivision: Trinity Oaks
City: McAllen, Texas
Home Specs: 3 Bed / 2 Bath / 1 Garage / 1,731 Sq. Ft. (Living) / 2,224 Sq. Ft. (Total)
Property Status: SOLD. Available to build.
2018 RGVBA Parade of Homes Awards:
• Best Model in the $151-200K category
• Most Energy Efficient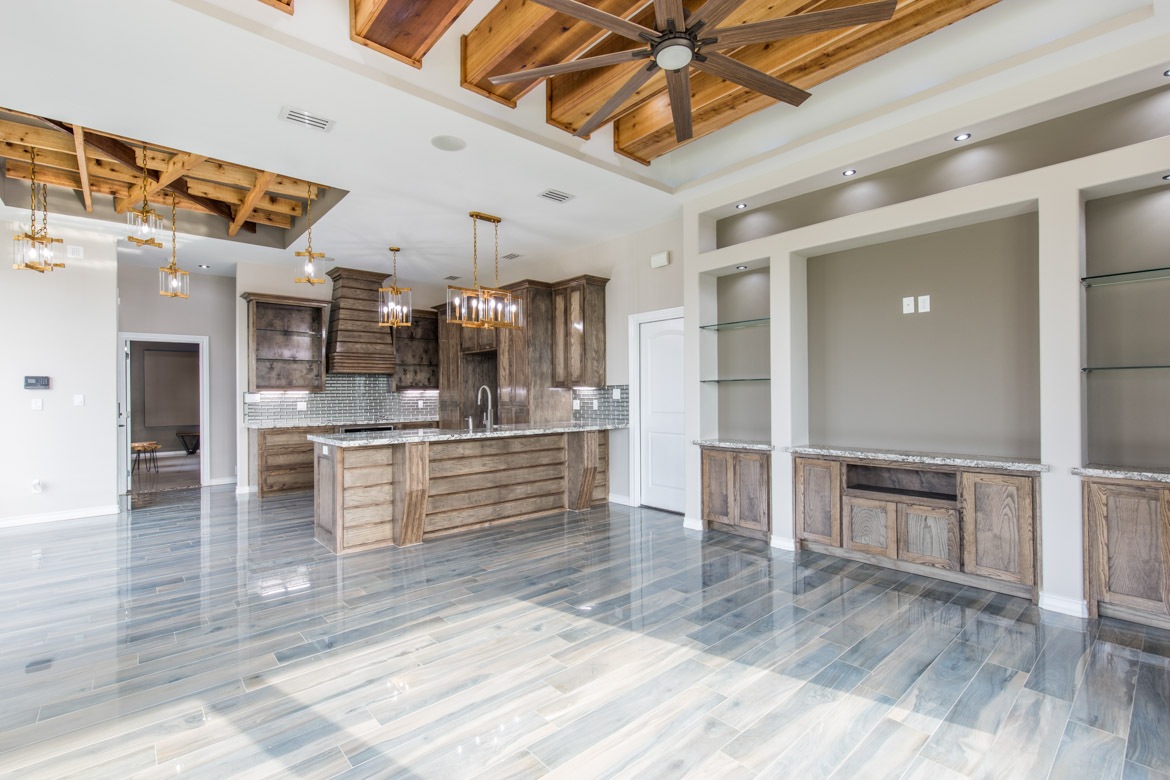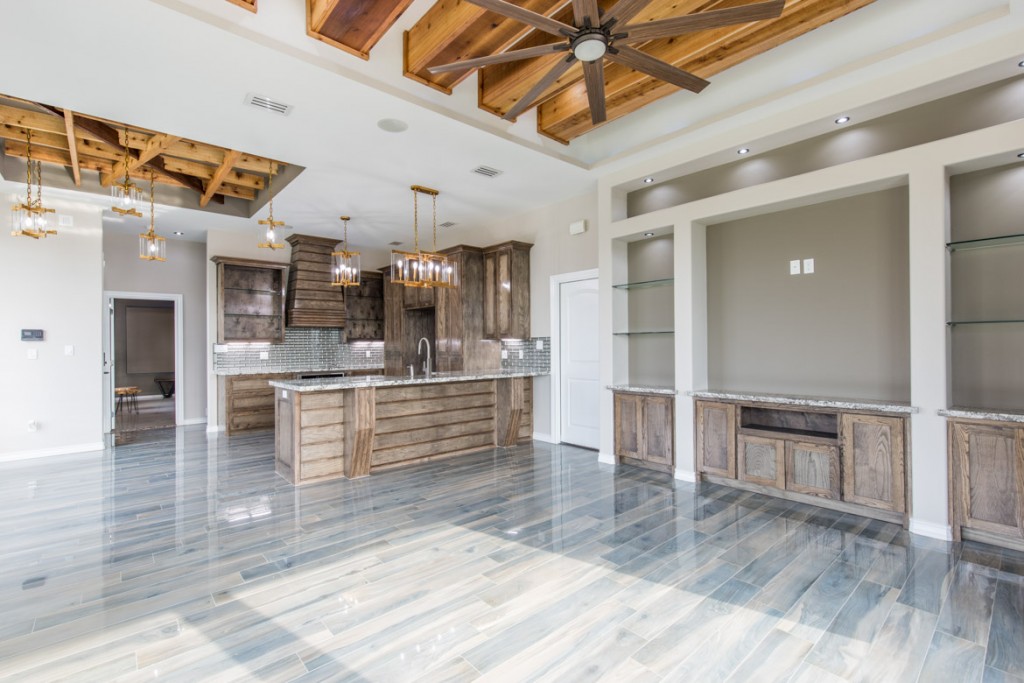 Walking into Villanueva Construction's newly built 3 bedroom, 2 bath house in Trinity Oaks, McAllen, one would immediately notice that this incredible home, an award winner in the 2018 RGVBA Parade of Homes, is compact but has some of the most powerful amenities and unique features ever seen in a new home of this size and price.
First, this impressive house has 1,731 square feet of living space, not sprawling by any means, but perfect and efficient. The Craftsman style exterior is constructed of brick, limestone rock, and an unusual block stucco finish that pops. Cedar columns and beams highlight the Craftsman style, and a wrap-around porch completes the look. An 8' high dark stained ash wood custom designed door welcomes visitors and family into the home.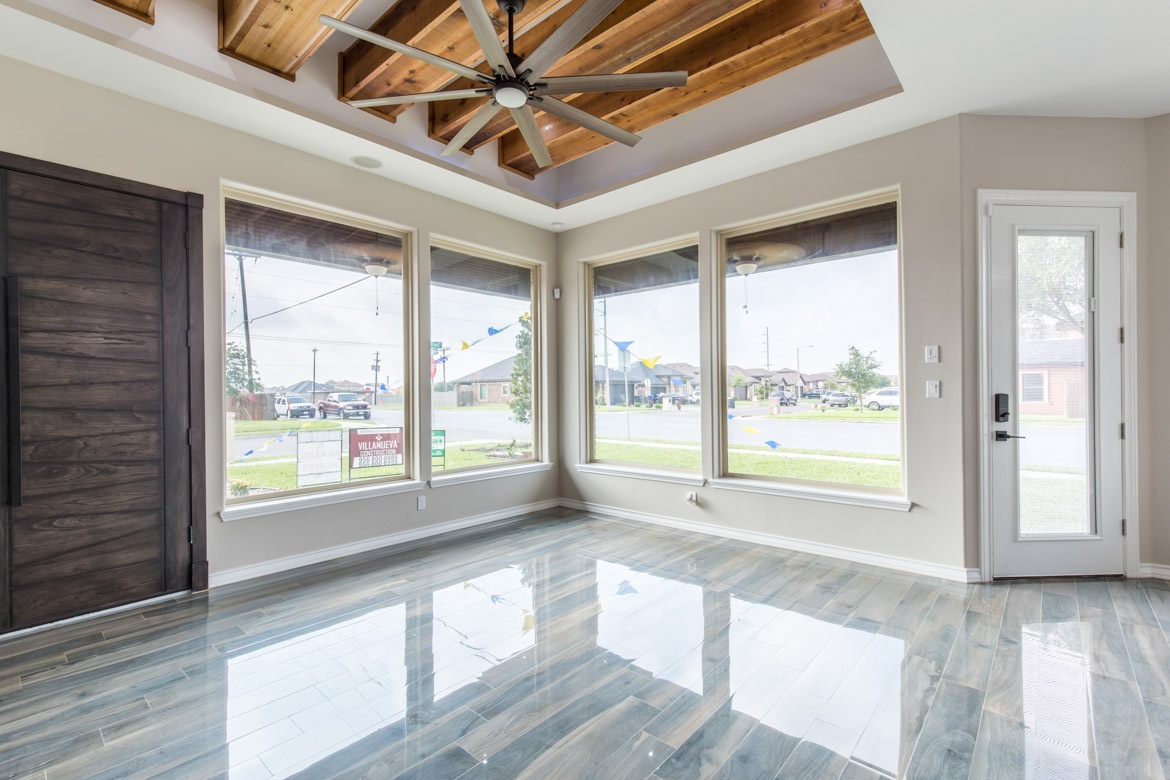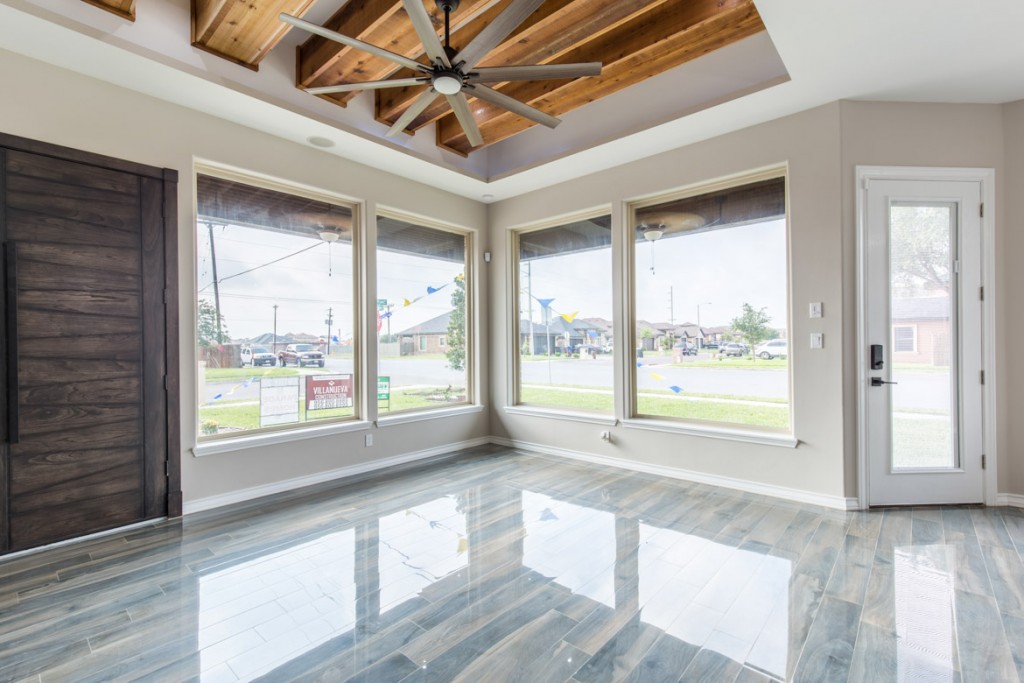 The open concept living, dining, and kitchen was designed by the Villanueva team for family togetherness—cooking, eating, and watching TV in the family living area can all be accomplished effortlessly. Yet Villanueva Construction was not quite satisfied. The design team wanted this efficient space to be extraordinary. Why not add custom designed and crafted stained ash cabinetry, exotic granite countertops, walls of outsized windows with custom shades, and a cedar beam tray ceiling with rope and recessed lighting. Plus, two spectacular highlights: (1) an absolutely dramatic, one-of-a-kind, high end porcelain floor in a glossy, shining wood look, perhaps the first of its kind used here in the Rio Grande Valley; and (2) a unique and dazzling backsplash in the kitchen—a reverse beveled silver ceramic subway tile that is truly amazing.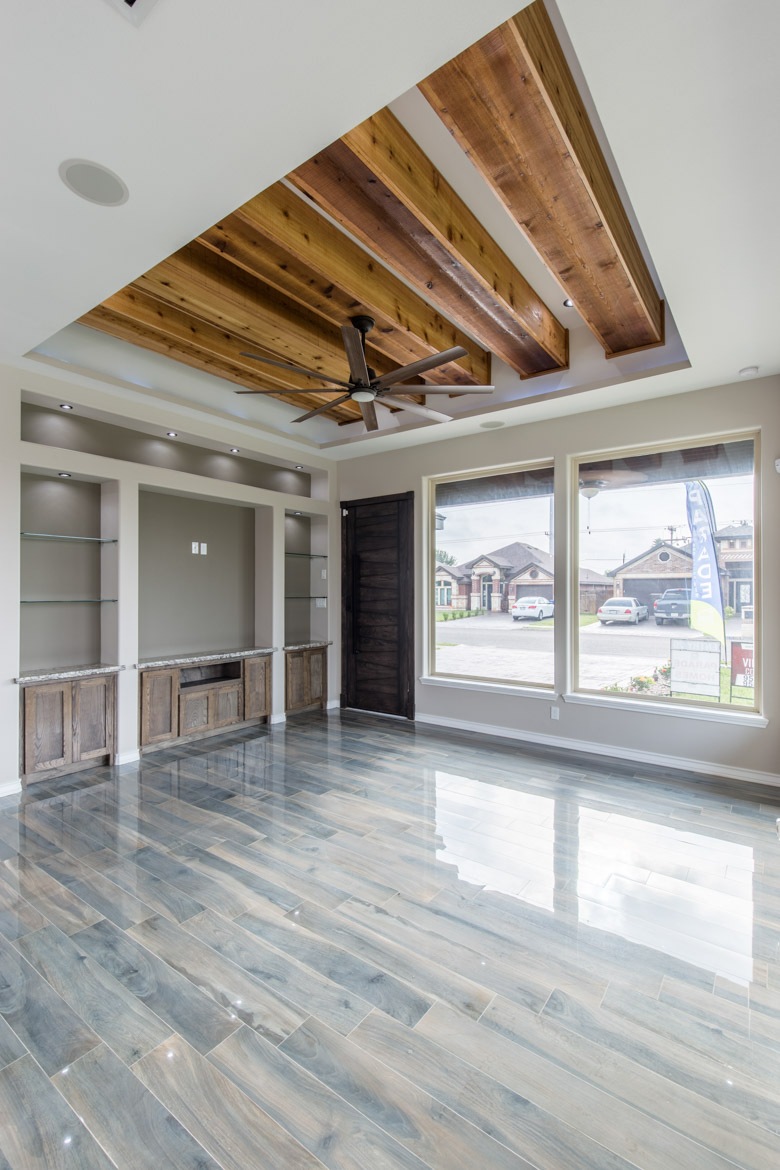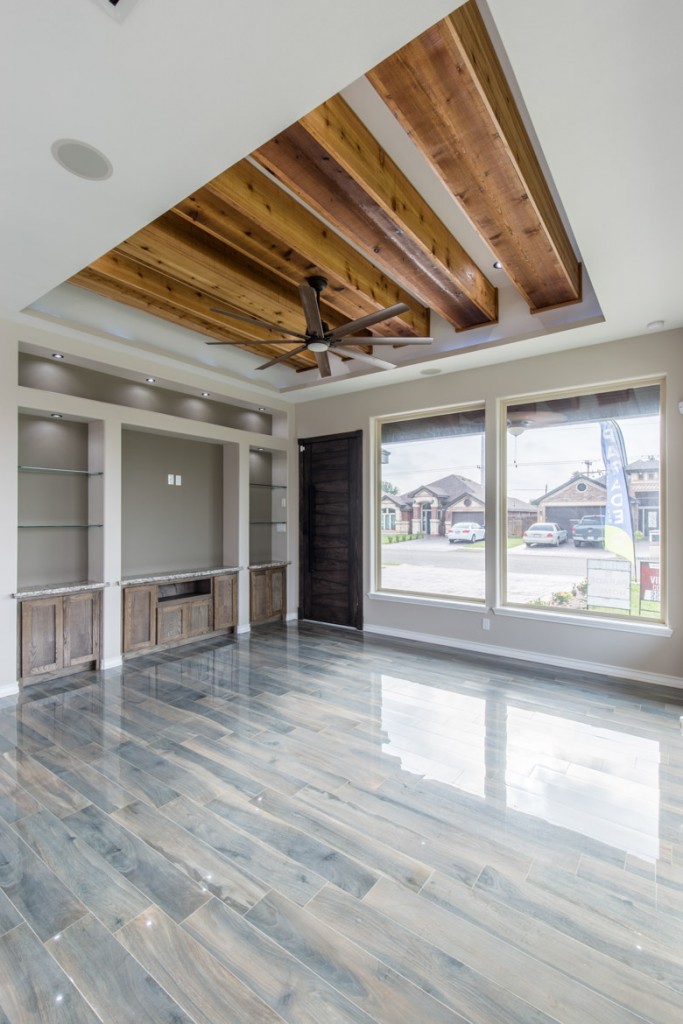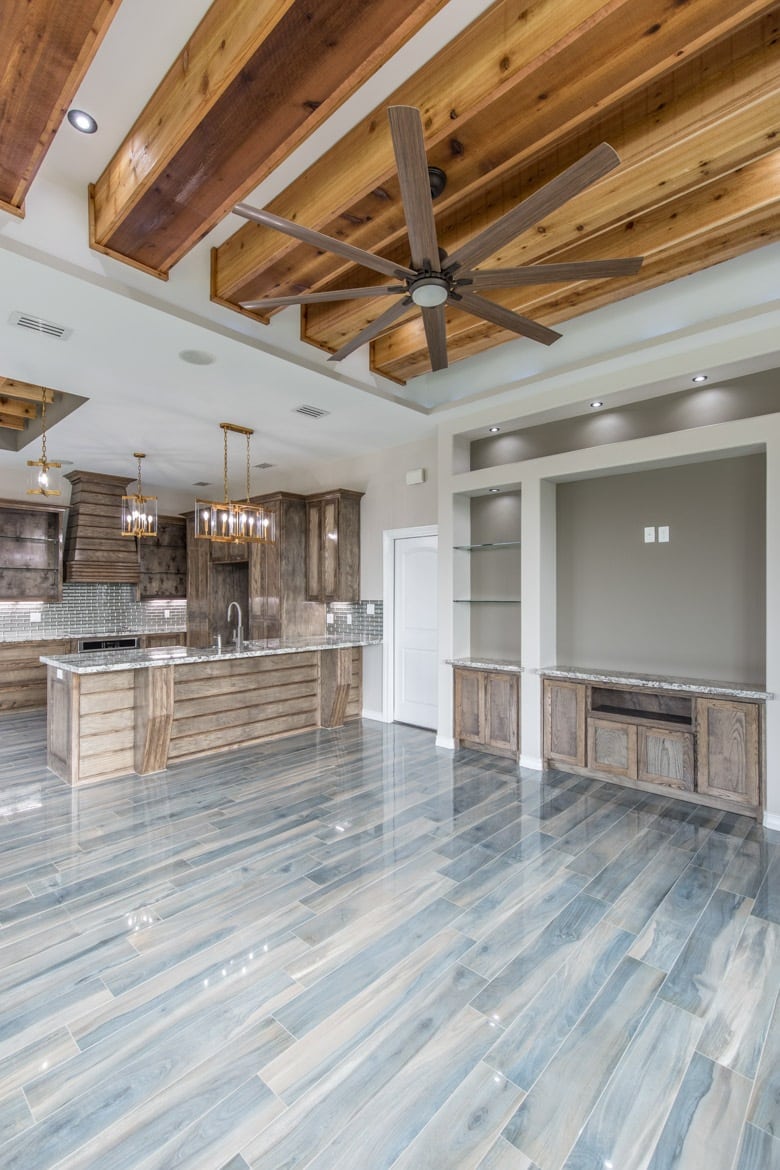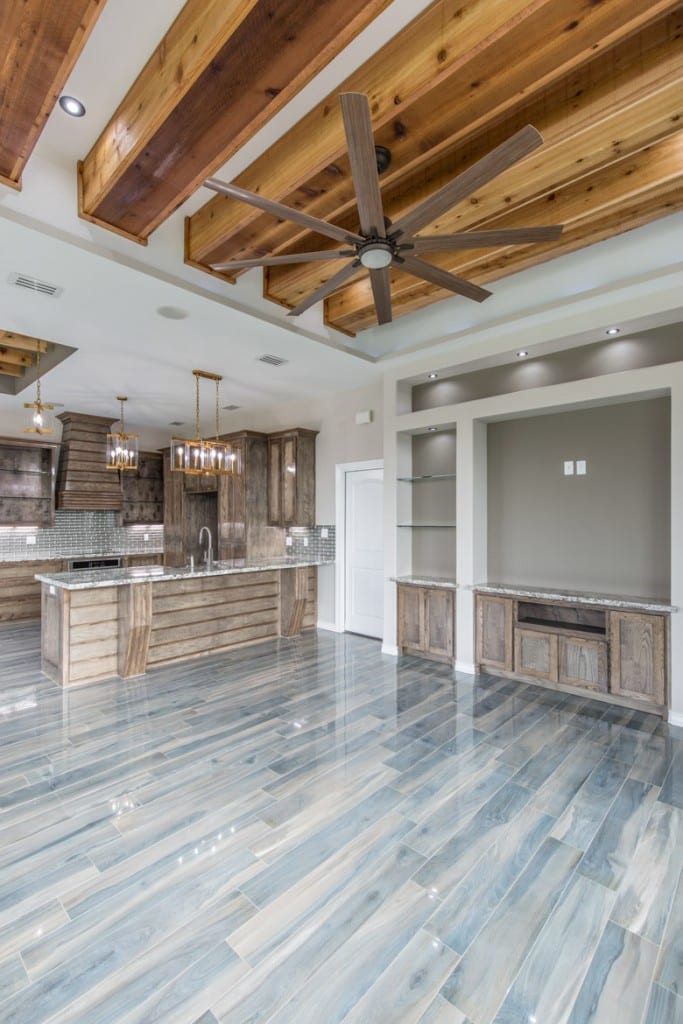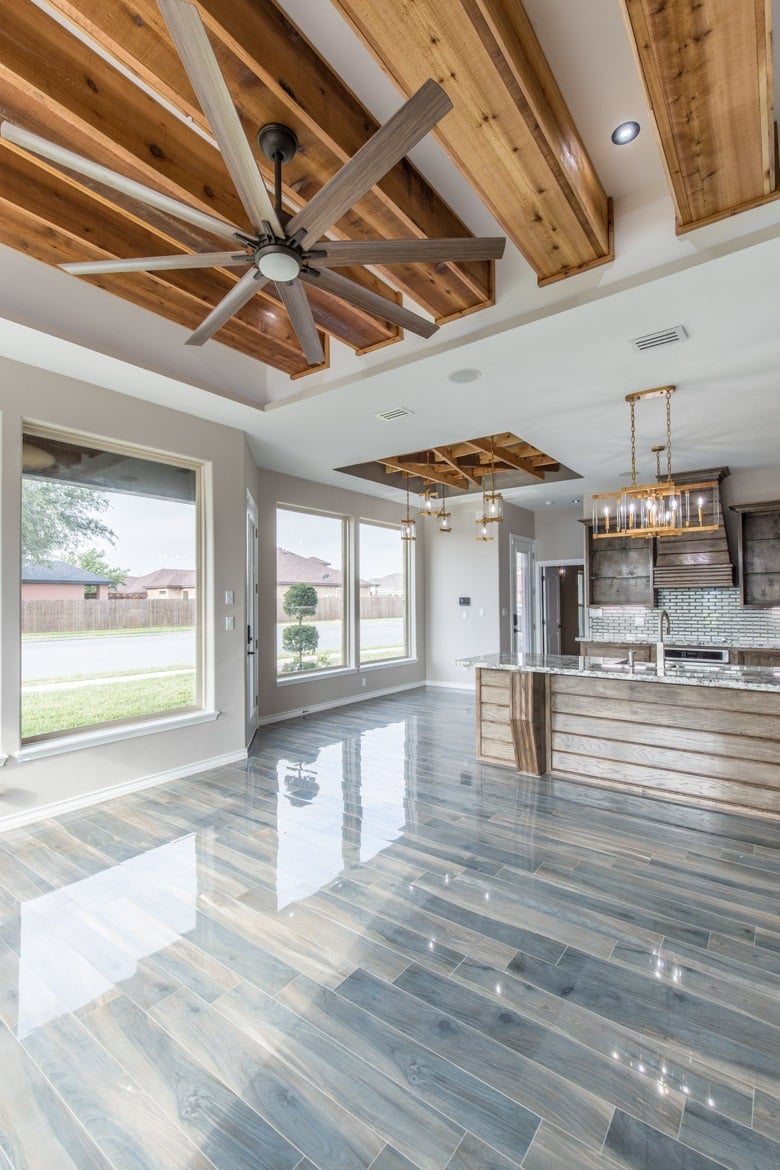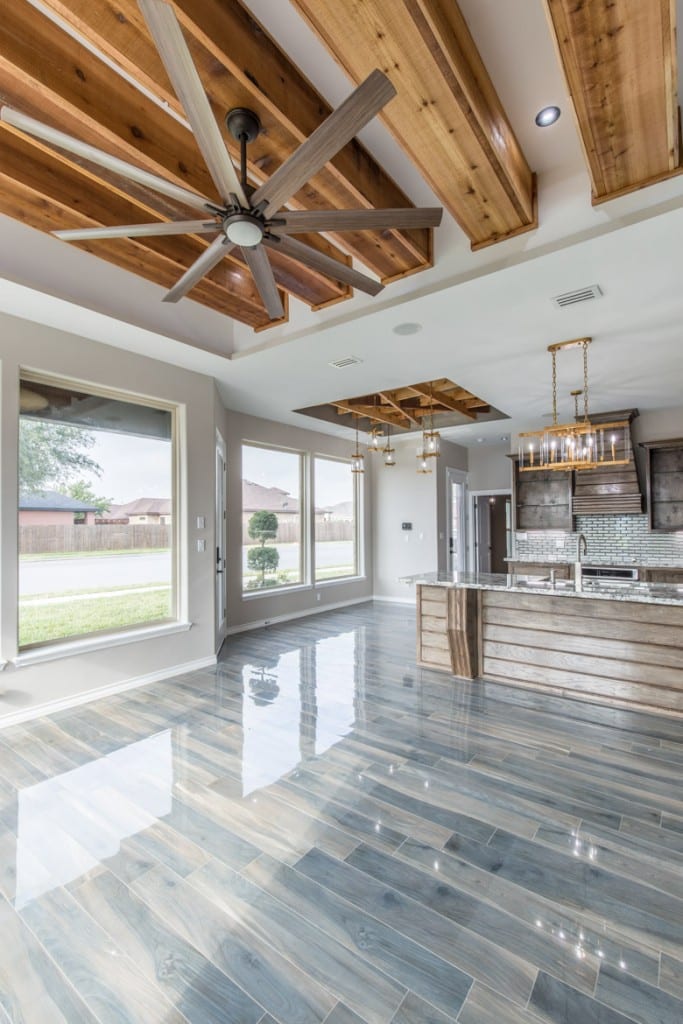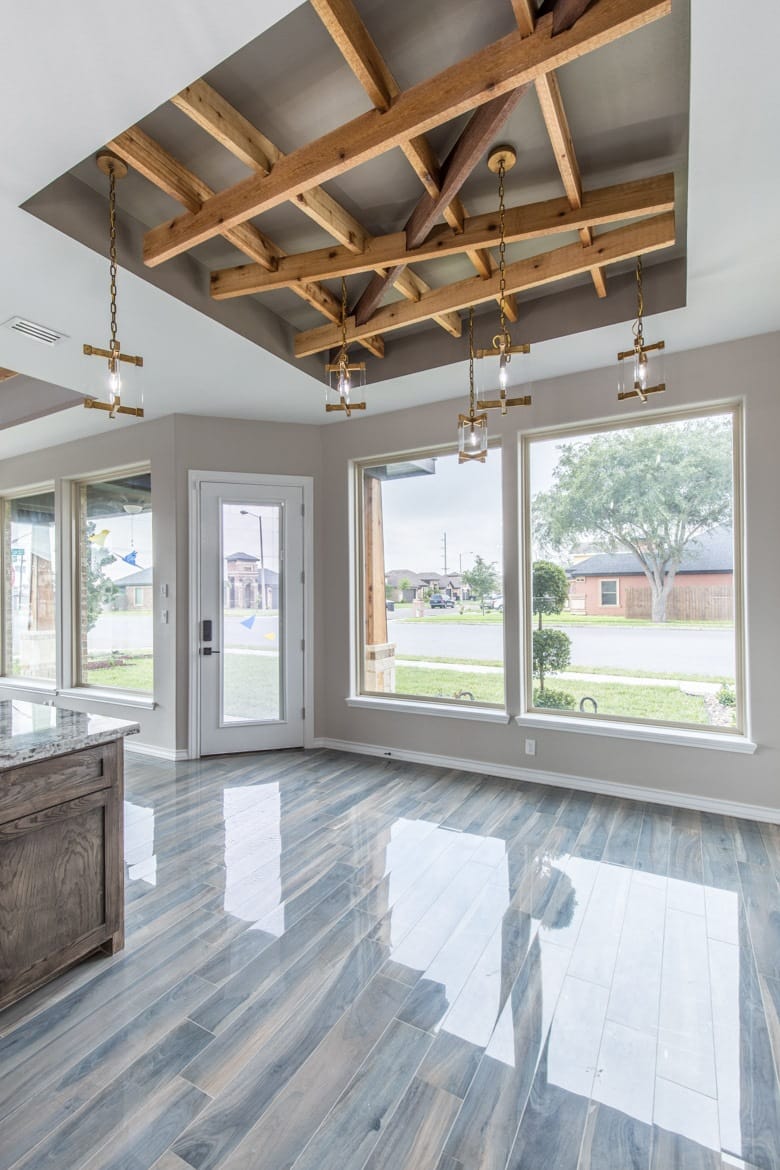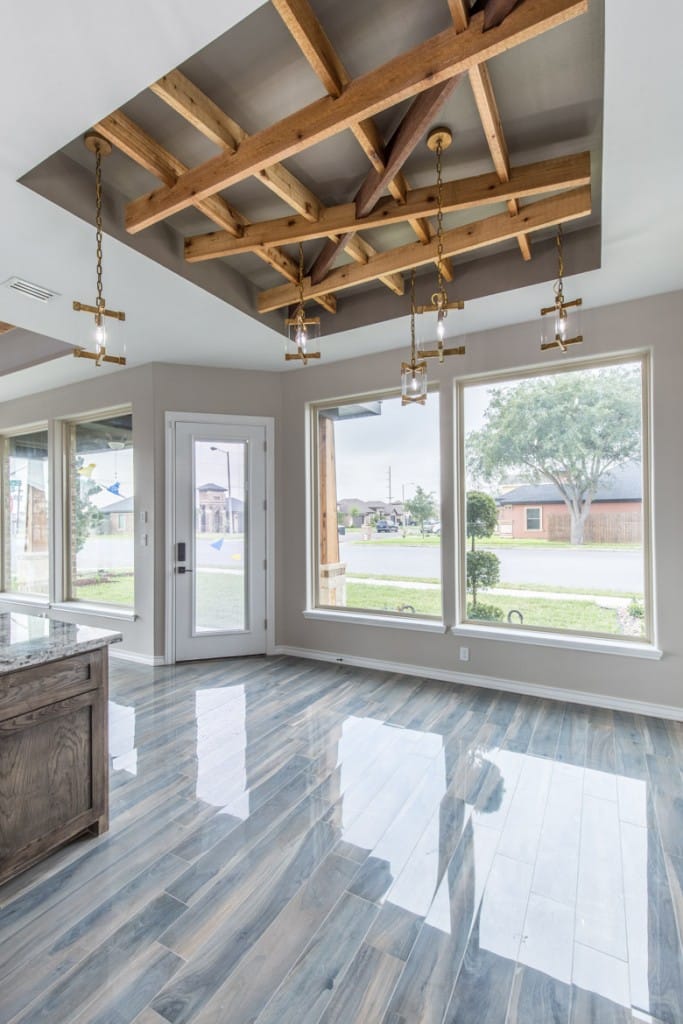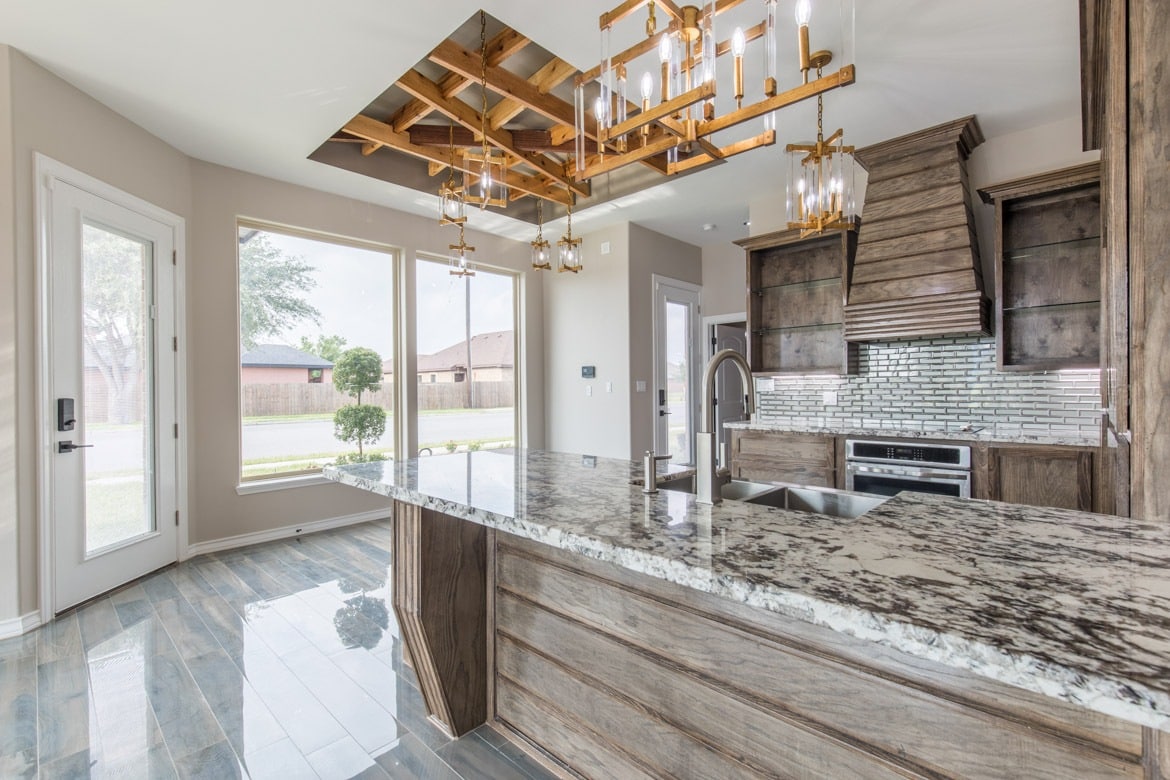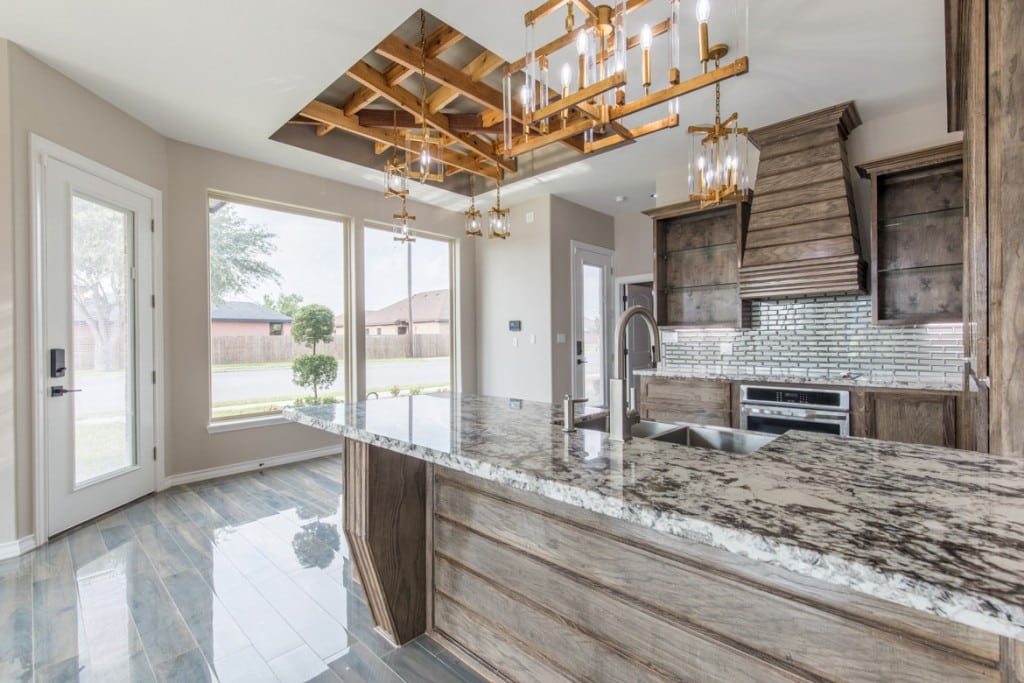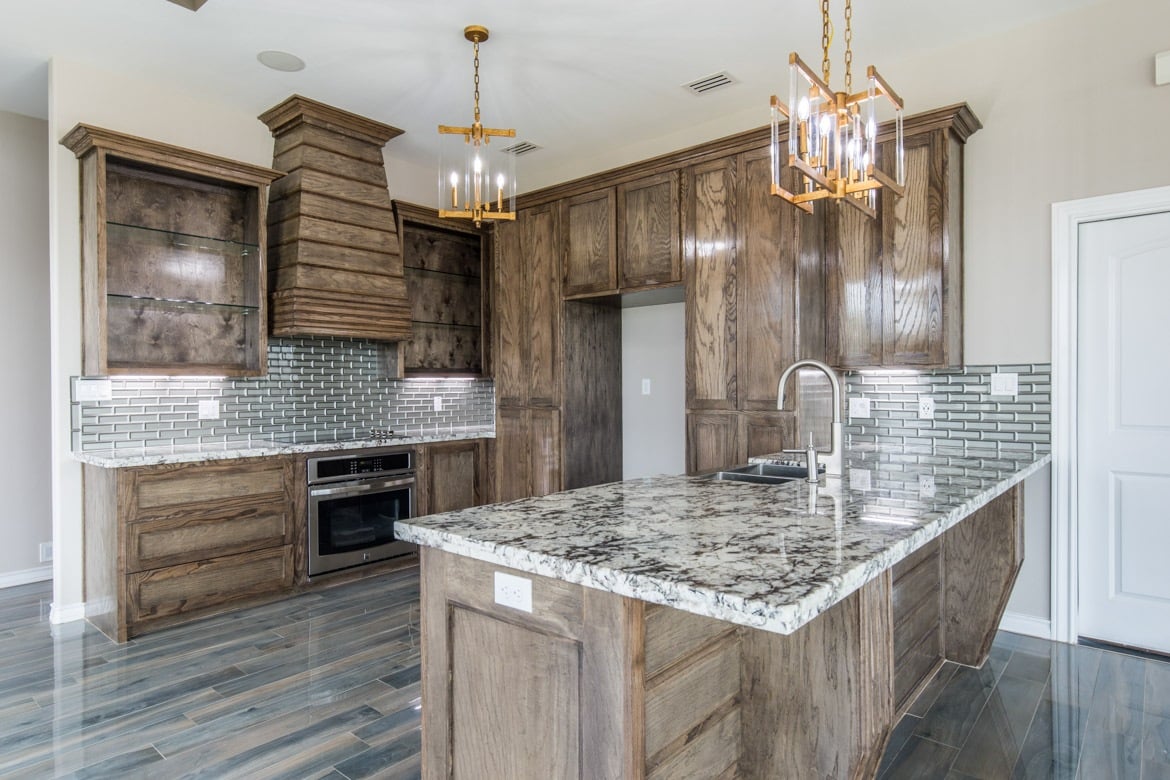 Villanueva Construction did not stop after adding high end and well-thought-out amenities in the open living area. This three bedroom, two bath home has "wow" appeal throughout. There is a theater room with a moveable wet bar on one wall with stained ash built-ins, a cold drinks refrigerator, and wine bottle storage. The countertops are exotic granite, and the same beautiful reverse beveled silver ceramic subway tile backsplash lines the wall. Recessed and wall mount lighting, a large niche for a giant screen TV or entertainment center, surround sound, and a magnificent tray ceiling in an exceptional circle and stained wood slat design add to the superior amenities not usually found in homes that are in the price range of $151-200K.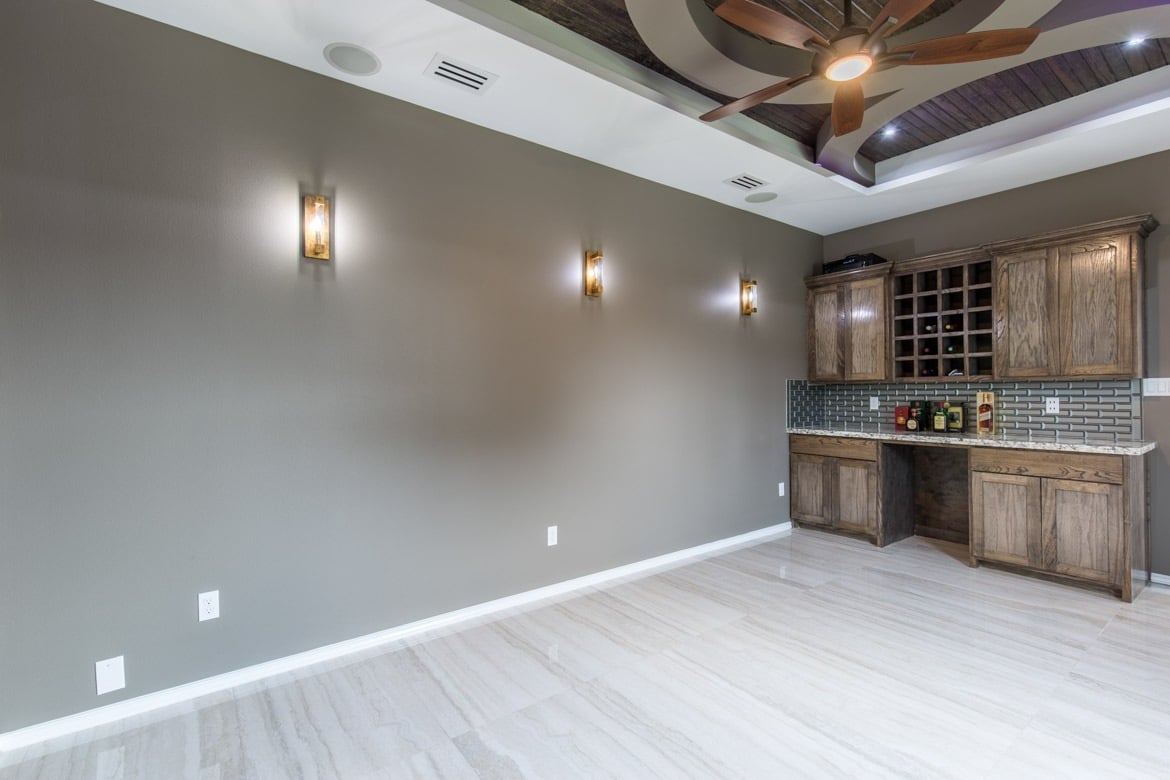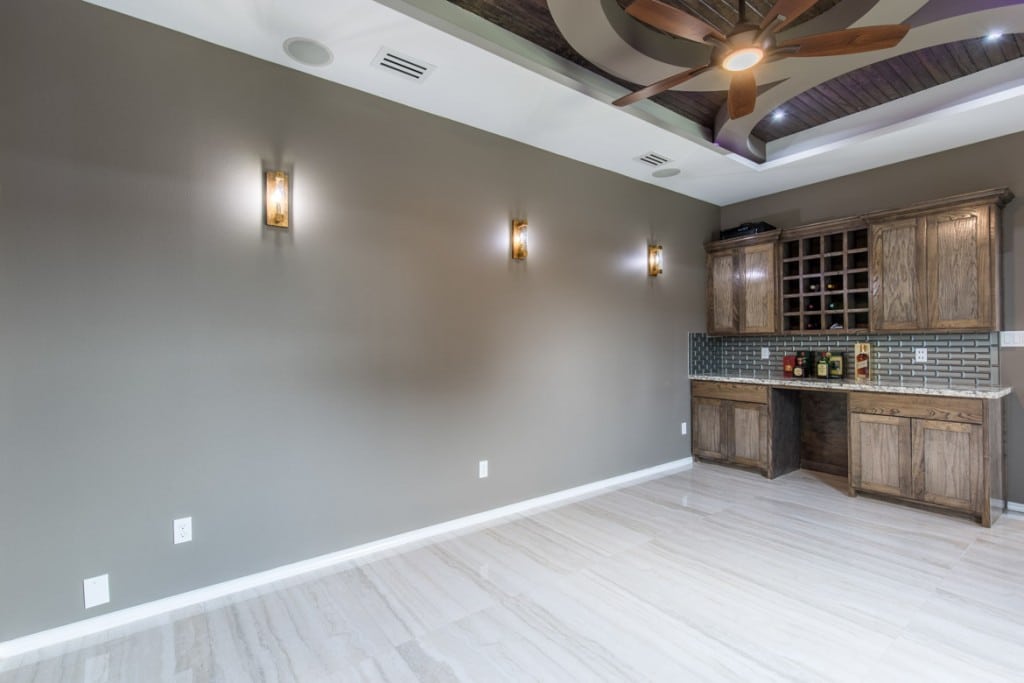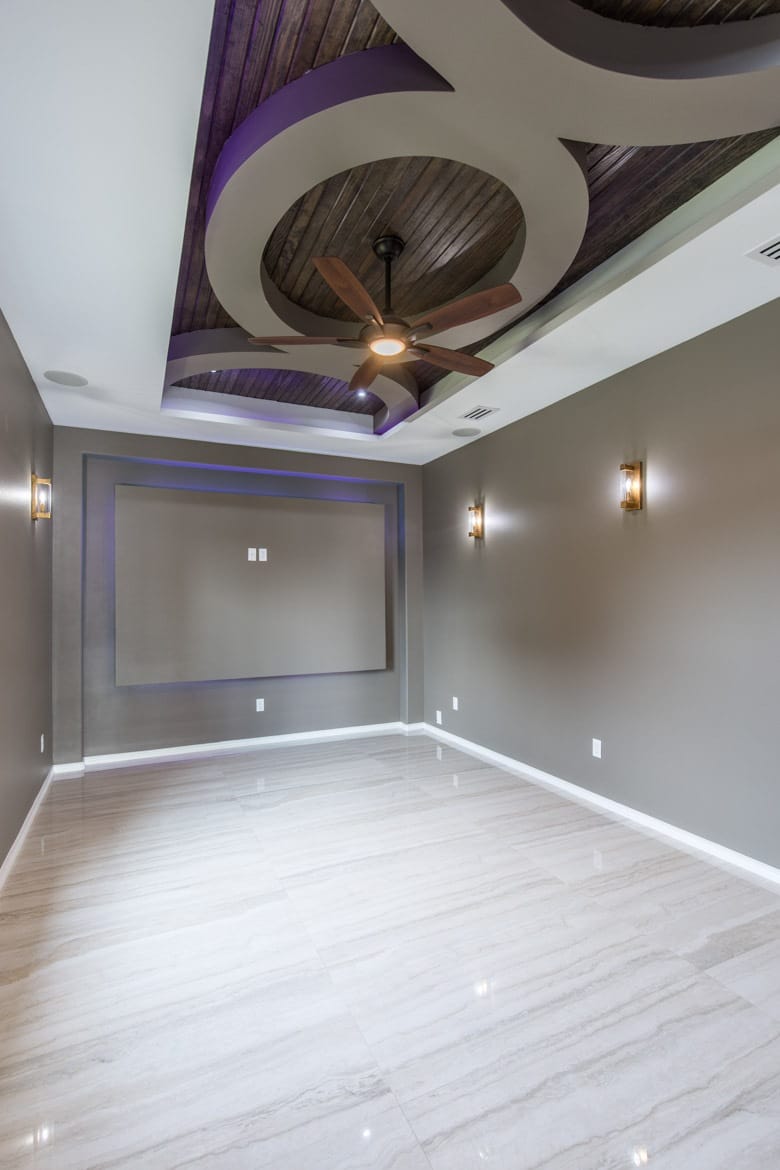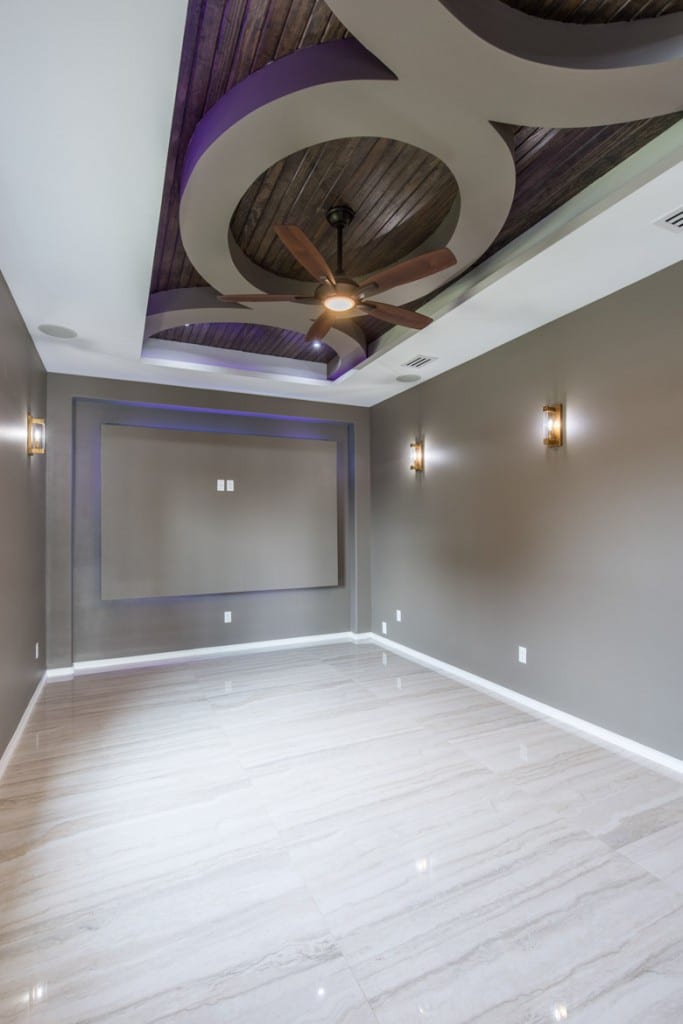 The hallway to the remaining bedrooms is lined with built-in sensor lights for a midnight tiptoe to the kitchen; the second bedroom has a wall of stained ash built-ins and drawers, as does the walk-in closet. And again, a magnificent tray ceiling design of creamy whites and stained ash wood slats dominates.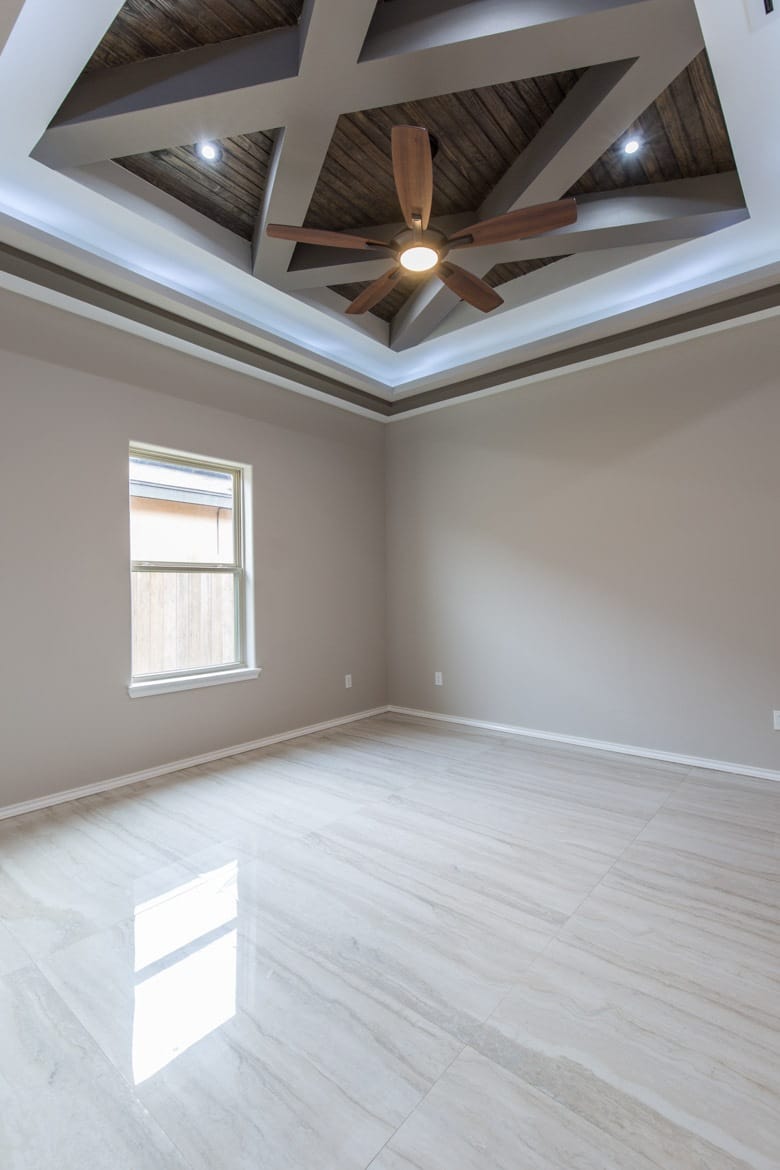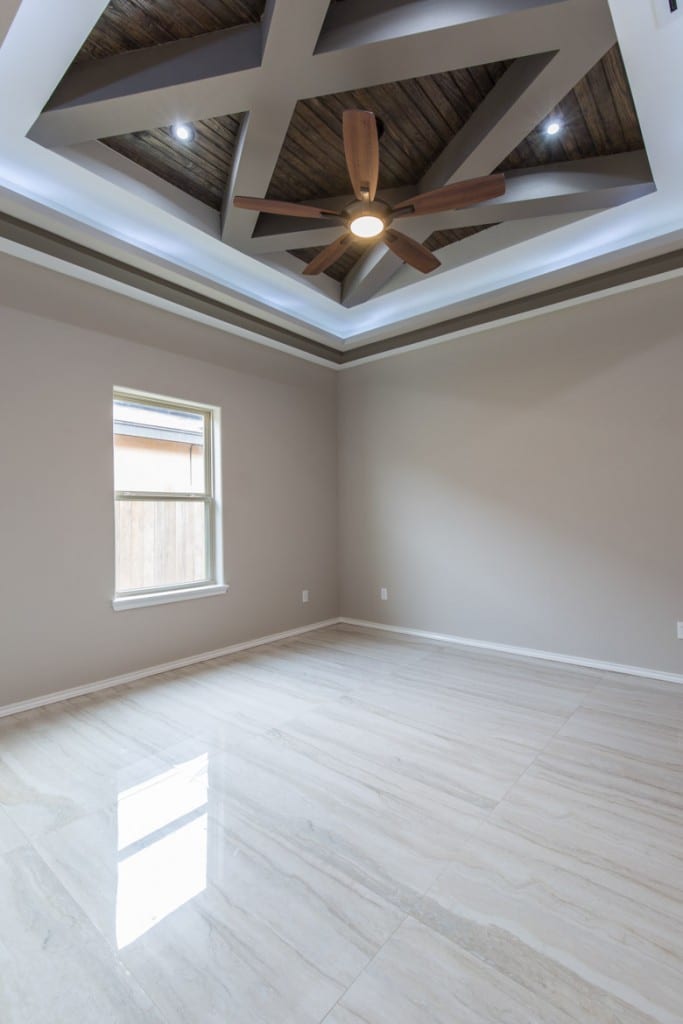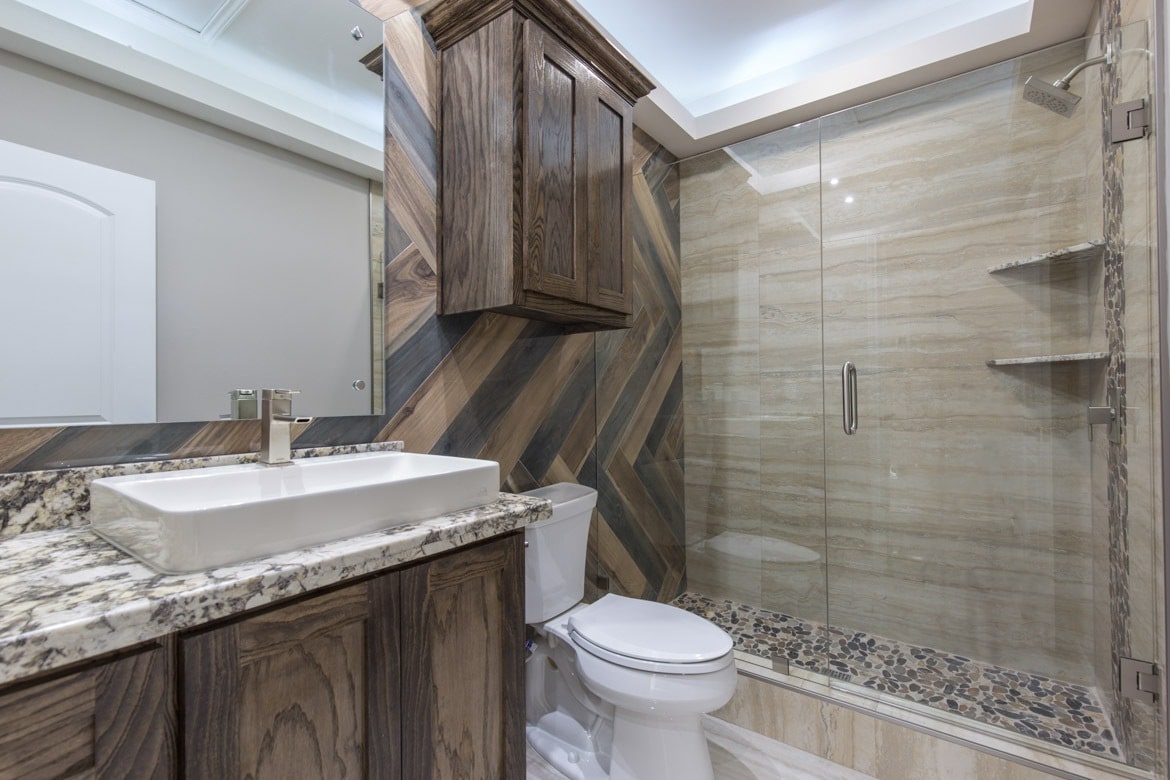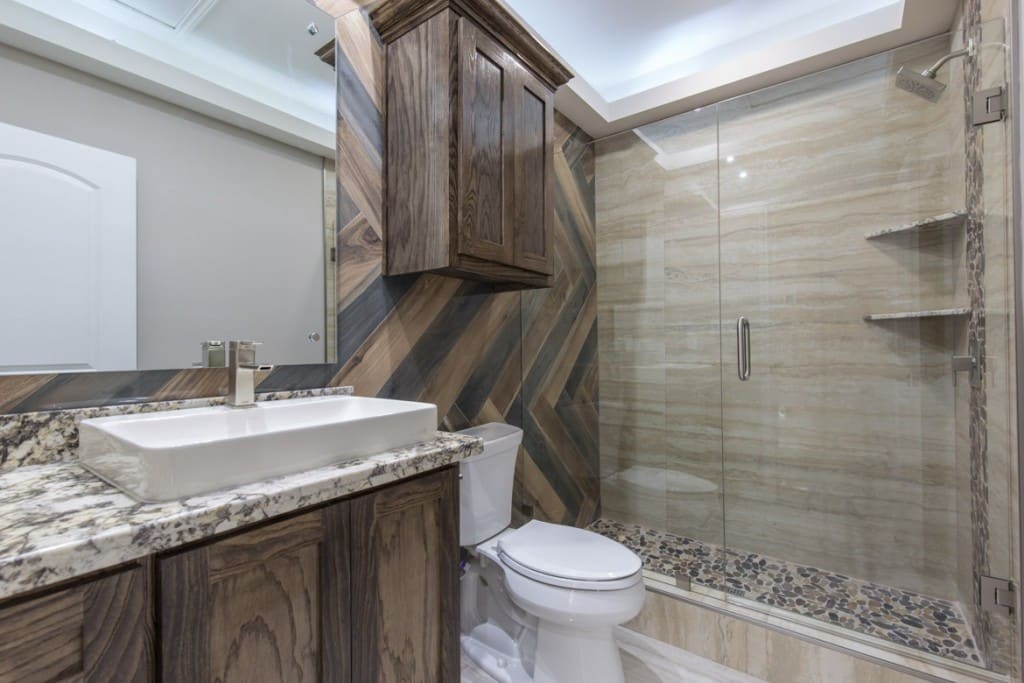 The Master bedroom is oversized with an intricate ceiling design that, like all the other ceiling designs in this Villanueva home, is magnificent. Then, the attached Master bath is truly breathtaking. On the right, a modern freestanding soaking tub and a rainfall shower are both enclosed in an oversized glassed-in area with pebble stone flooring and porcelain walls. This is a "Why didn't we think of that" idea for any families with children who love to play in the tub and splash water everywhere—the water will just go down the drain! Centered in the Master bath are double sinks on exotic granite countertops with custom designed stained wood cabinetry. To the left is the Master closet—an oversized walk-in with shelving and cabinets galore, and a lighted make-up/dressing table, again with an exotic granite countertop.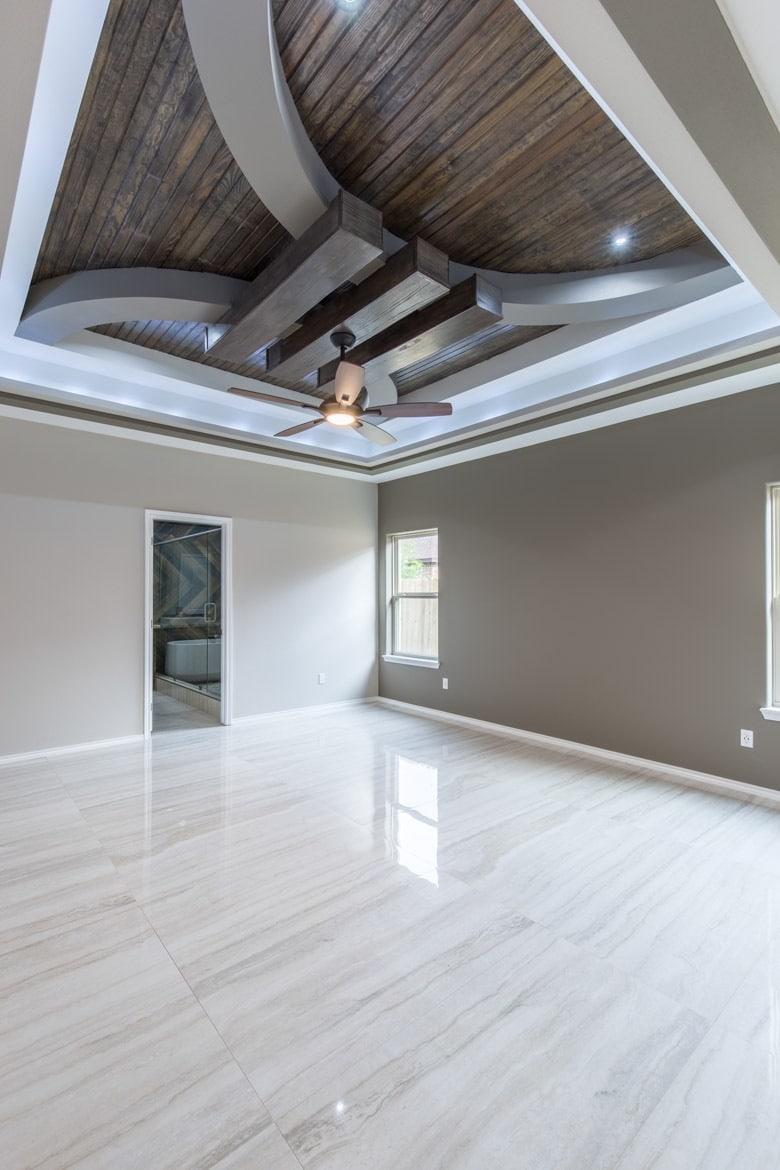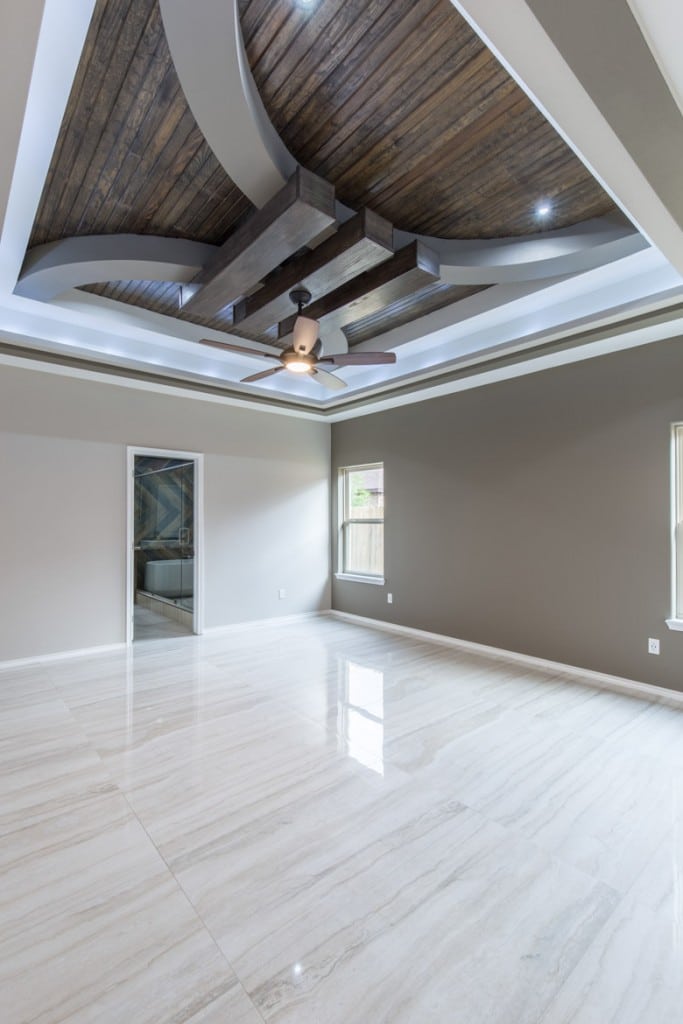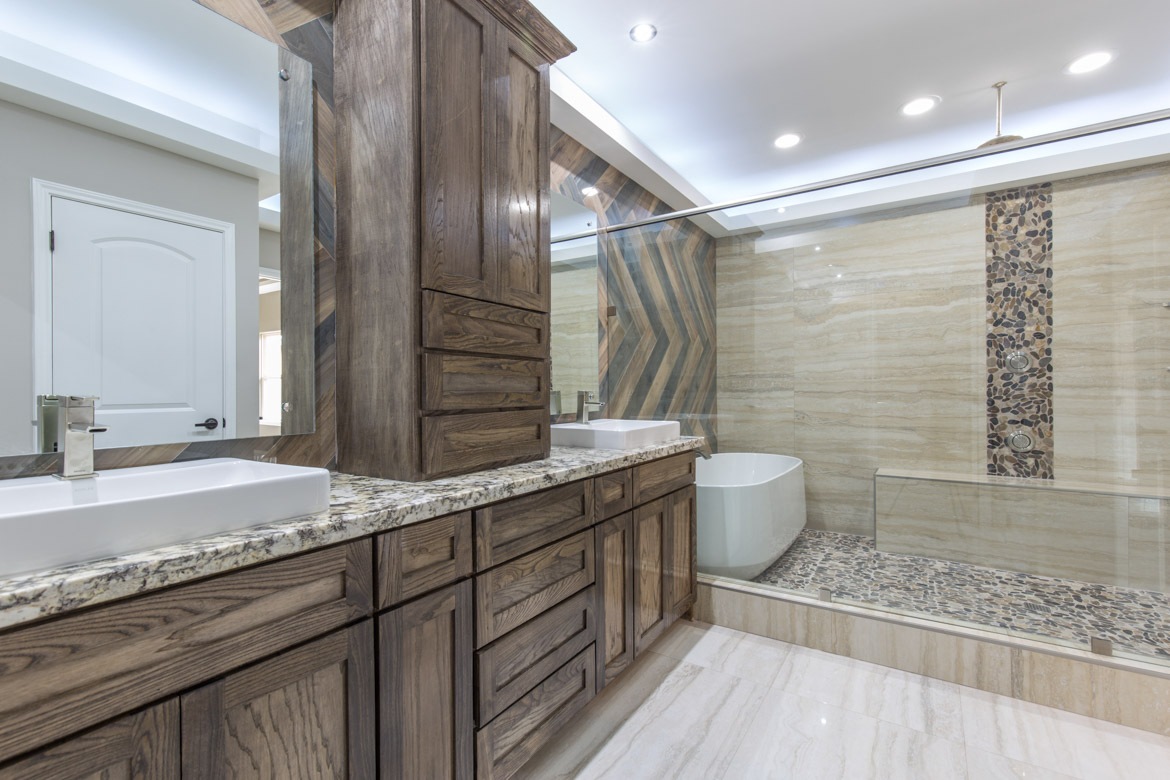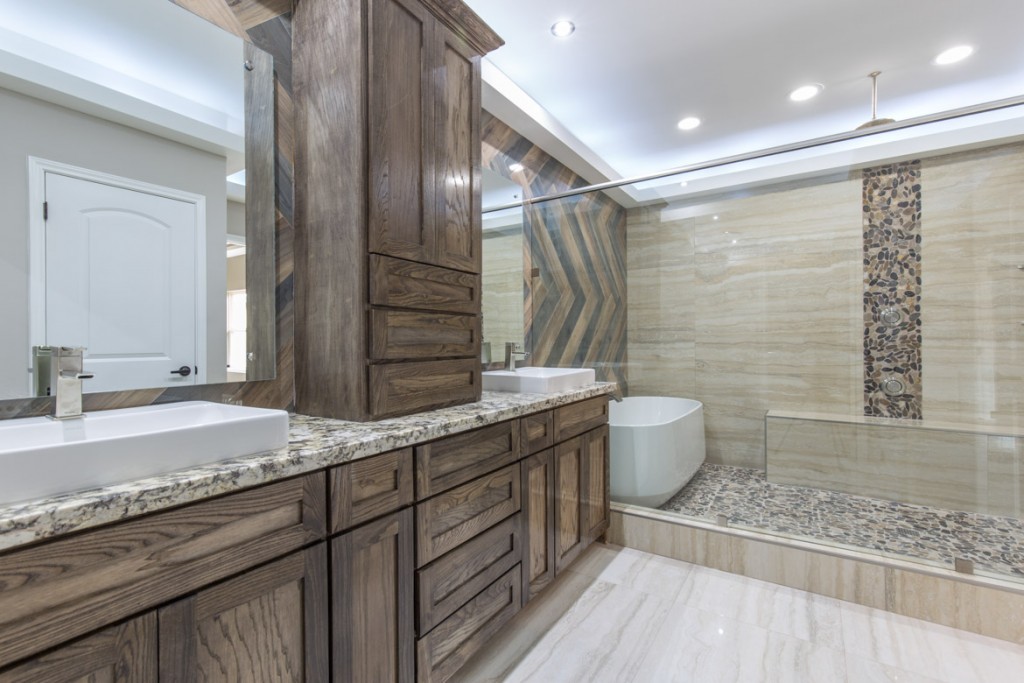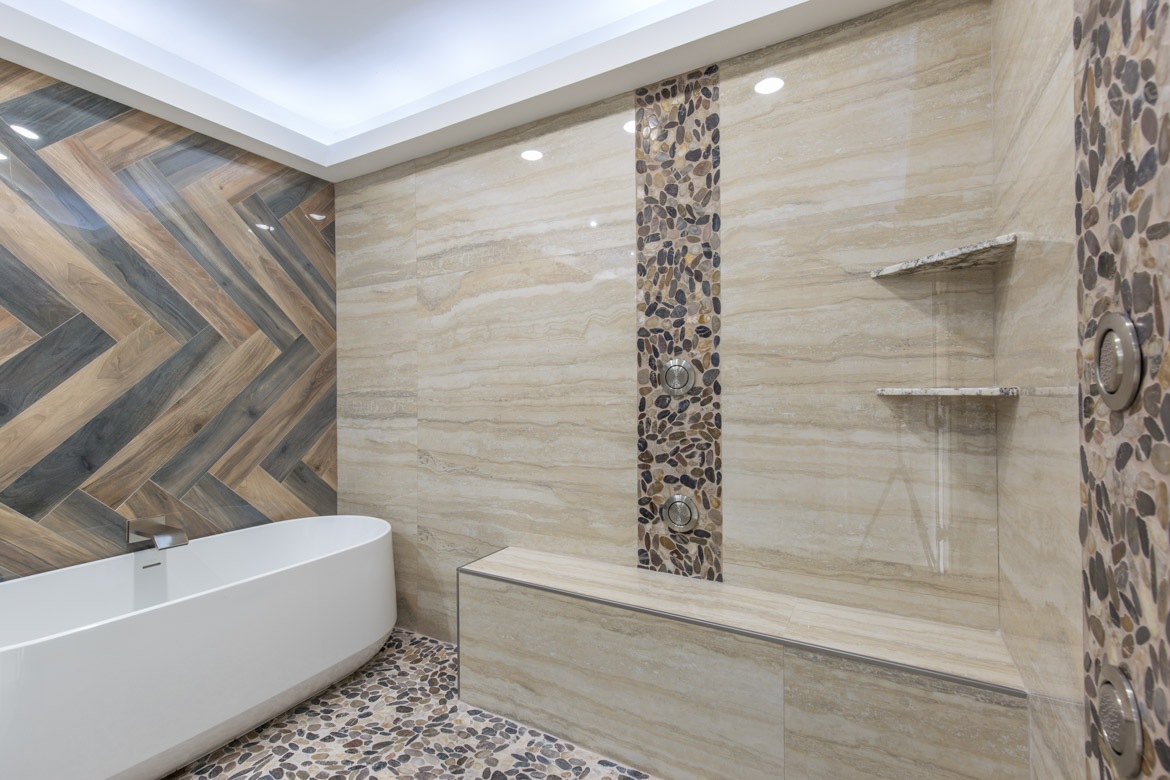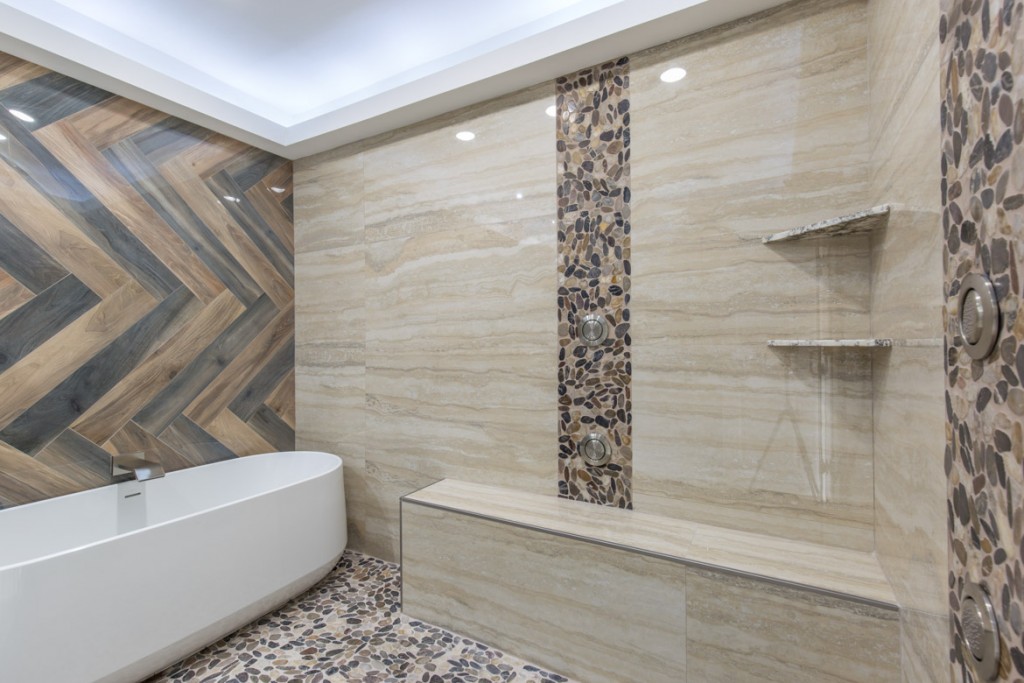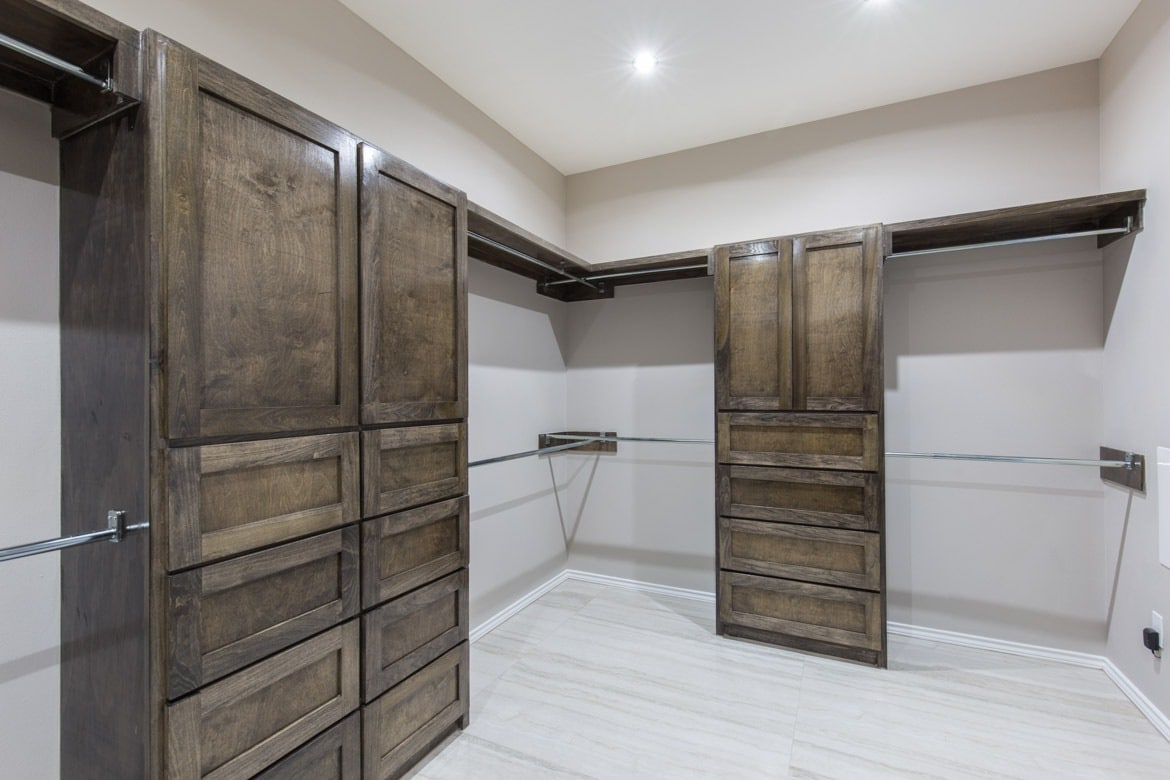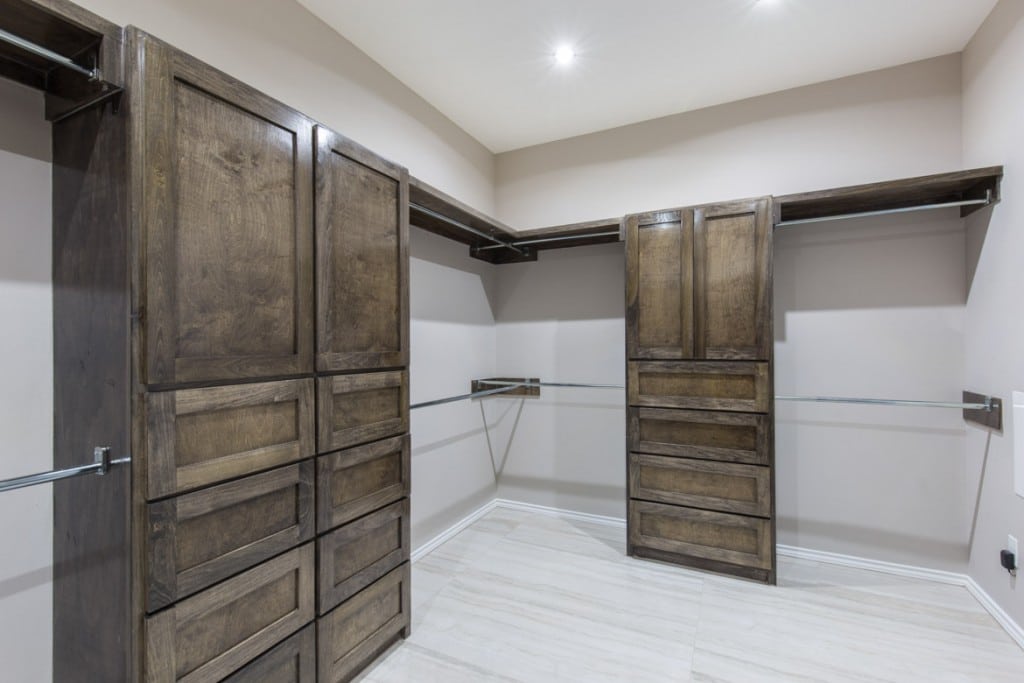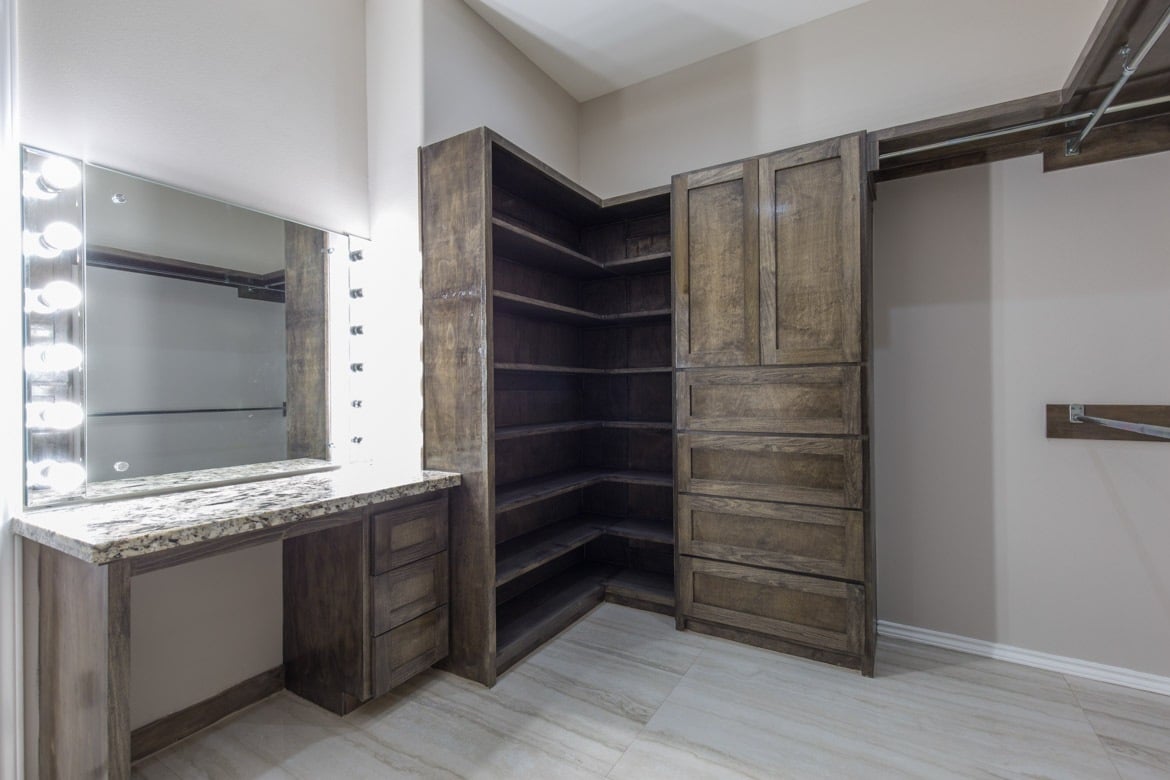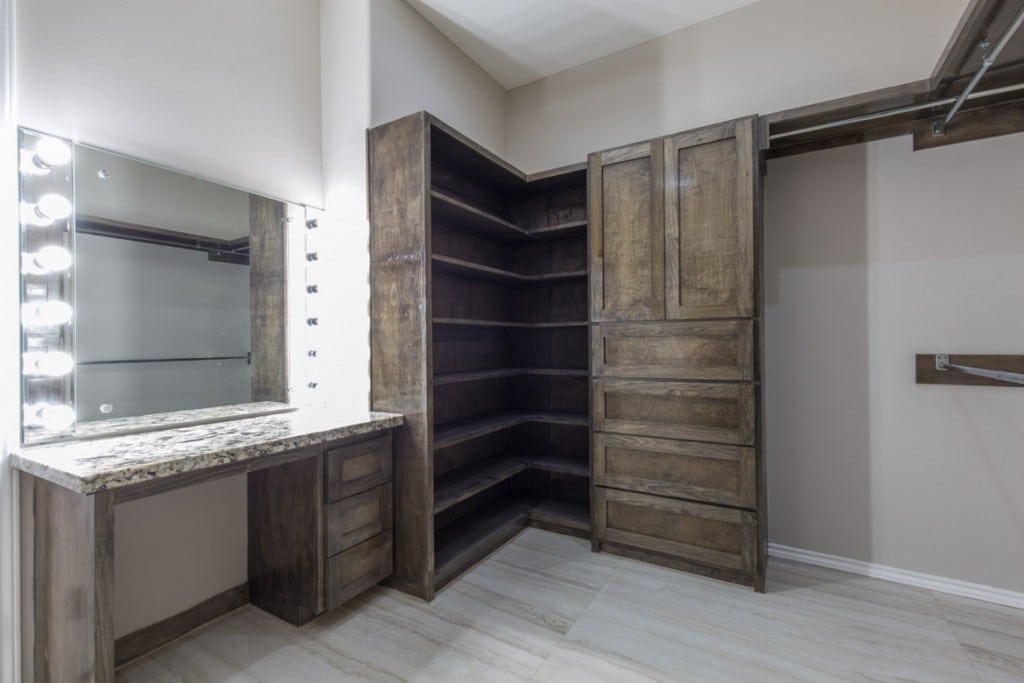 Villanueva Construction, a family-owned business run by founder Martin Villanueva, his daughter Stephanie Villanueva-Benitez, and son-in-law Rosendo Benitez Jr., designed and built this super amenity-filled home from start to finish. Along with the visual amenities, however—what the buyer can see—is something extra special that the buyer cannot see until the utility bills come in: this home is a BUILT TO SAVE™ energy efficient home. So energy efficient, that the RGVBA Parade of Homes awarded it the top honor of "Most Energy Efficient" in this year's Parade.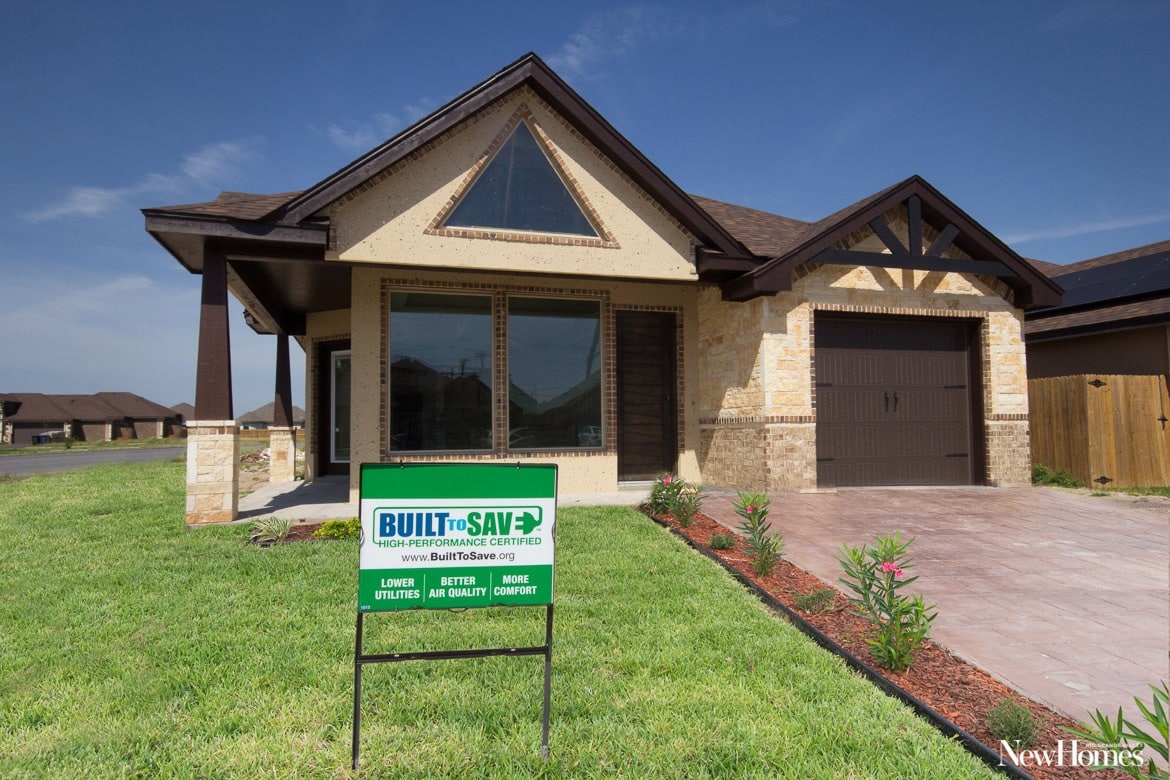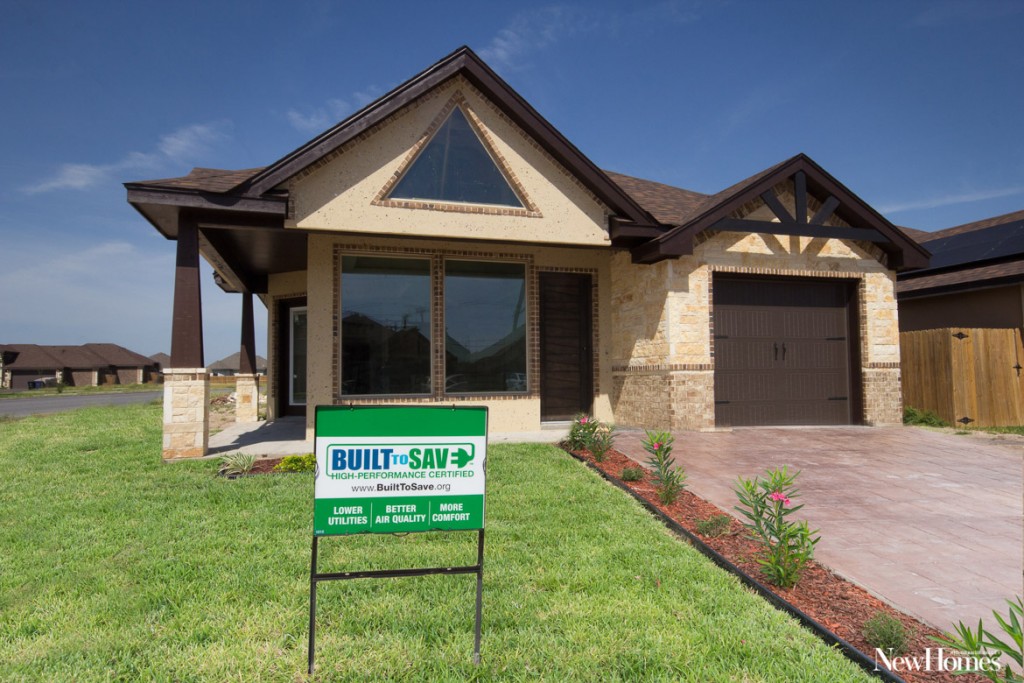 Along with the "Most Energy Efficient" award, this particular Villanueva home in Trinity Oaks received another top honor: "Best Model in the $151-200K" category, proving beyond a shadow of a doubt that a new home can have it all: great price, great energy savings, great amenities. For a 2,224 total square foot home, it is a testament to the company's excellent vision and high standards.
As an addendum and further testament: another of Villanueva Construction's homes in the community of Telfair in Edinburg, Texas, won "Best Home" in the Single-Family Home – $101-150K Category!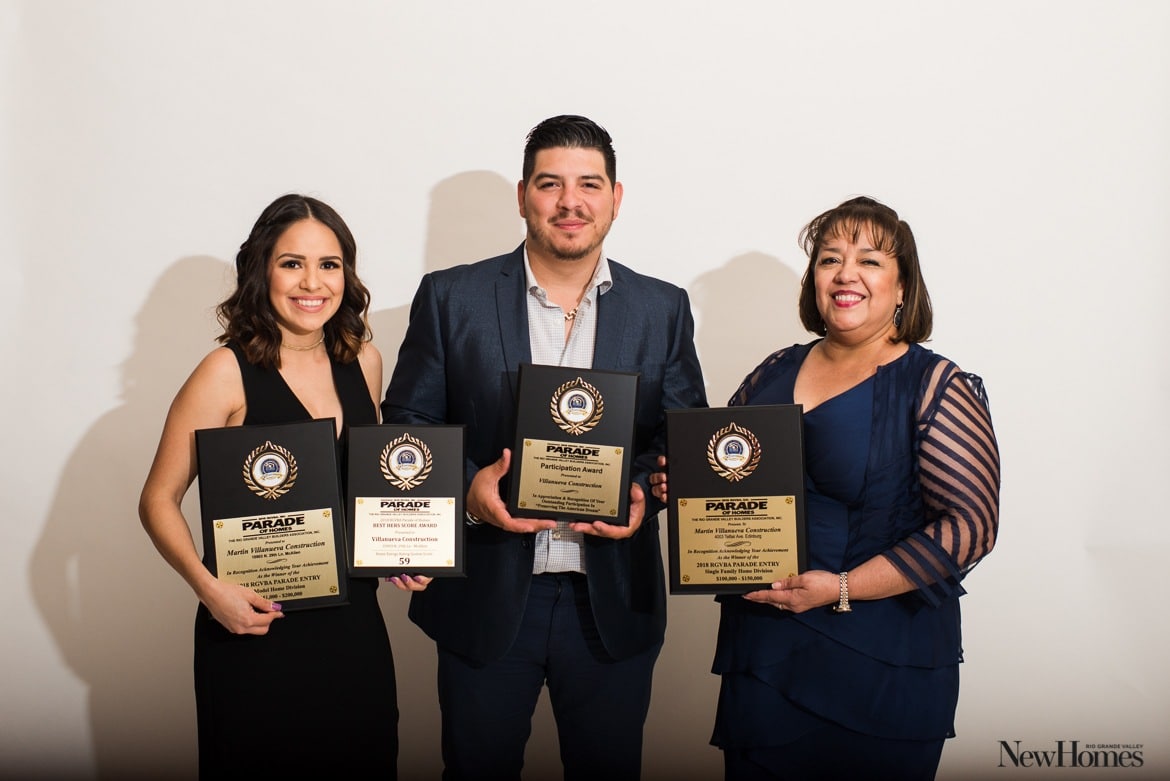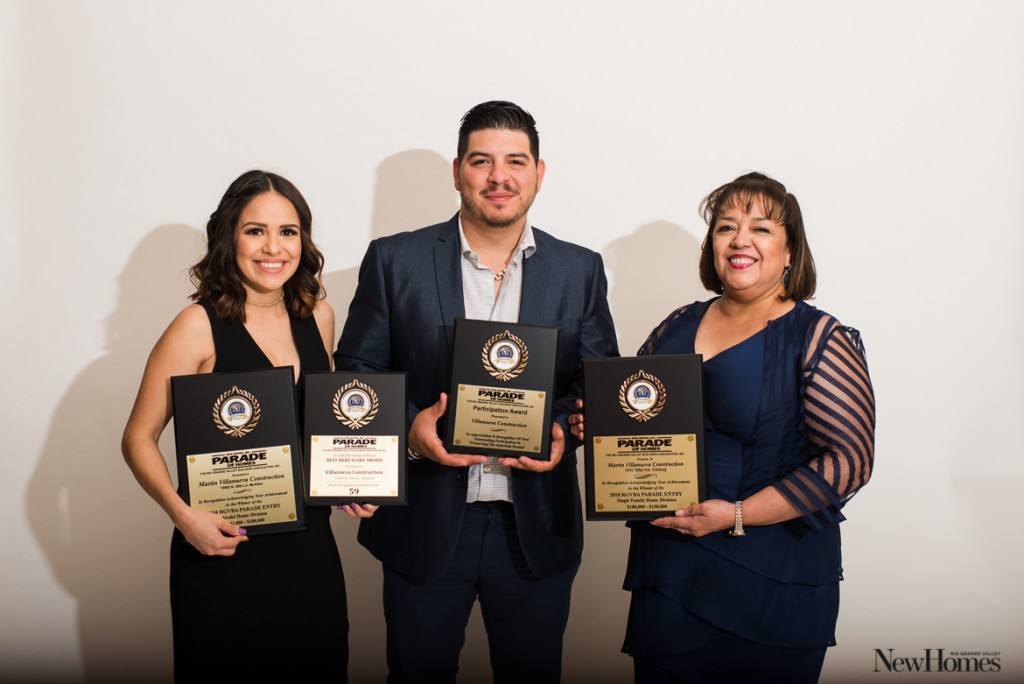 (L-R):

Stephanie Villanueva-Benitez, Rosendo Benitez Jr, and

Maria Sandoval.

This beautiful Villanueva home in Trinity Oaks has sold. However, the exceptional team at Villanueva Construction encourages you to call them so they can help design and build your new home. Call Rosendo Benitez, Jr. at (956) 212-4132 or (956) 800-8889. You can also email: rosendo@villanuevahomes.com or check out their website at www.villanuevahomes.com. However, the best way to stay up to date with their home inventory is by following them on Facebook & Instagram.

Special thanks to the Rio Grande Valley Builders Association for putting together an excellent Parade of Homes event.

We'd love to hear your thoughts about this home. Use the comments section below to show some love.
Follow us on Instagram for a daily dose of beautiful new homes in the Rio Grande Valley! Click here: @RGVNewHomes
© 2018 RGV New Homes Guide & Across Media Marketing, LLC.
Unauthorized use and/or duplication of this material without express and written permission from this site's author and/or owner is strictly prohibited. Excerpts and links may be used, provided that full and clear credit is given to RGV New Homes Guide with appropriate and specific direction to the original content.