Villa Homes: The A, B & V's of a "Best of Show" Home
Home by: Villa Homes
Style: Mediterranean Transitional
Subdivision: Sommerset Court Estates
City: Mission, Texas
Home Specs: 4 Bed / 3.5 Bath / 2 Garage / 1 Study / 2,866 Sq. Ft. (Living) /3,795 Ft. (Total)
Property Status: SOLD. Available to build.
2018 RGVBA Parade of Homes Awards:
• "Best Of Show"
• "Best Single Family Home in the $301-350K Category"
• "Best Master and Bath"
• "Best Kitchen"
• "Best Architectural Design"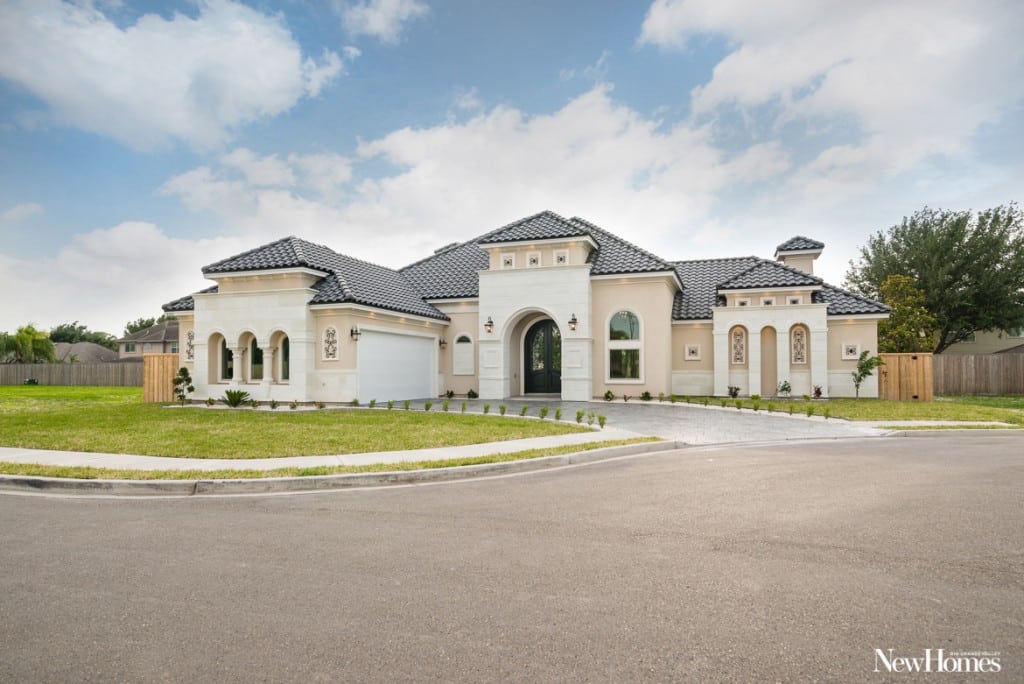 What makes a new home garner not one but five top honors—"Best Single Family Home in the $301-350K Category," "Best Kitchen," "Best Master and Bath," "Best Architectural Design," and, most importantly, "Best Of Show"—by independent out-of-town judges in a Parade of Homes competition? Quality design? Exceptional craftsmanship? Utilization of contemporary building products? Energy efficiency usage? Probably all of these, and then some. Villa Homes' entry in Mission, Texas, proudly constructed by the Villanueva family: Emigdio Villanueva Jr., Emigdio Villanueva III, and David Villanueva, took five top honors this year in the 2018 Rio Grande Valley Builders Association's Parade of Homes, and is a flawless example of excellence in new home building. Let's do a visual "walk-through" and see why.
The exterior of this "Best of Show" winner is Mediterranean transitional in buttery beige stucco with a charcoal gray tile roof and ivory Cantera stone pillars and arches. A decorative stamped concrete drive and landscaping add to the beauty.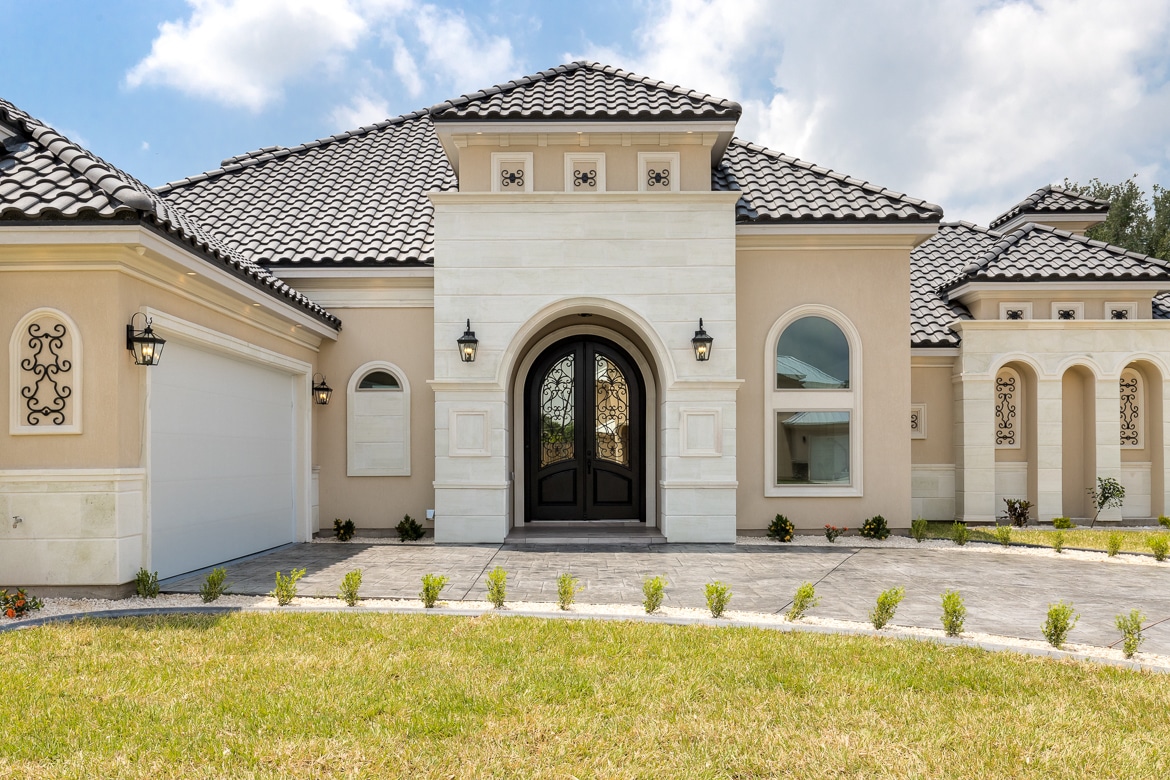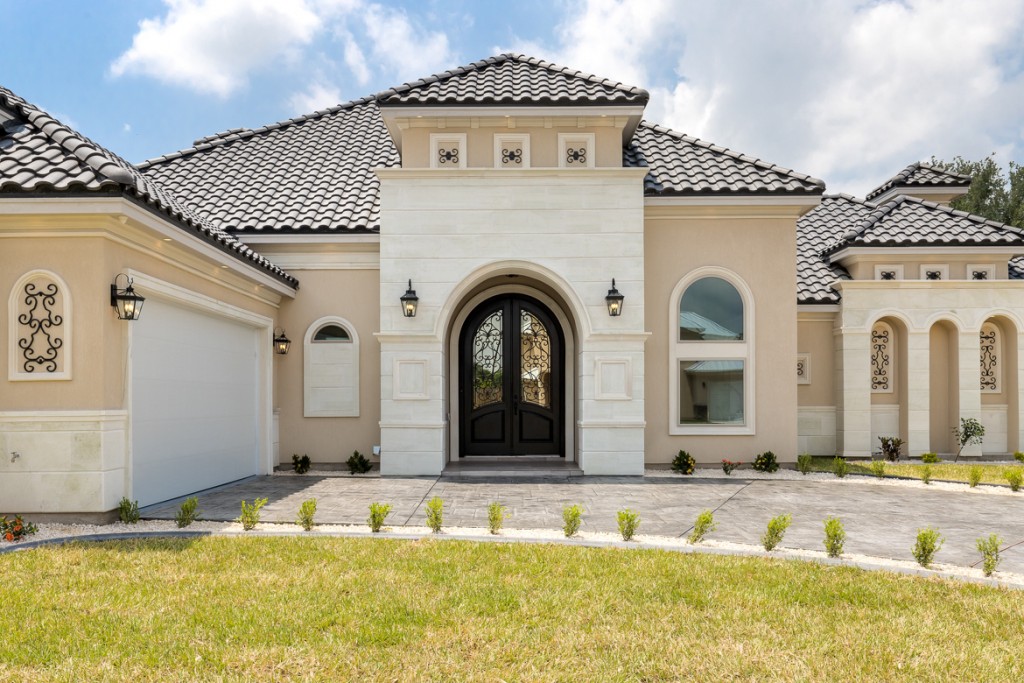 A 10' high custom wood, glass, and wrought iron front door leads into an entryway with a modern silver chandelier descending from a lofty shiplap-designed ceiling. Wainscoting in creamy white with dove gray walls above, and wood-look ceramic tile on the floor—which extends throughout the home—all complete the welcoming entrance.
The main living area is viewed beyond the entrance—a soaring 16' high cathedral ceiling with wood beams, a massive circular "modern farmhouse look" chandelier, custom French doors, custom-crafted bookshelves and built-ins, and a warm and inviting electric fireplace. In an interview with Villa Homes' designer Brianna Villanueva, she smilingly said her interior design inspiration for this home came from her love of Joanna Gaines' HGTV show, Fixer Upper. This is definitely a showcase home for a transitional farmhouse design, and this year, it took top honors as "Best Architectural Design" in the RGVBA Parade of Homes.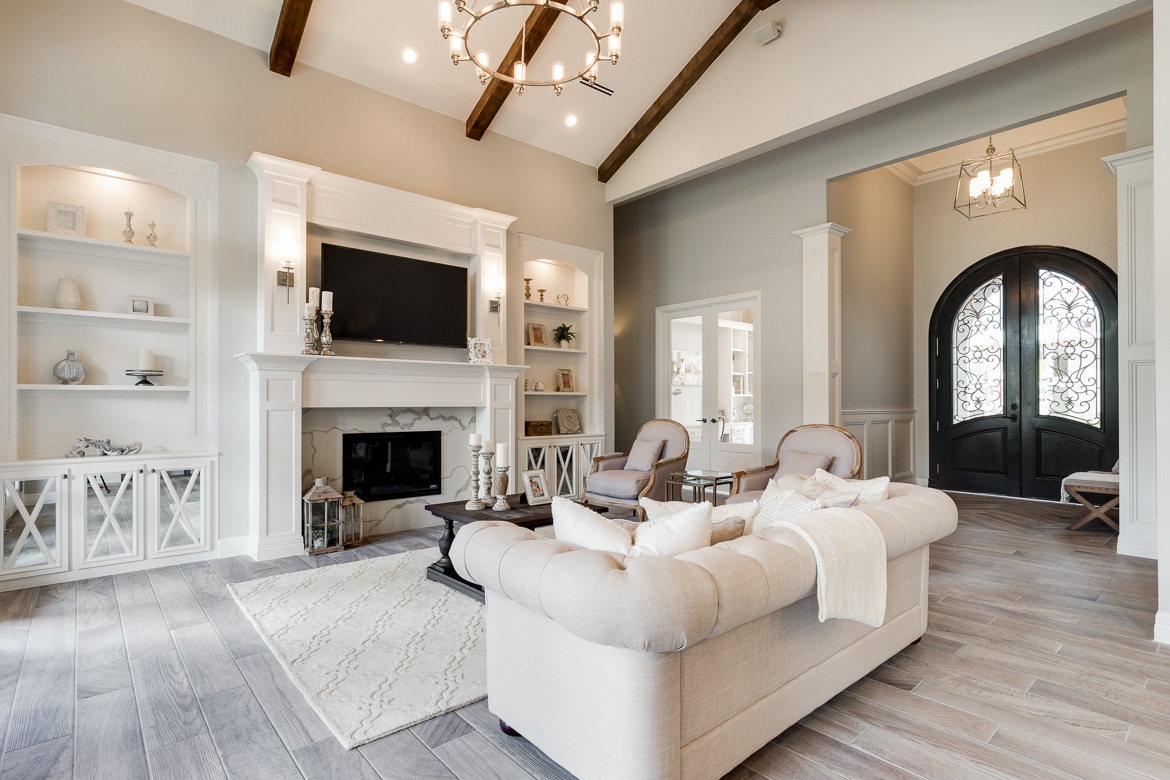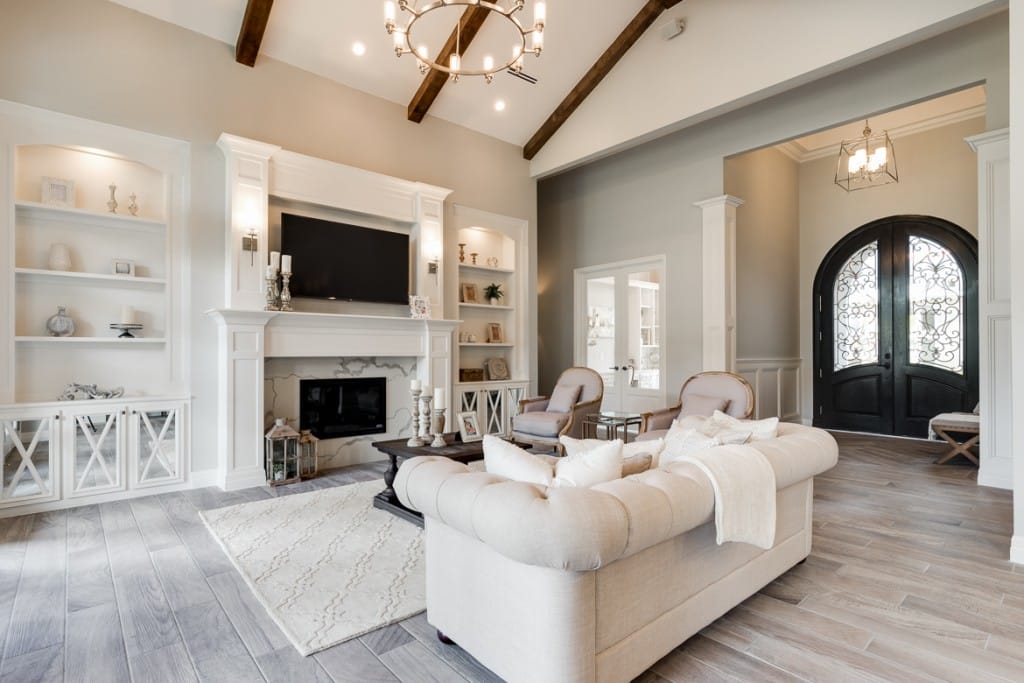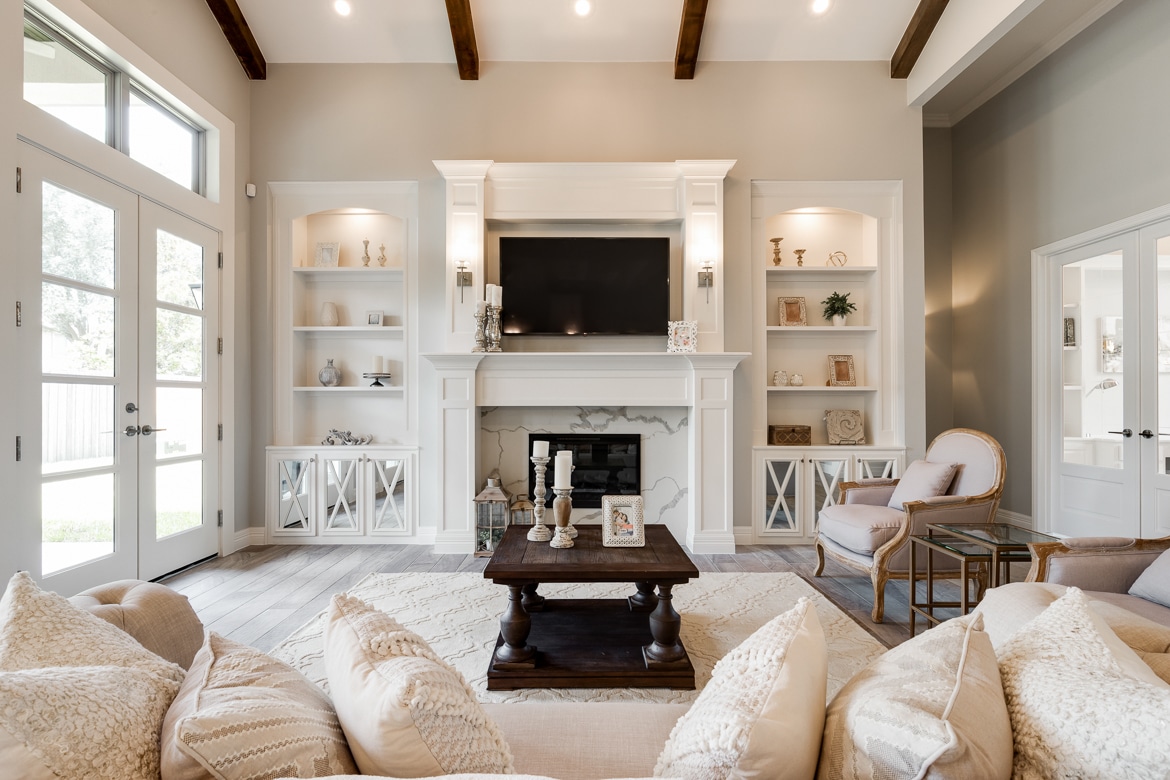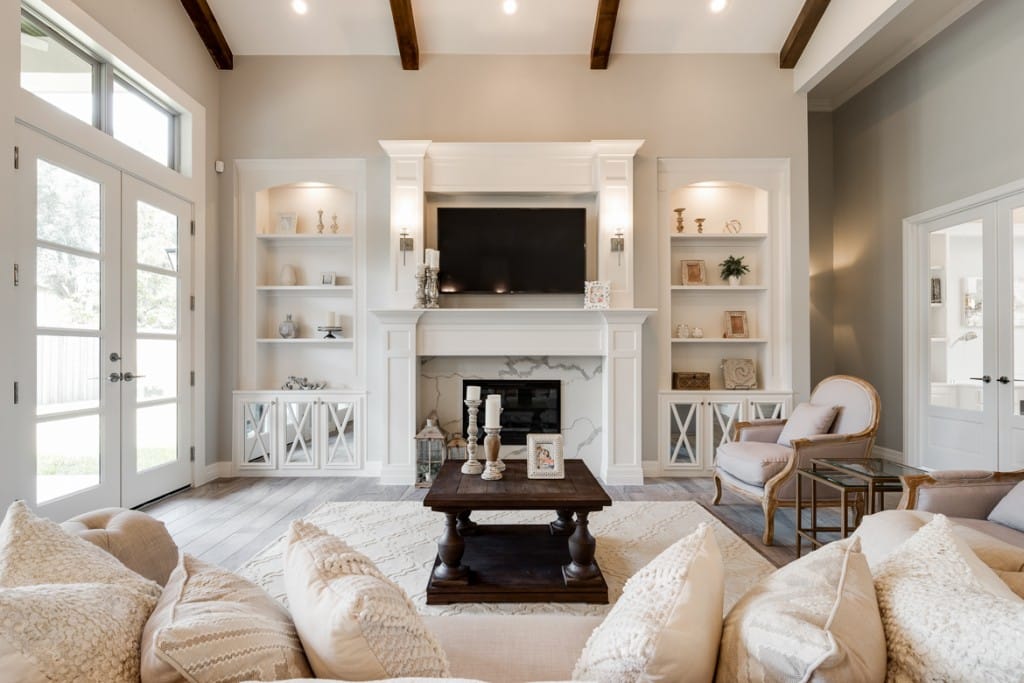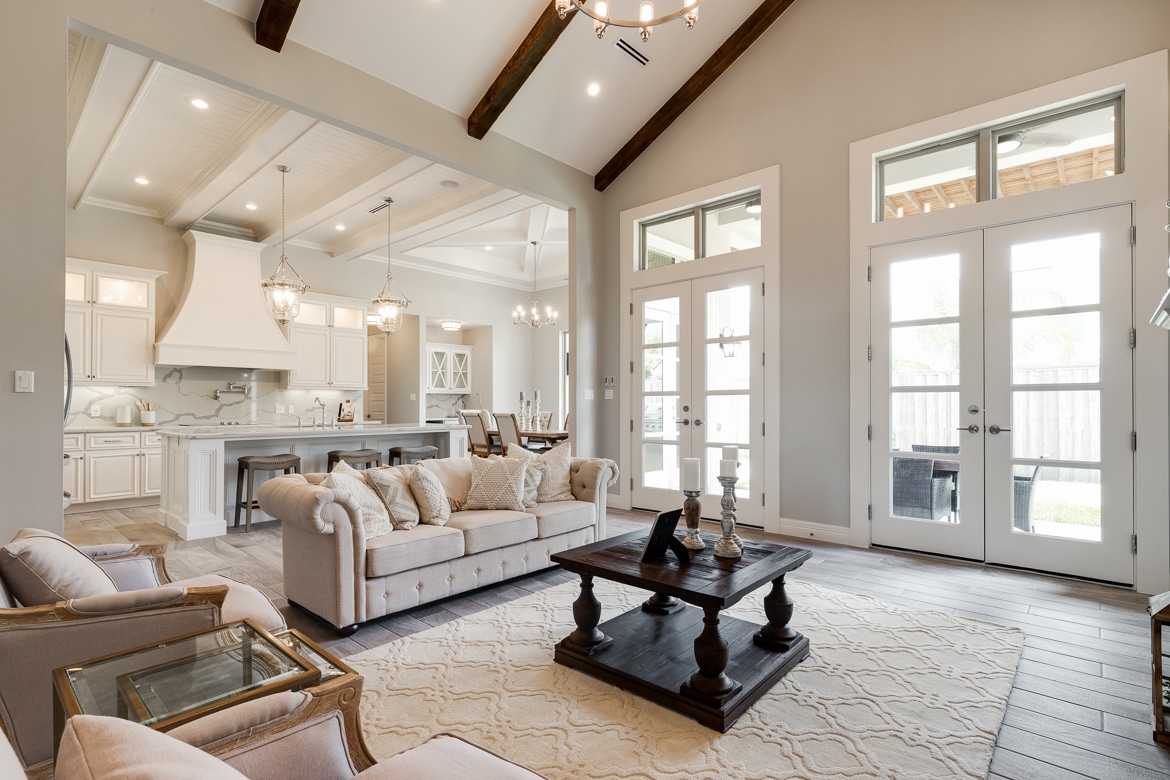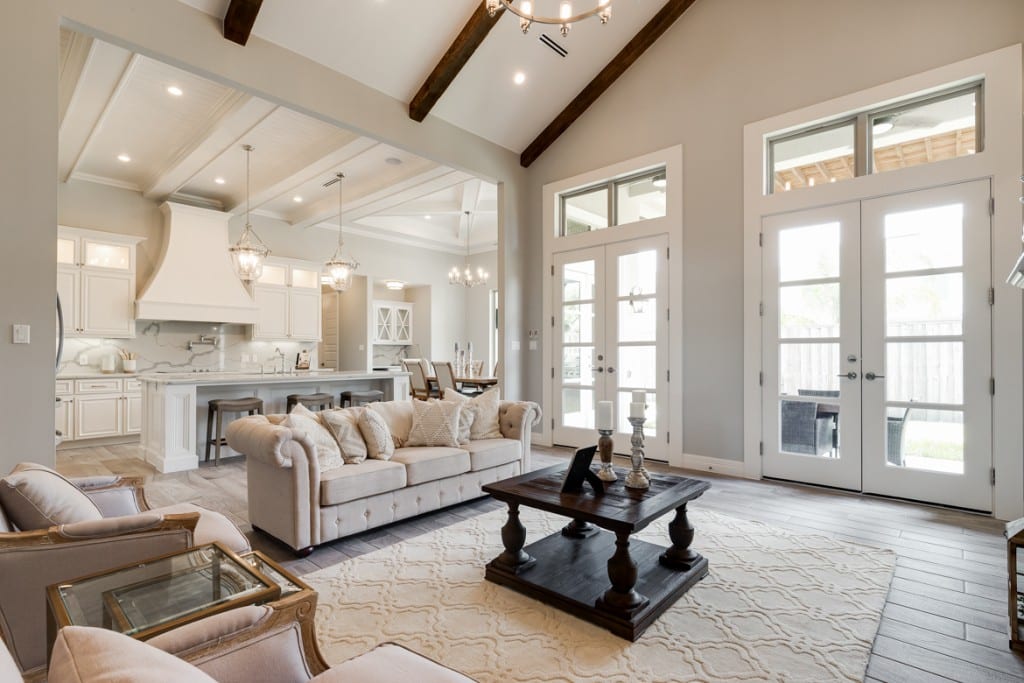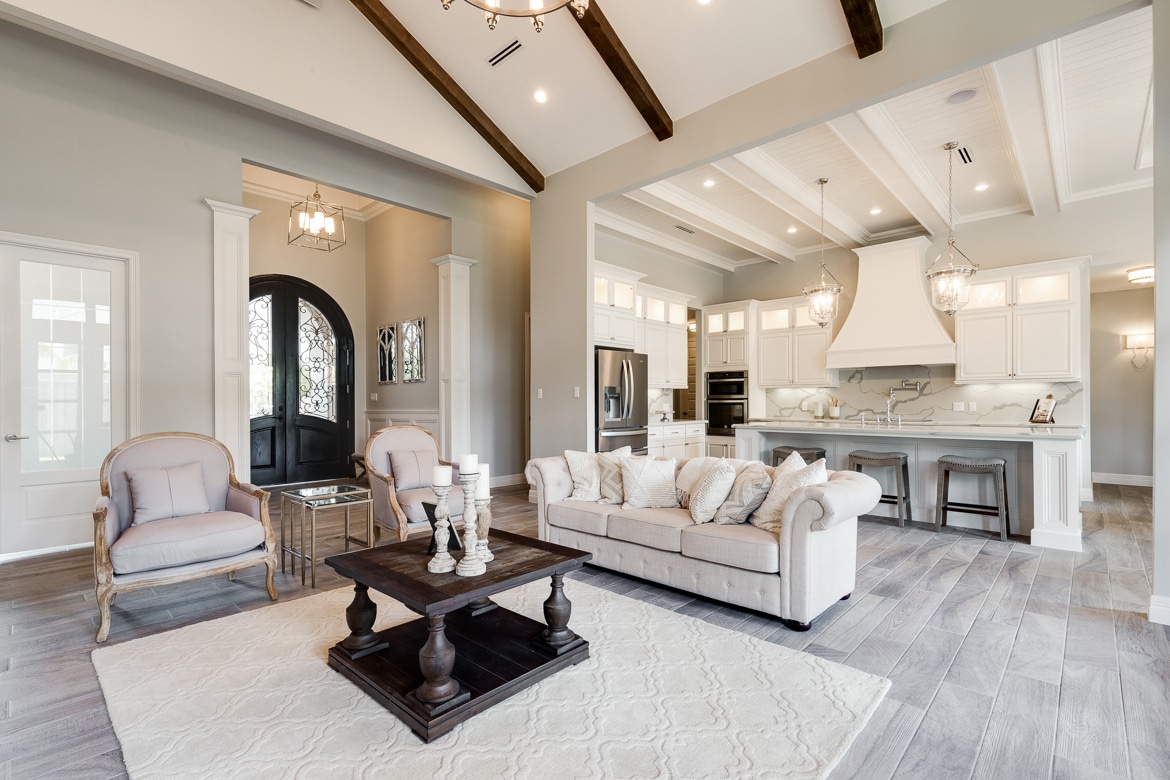 Directly to the right of the living area is an intimate enclosed study/office with large sunny windows overlooking the front yard, plus a built-in desk area with shelving. A glass door separates this room from the main living room for privacy if needed.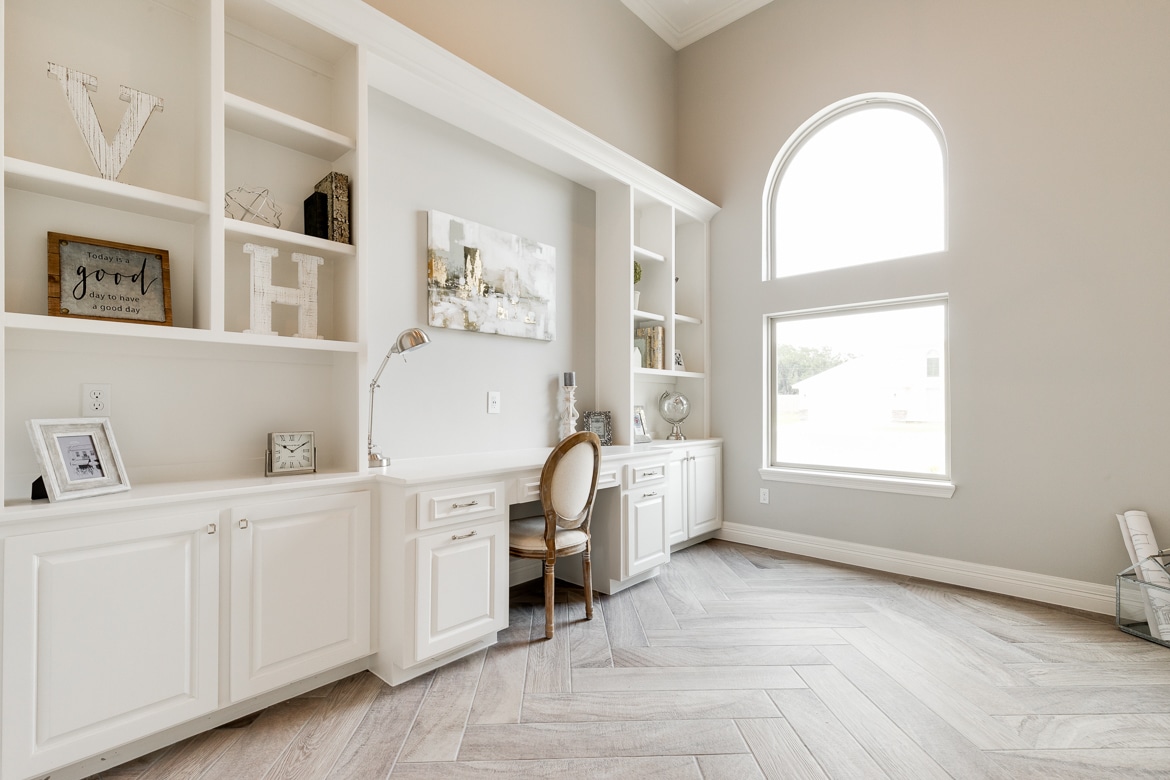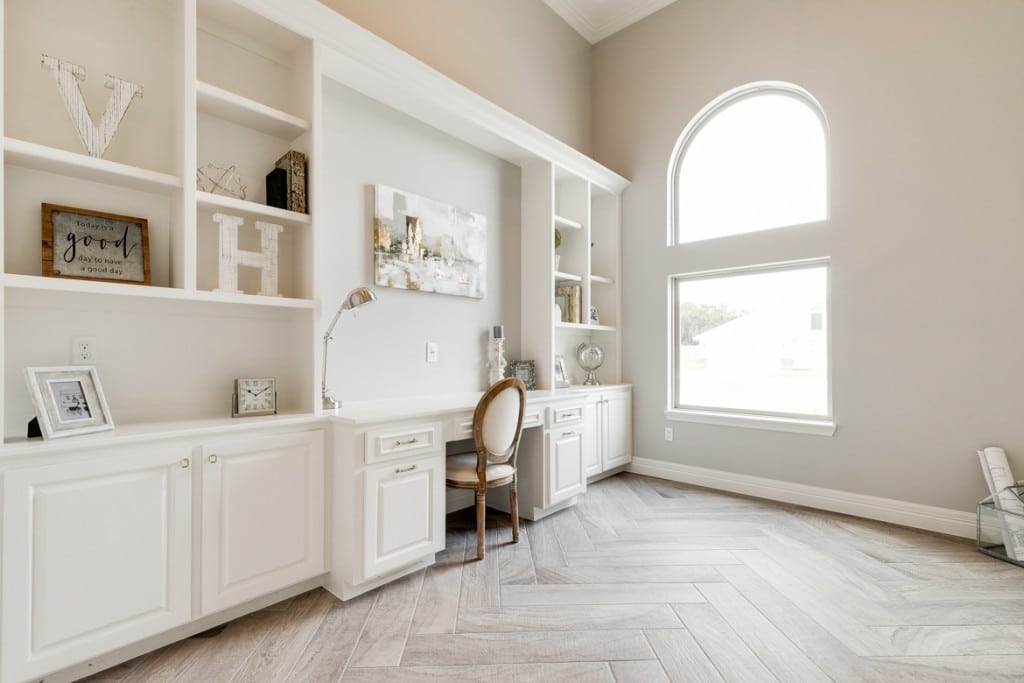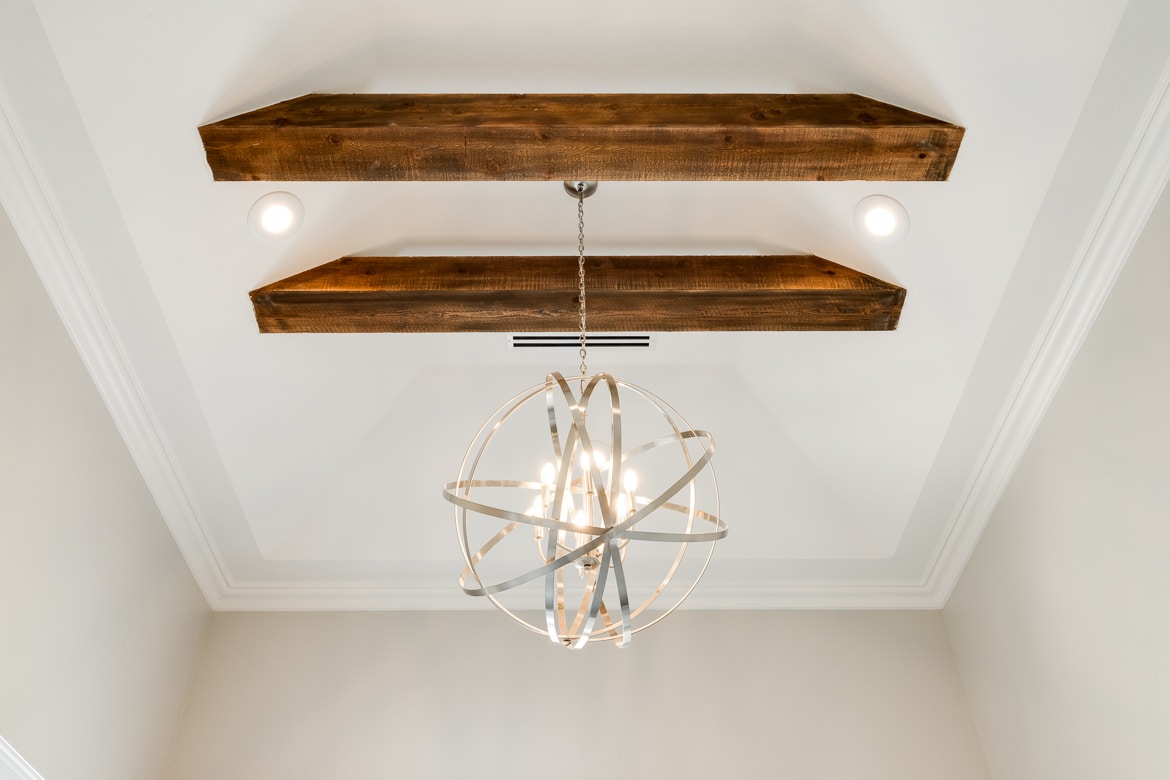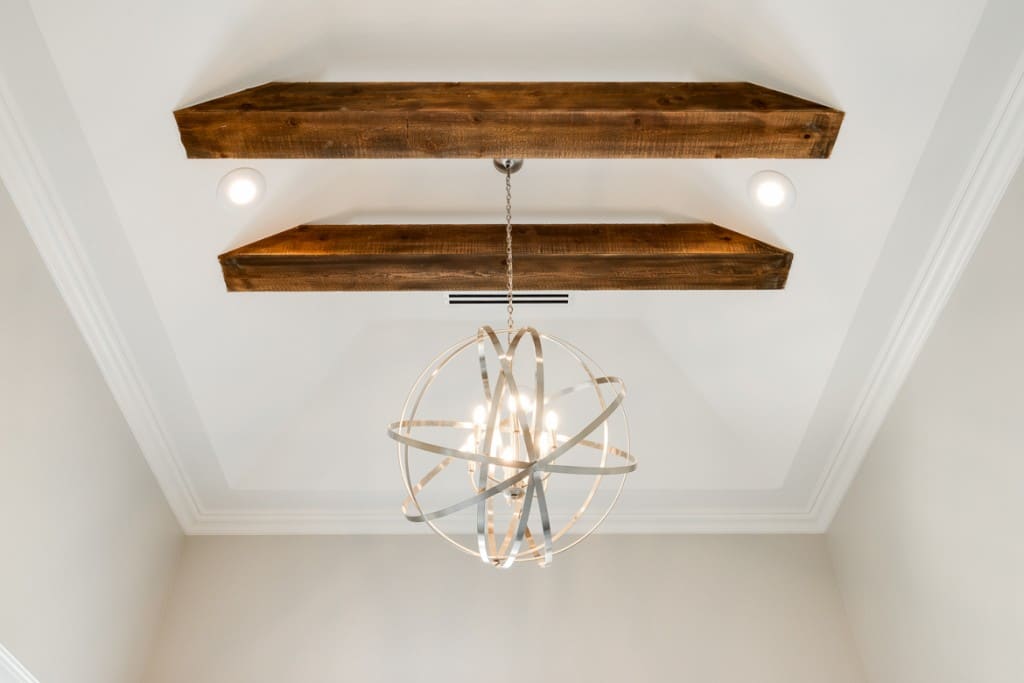 Beyond the open living area is the kitchen, a homemaker's dream and, yes, winner of "Best Kitchen" in the 2018 RGVBA Parade of Homes. Marble quartz countertops complement lofty 12' high ceilings with custom designed shiplap and modern chandeliers. Extras like a deep porcelain farmhouse sink, a retractable pot filler faucet over the cooktop, a large walk-in and glassed-in Butler's pantry, and off to the side, a built-in wine refrigerator next to the dining area, all demonstrate excellence in design and creative function.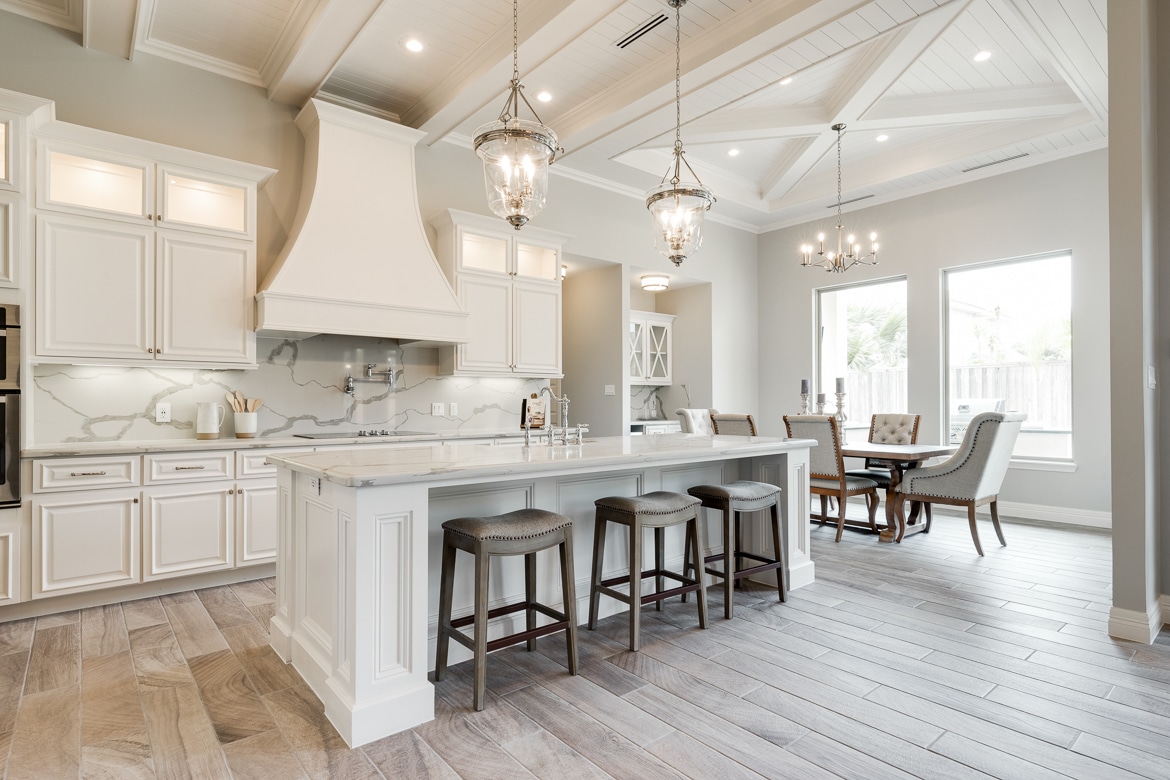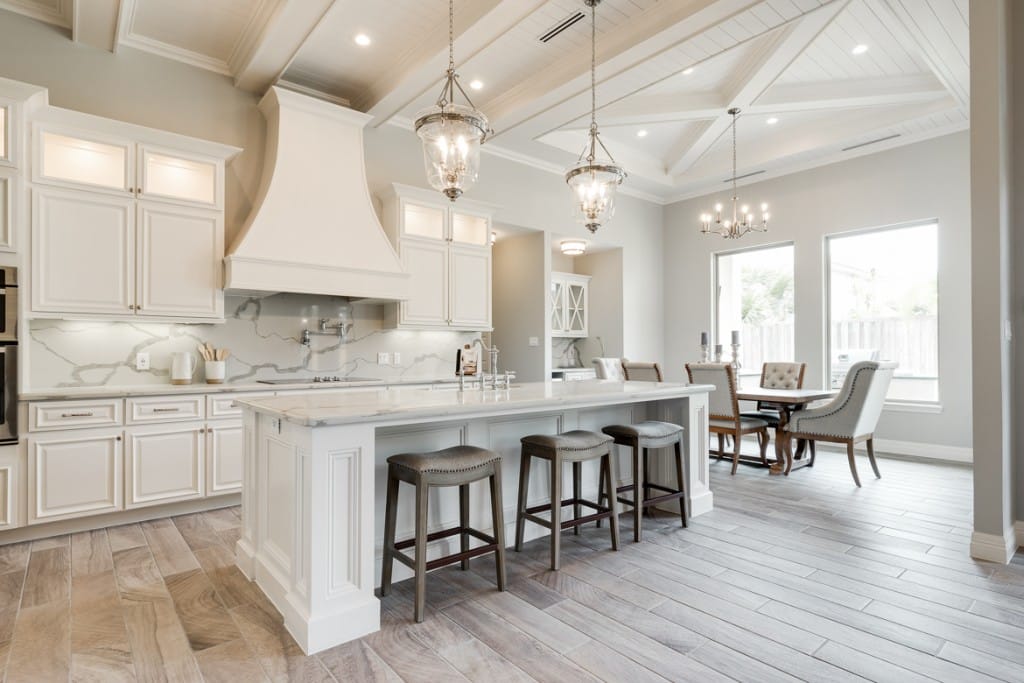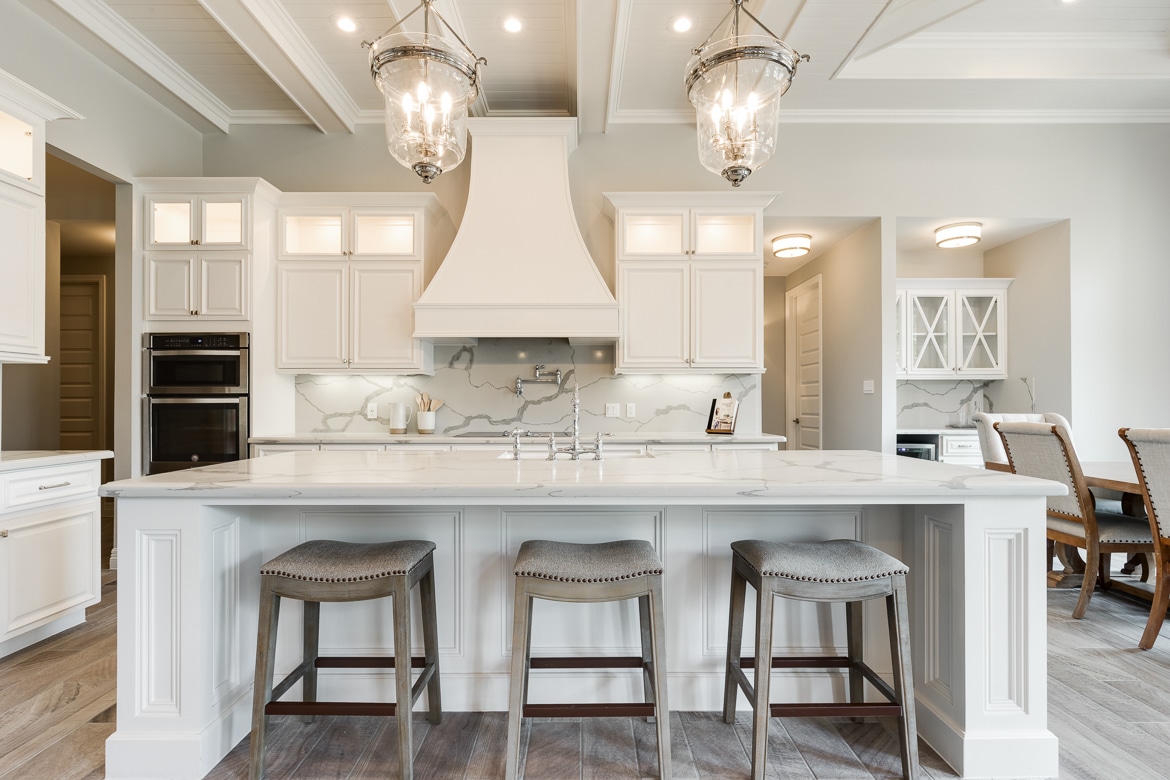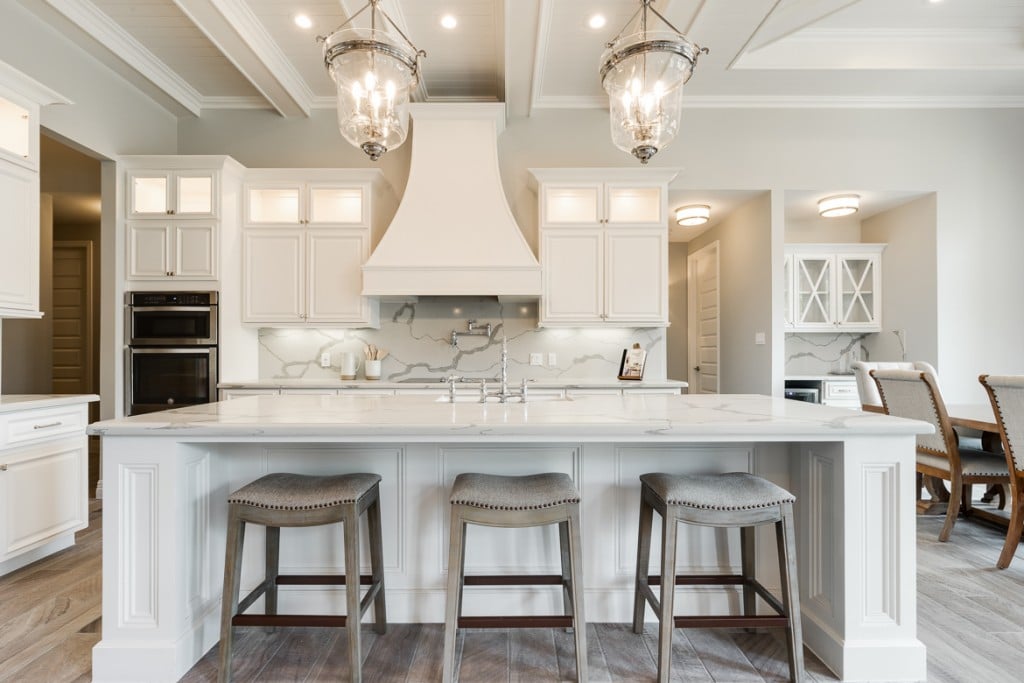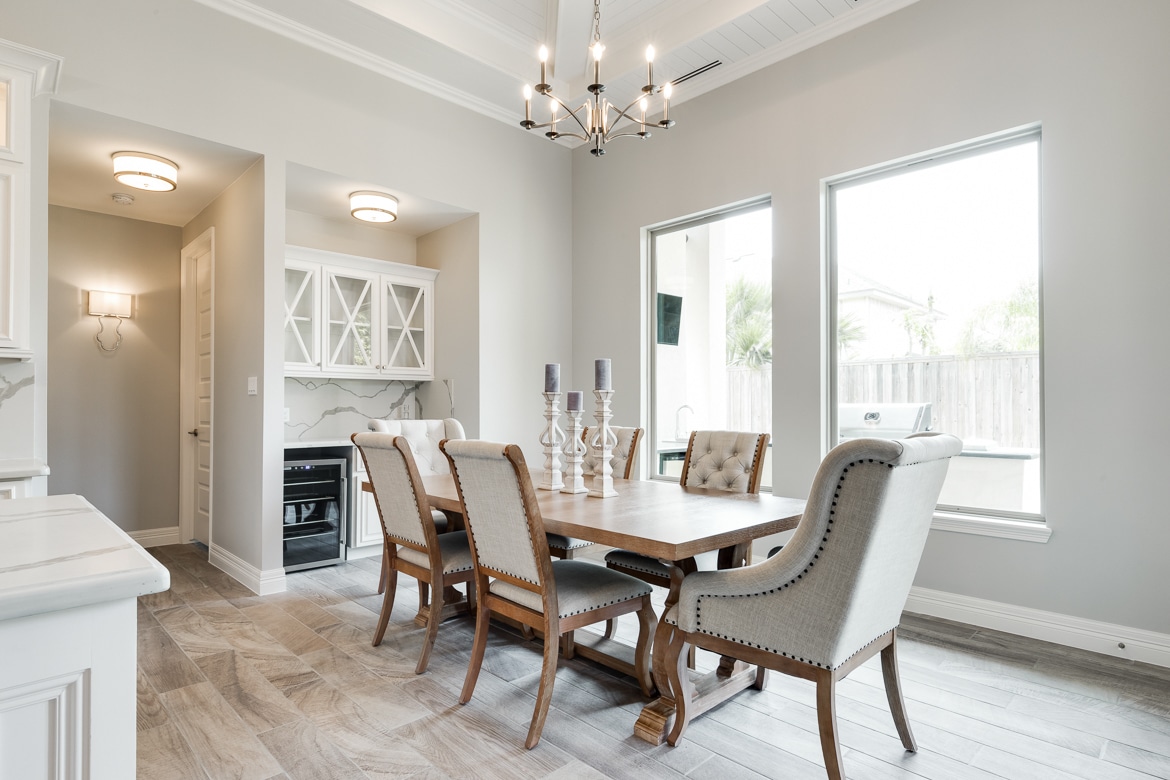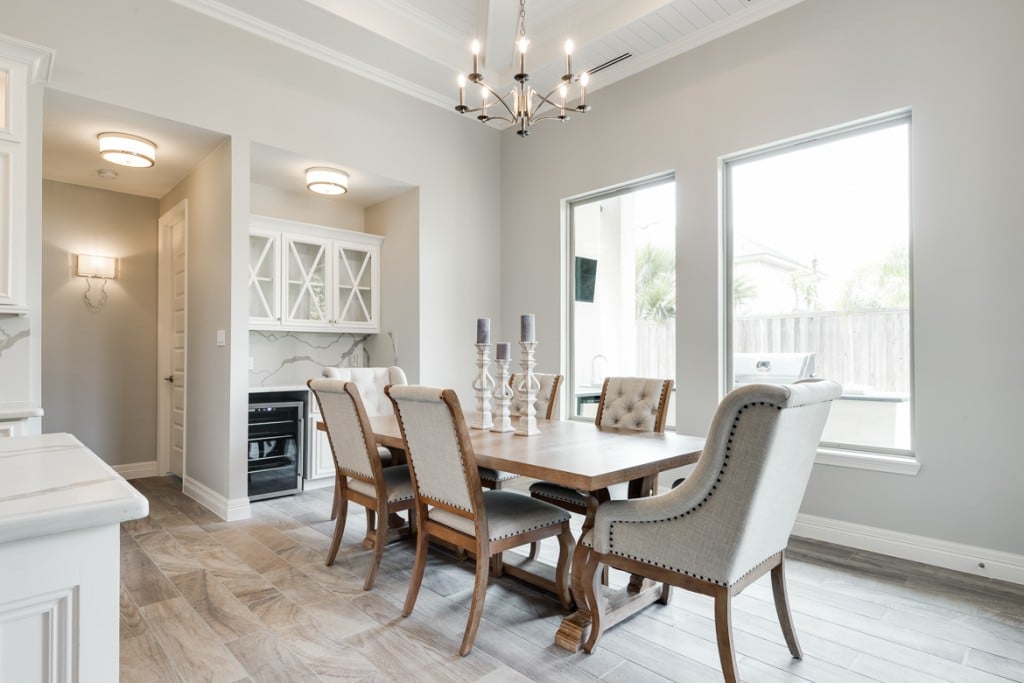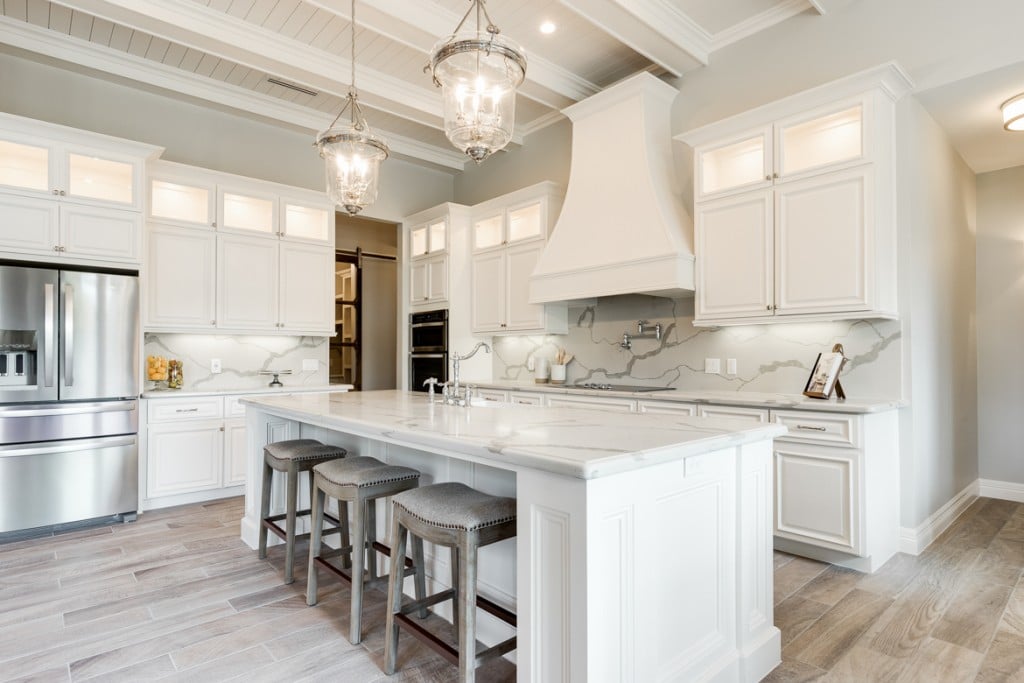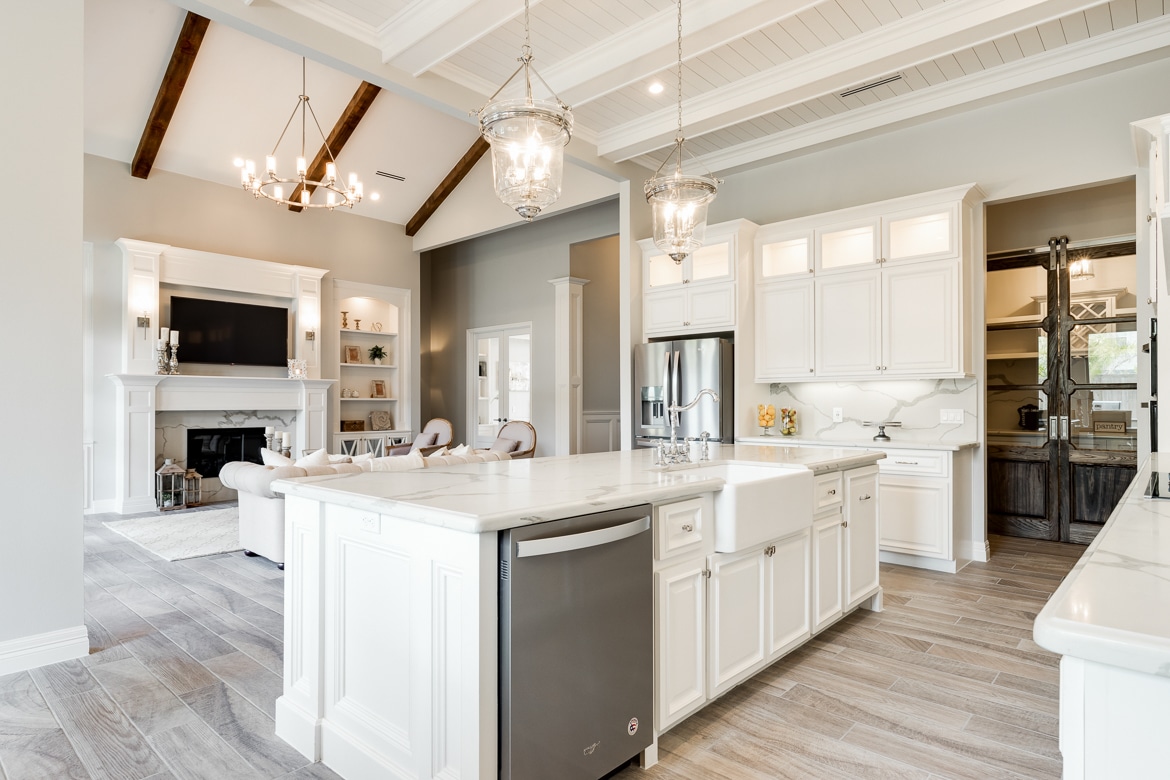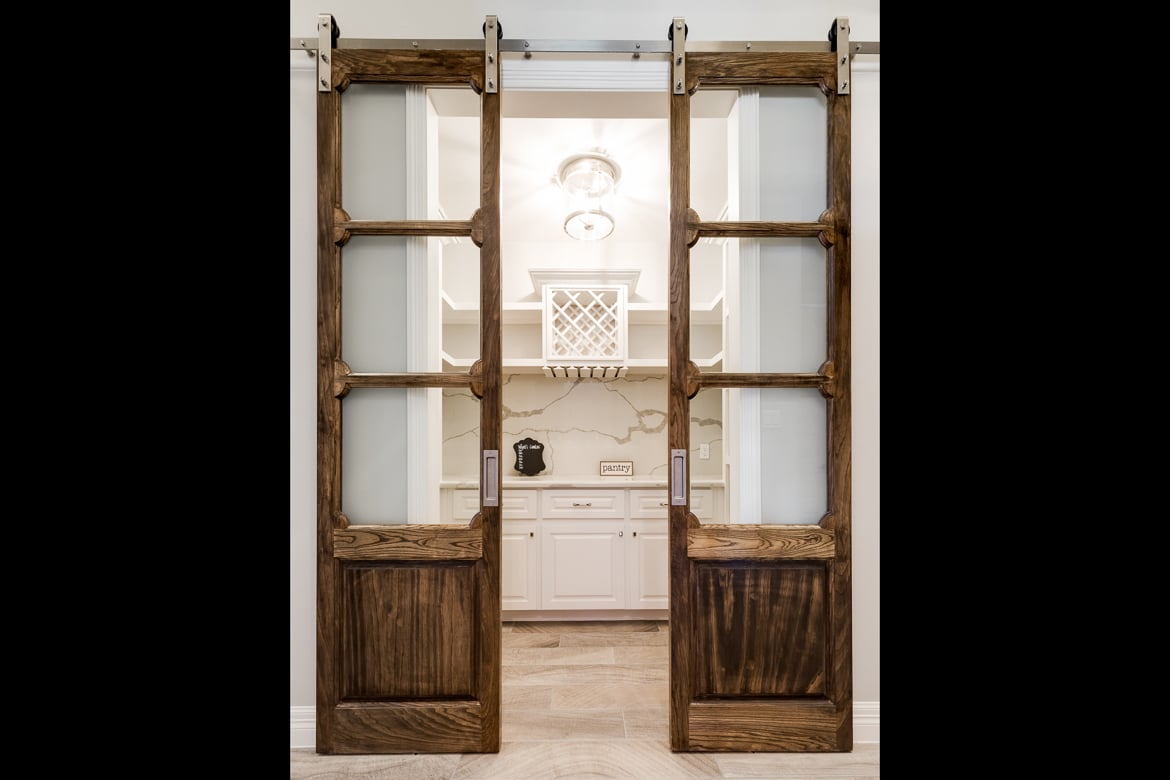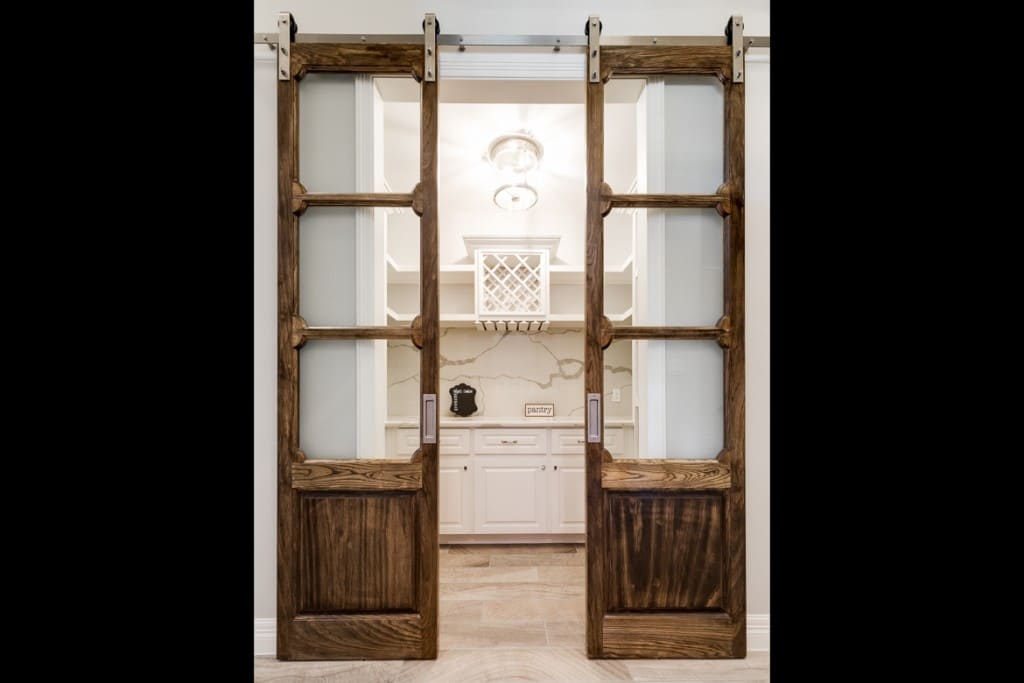 Villa Homes took yet another top award in the 2018 Parade of Homes: "Best Master and Bath." The reason is obvious: a large and private Master Suite occupies the entire right wing of the home, and comes complete with a cozy bowed window seating area and its own private patio for that quiet morning cup of coffee or an evening cup of tea.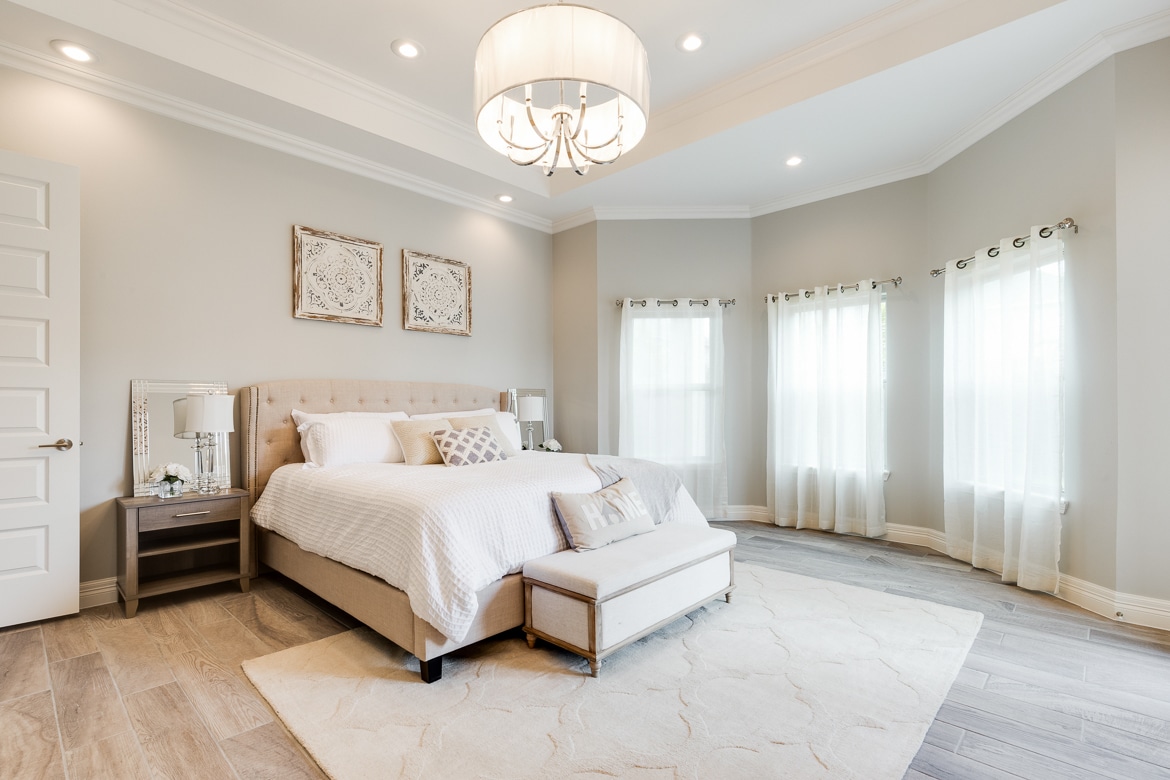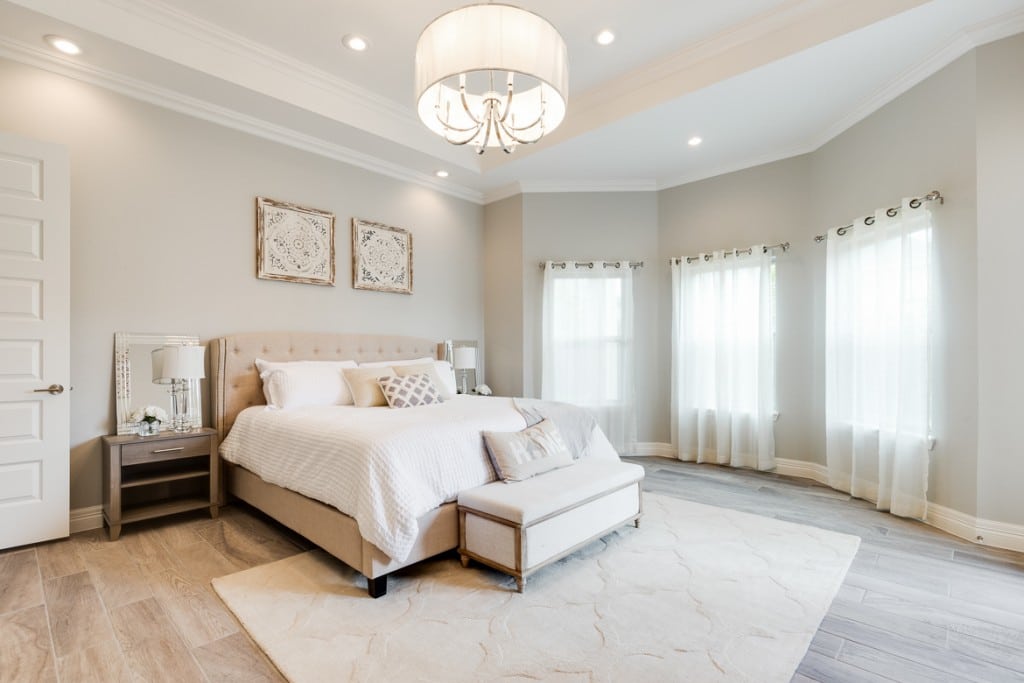 And then there is the Master Bath. Comprised of separate His and Hers sinks, vanities, and glassed-in showers, with opulent marbled porcelain floors, a walk-in closet with mirrors, a chandelier, and custom built-ins, and a stunning cutting-edge soaking tub—this bathroom is, well, drop-dead gorgeous.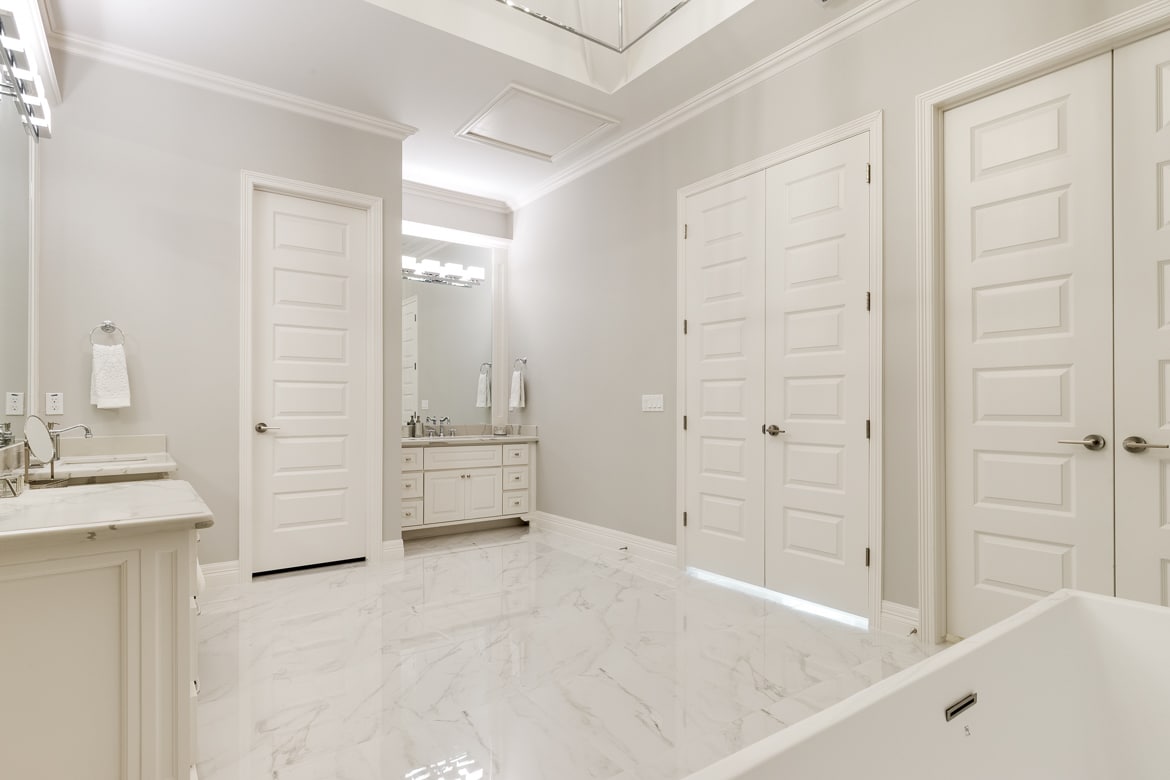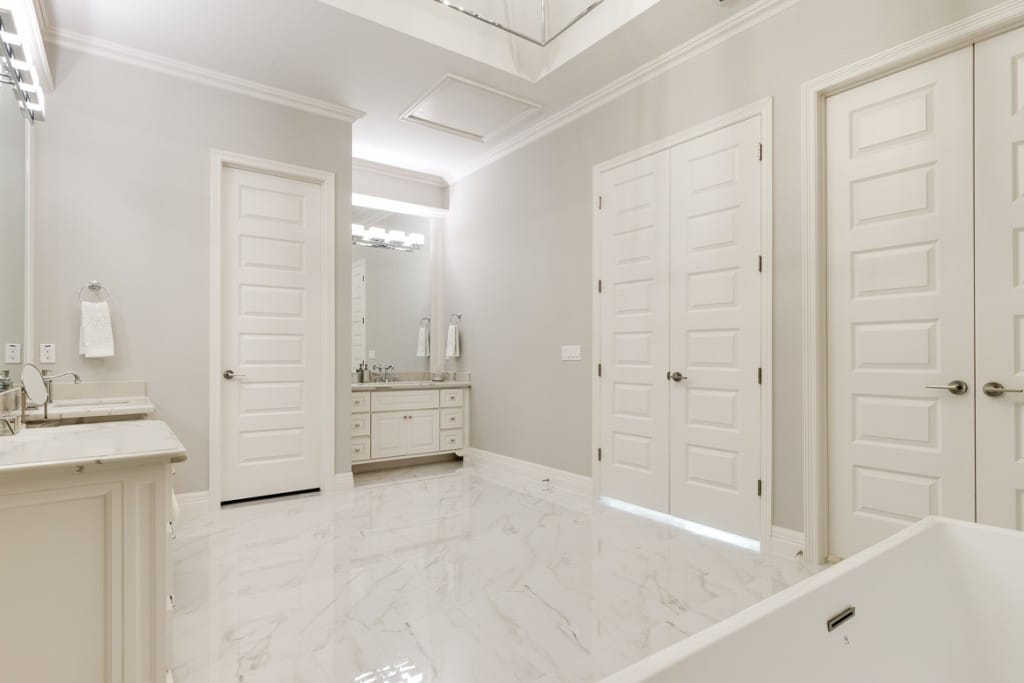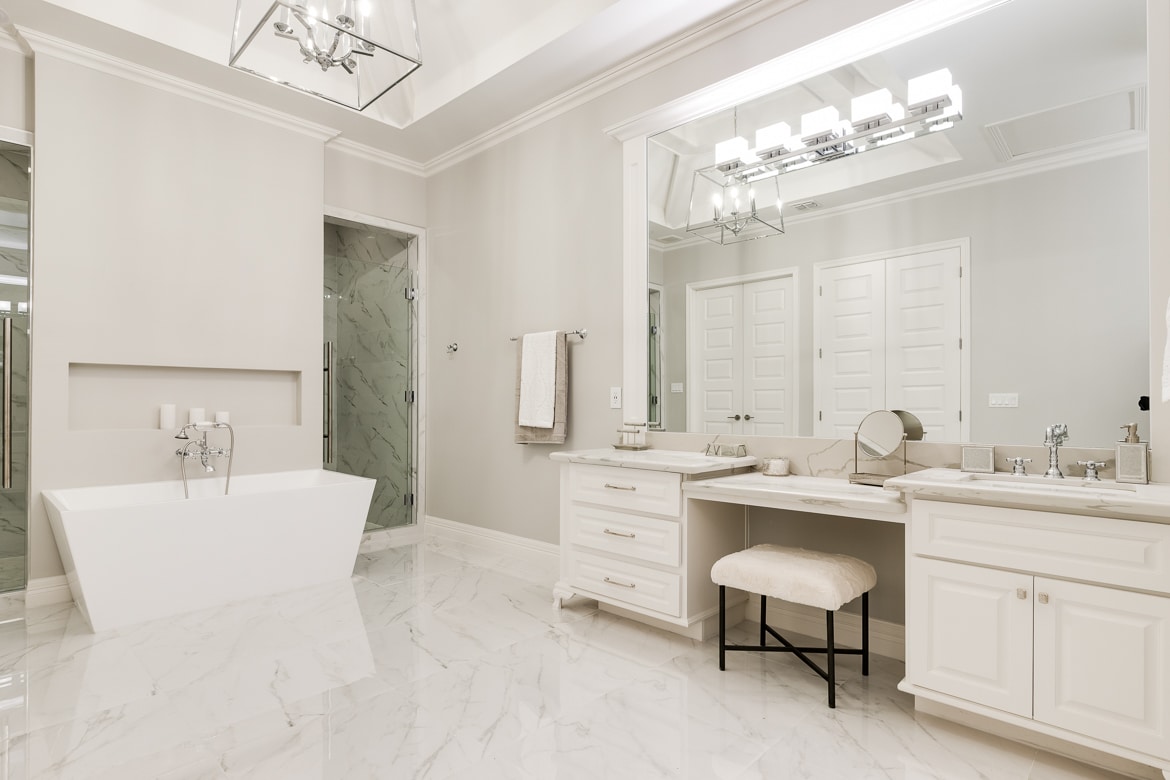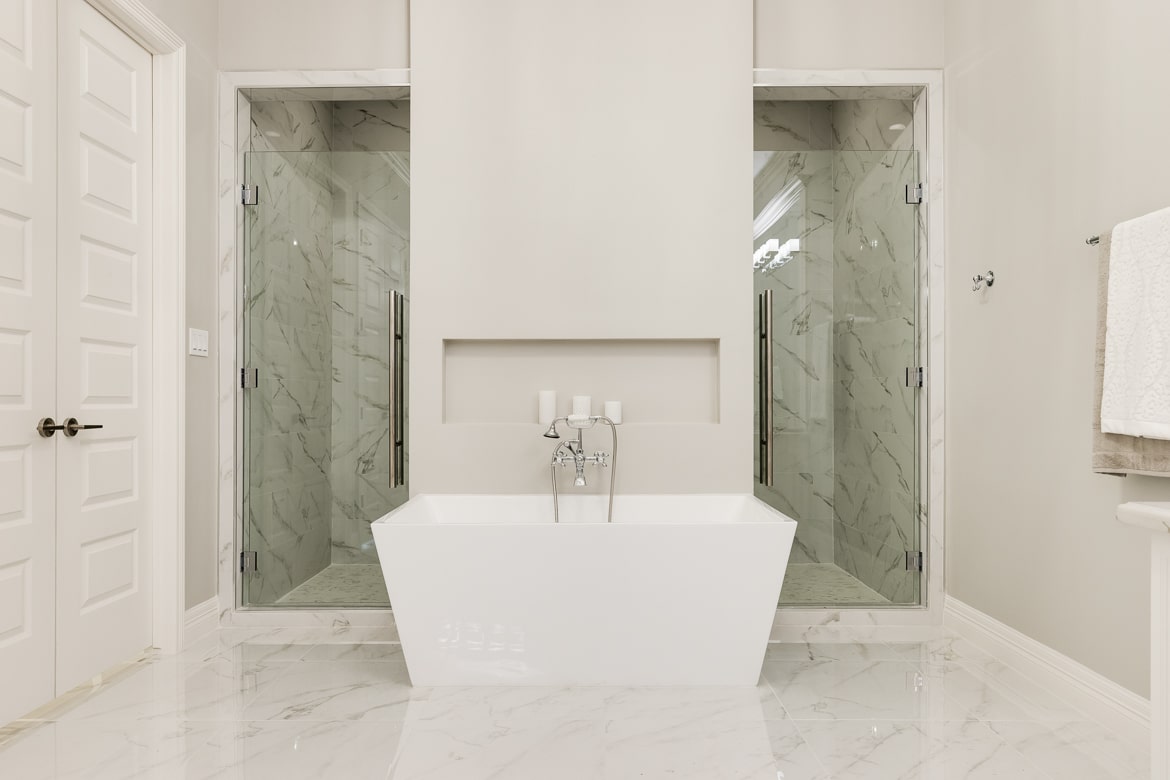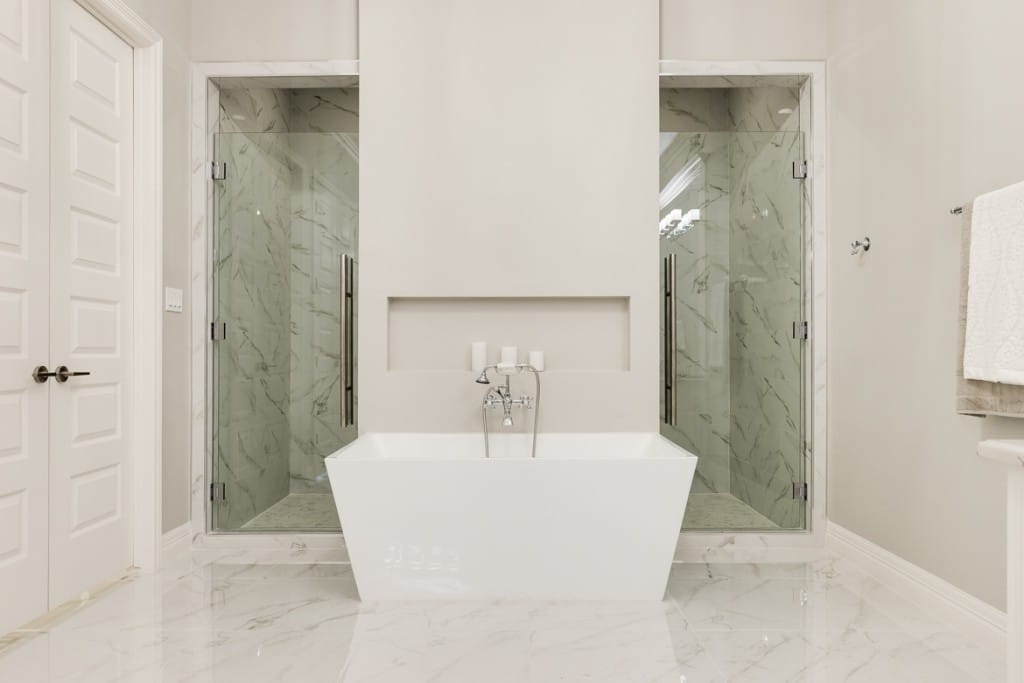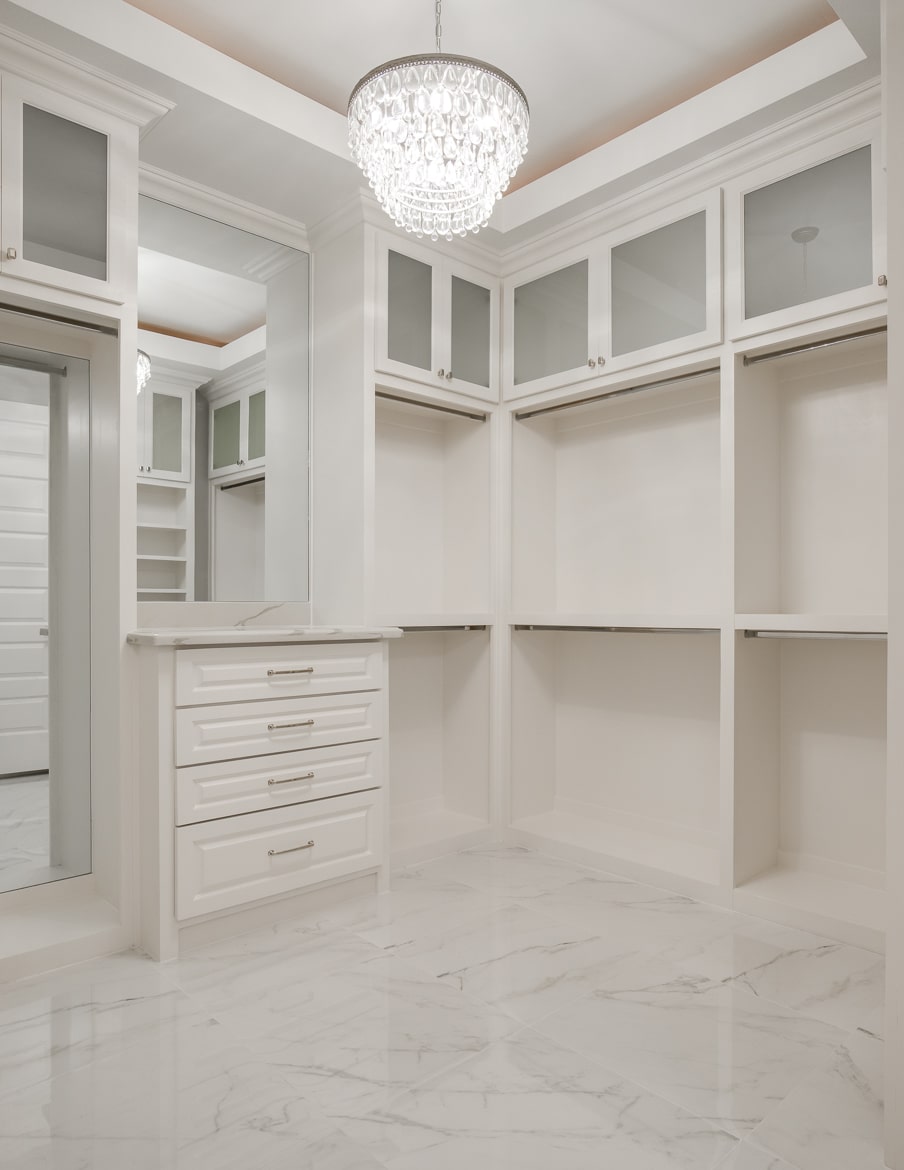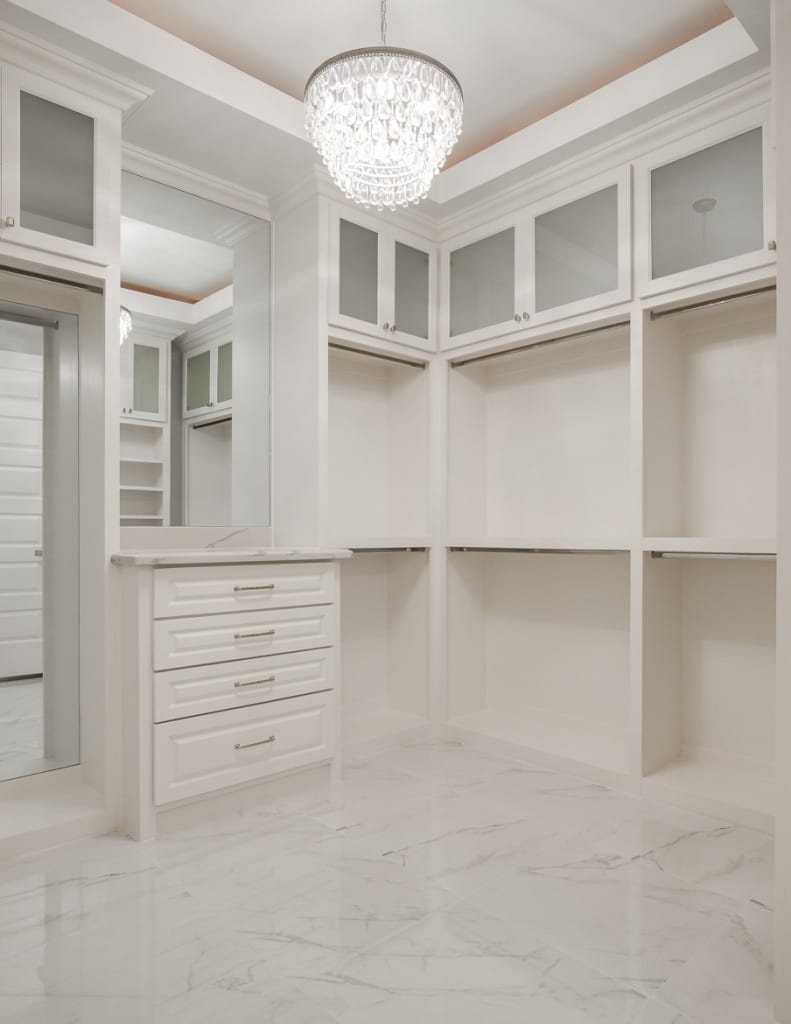 The left wing of this award-winning home is devoted to three more bedrooms, one of which makes a perfect Mother-In-Law suite with its own private bath. The two bathrooms in this wing contain glassed-in showers equipped with side rainfall showerheads, and the countertops are marble quartz to complement the overall design of the home.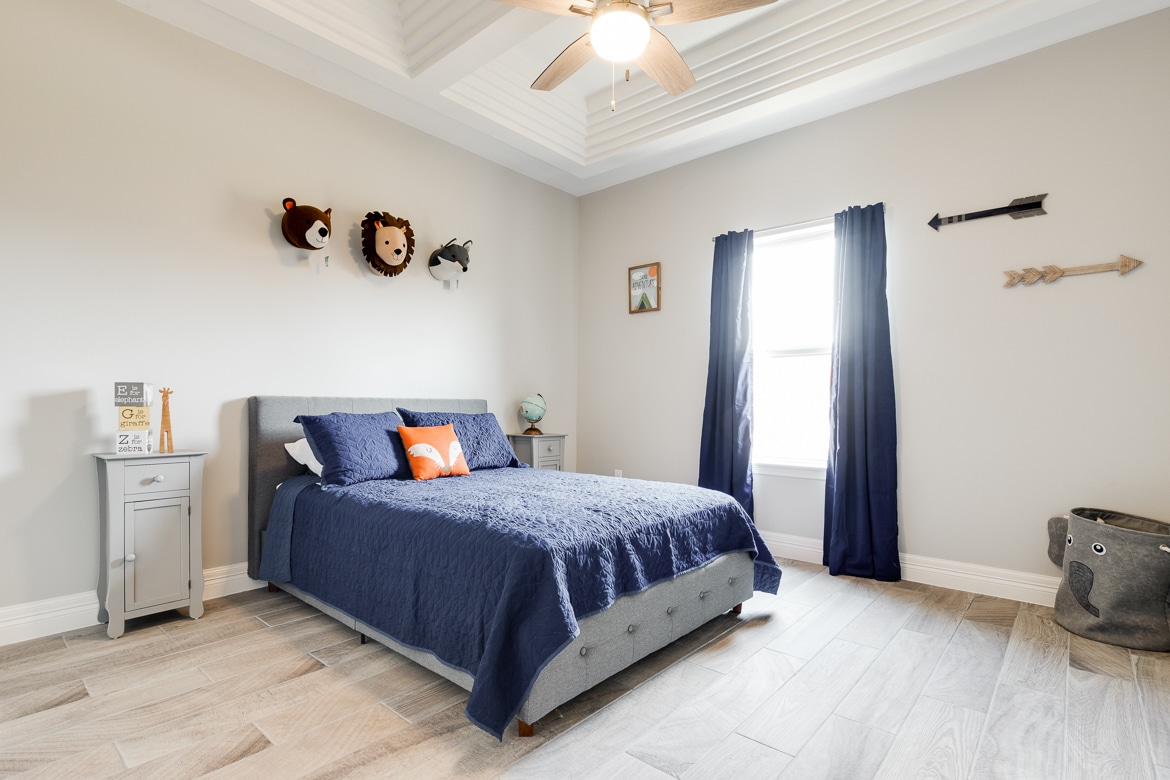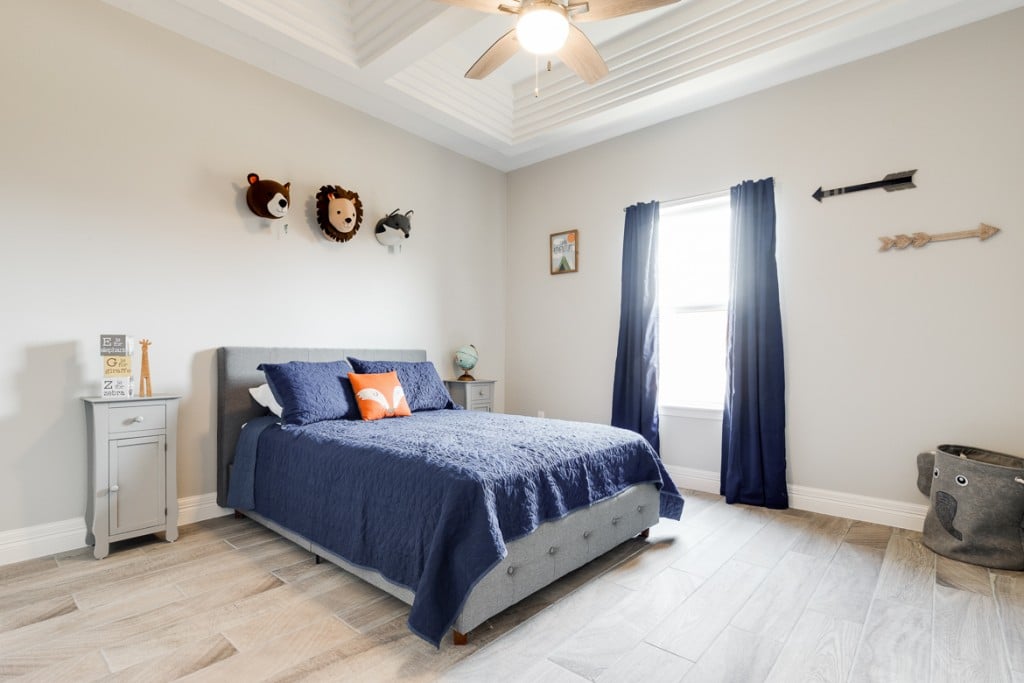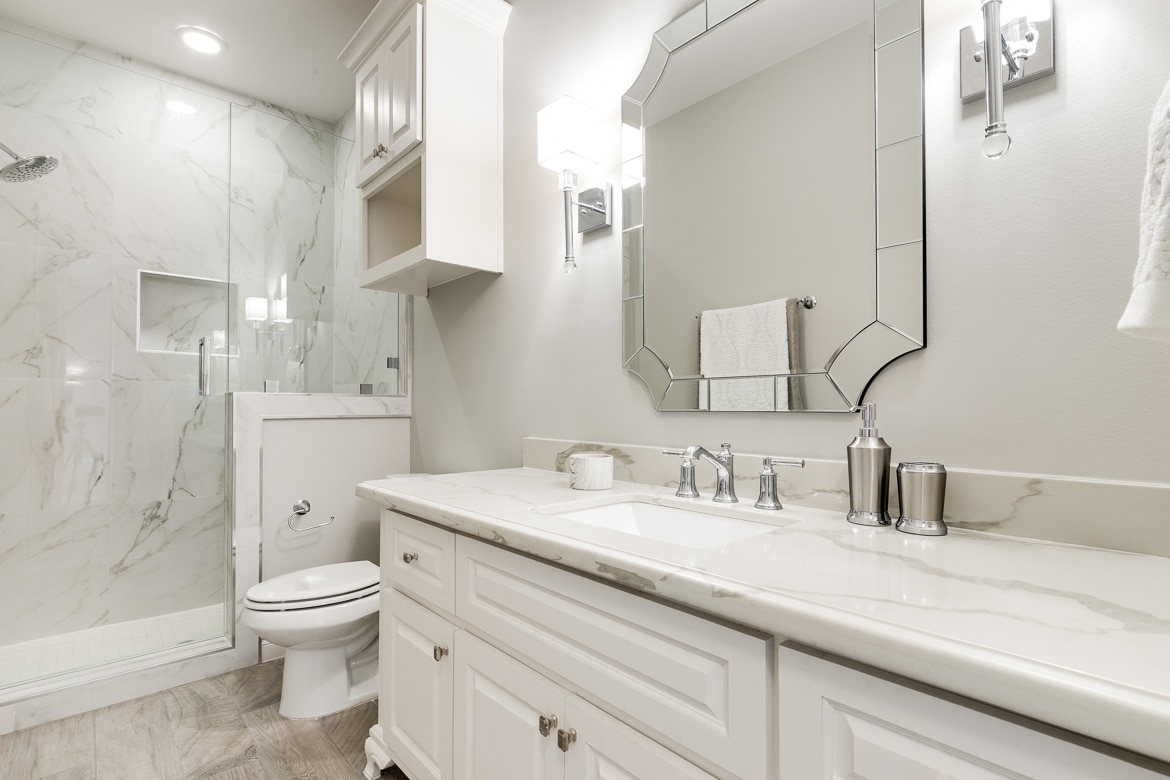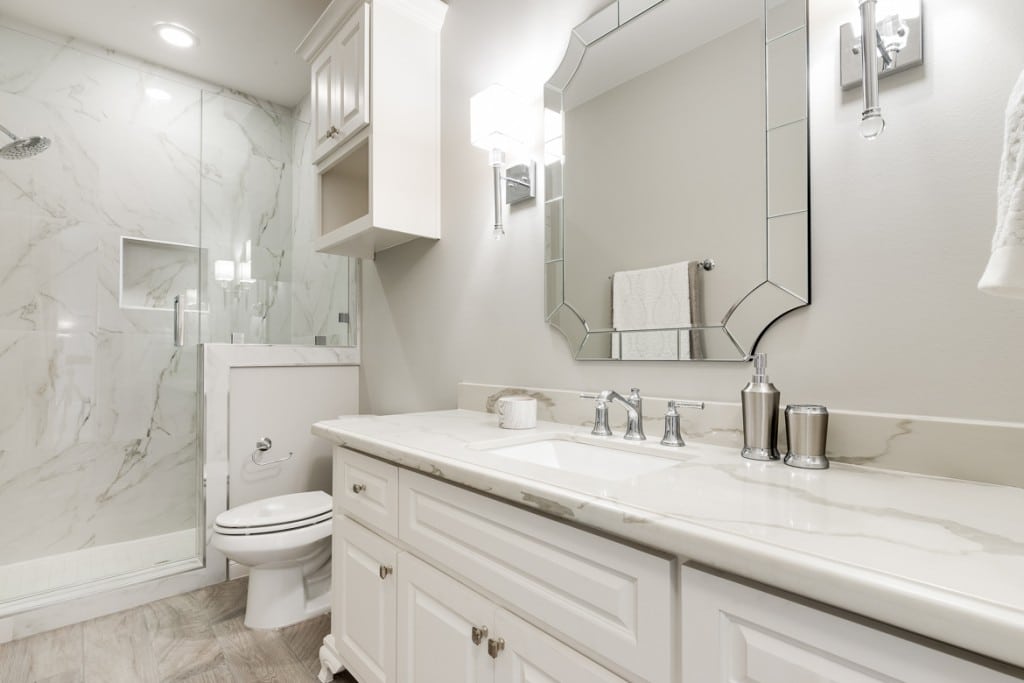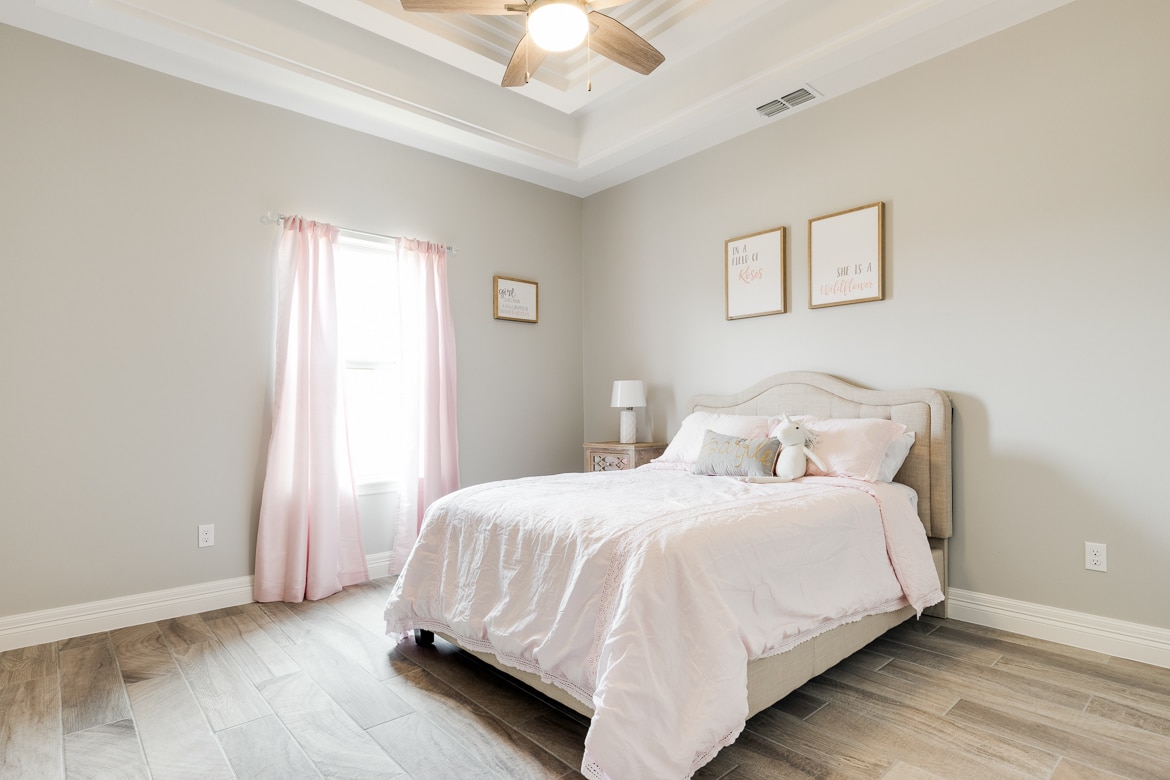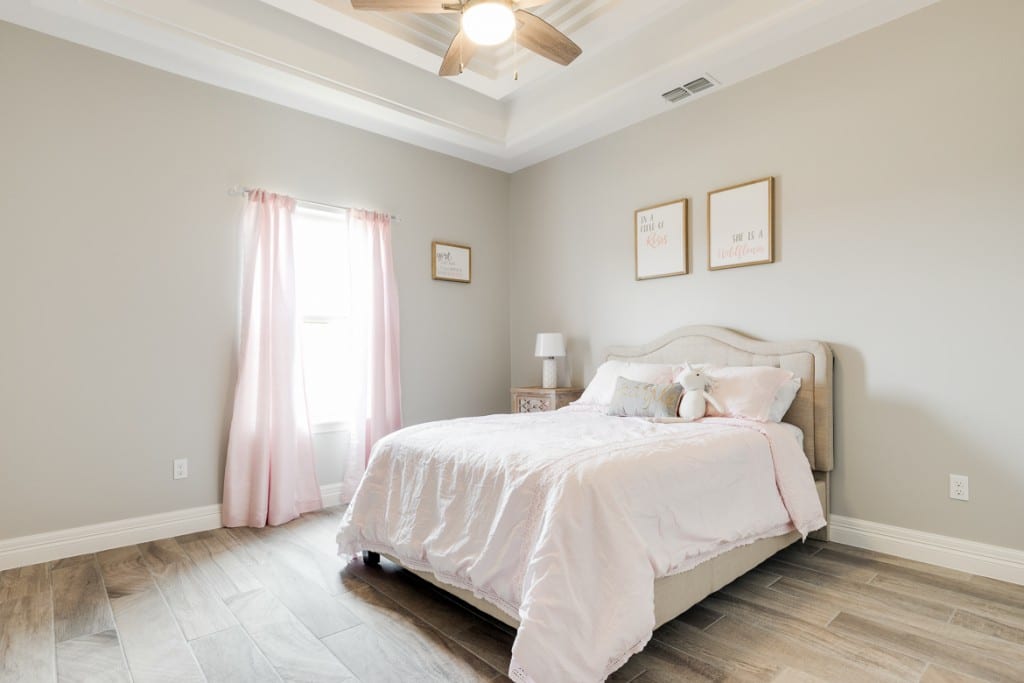 Additionally, on this side of the home there is a half bath for guests, an open mudroom directly off the garage for those dirty shoes and boots, and a large laundry room. Villa Homes did not scrimp in the design in this area: farmhouse-look beadboard and shiplap walls and built-ins add interest to a normally uninteresting area and make it pop.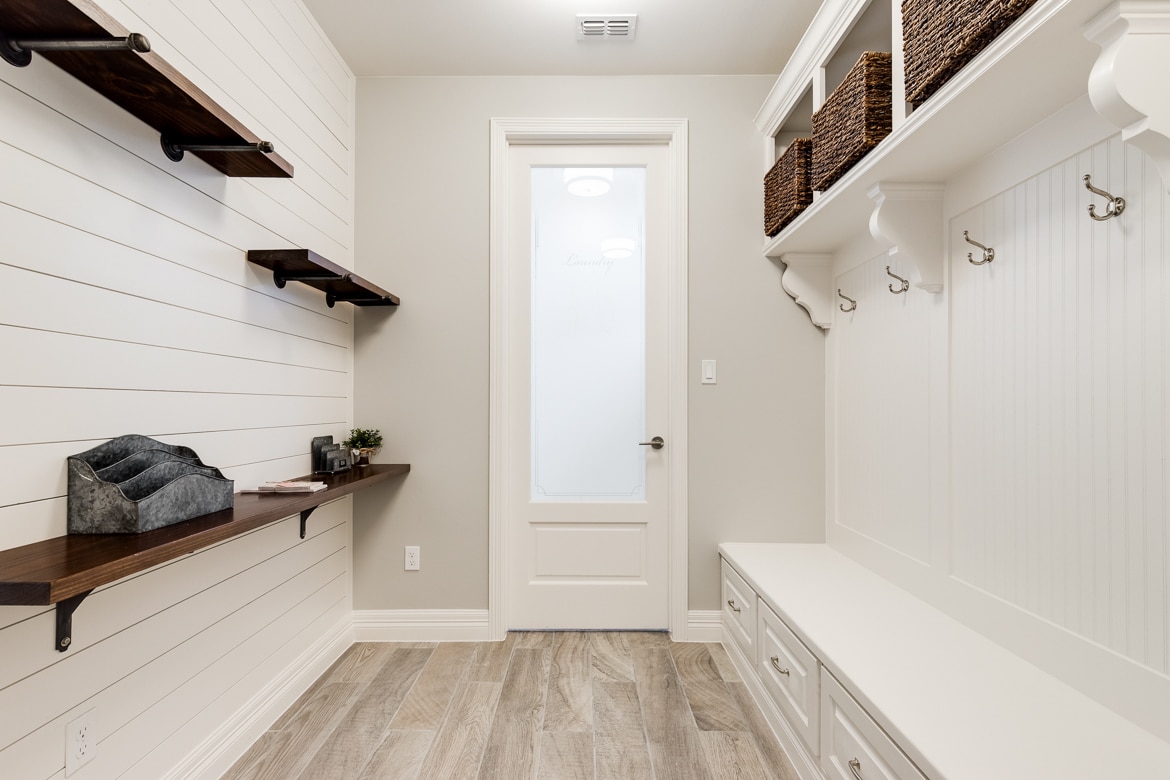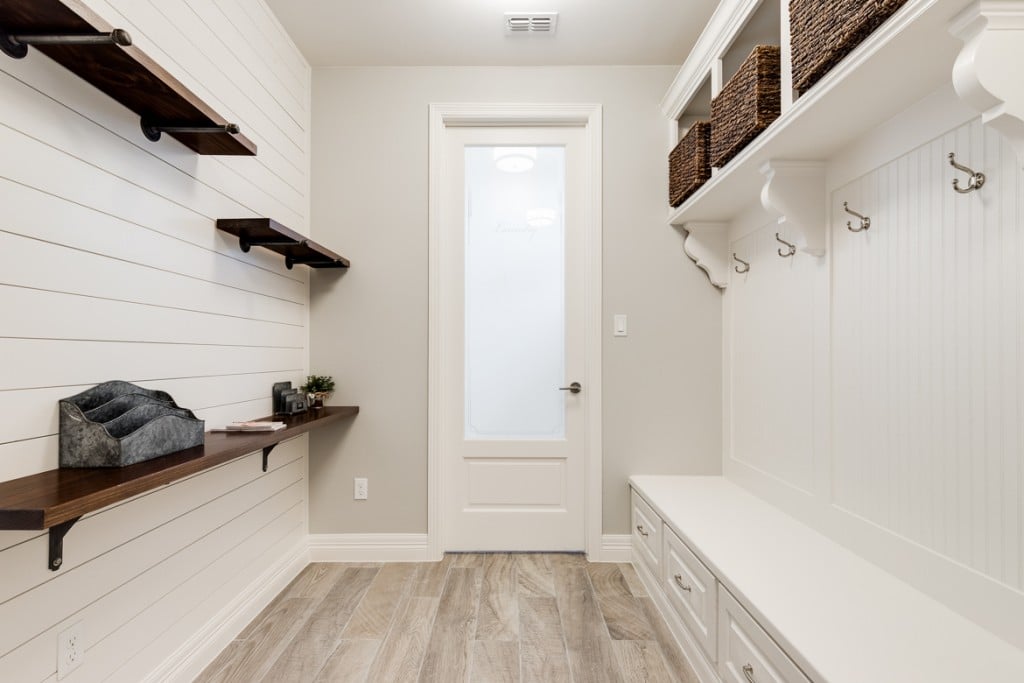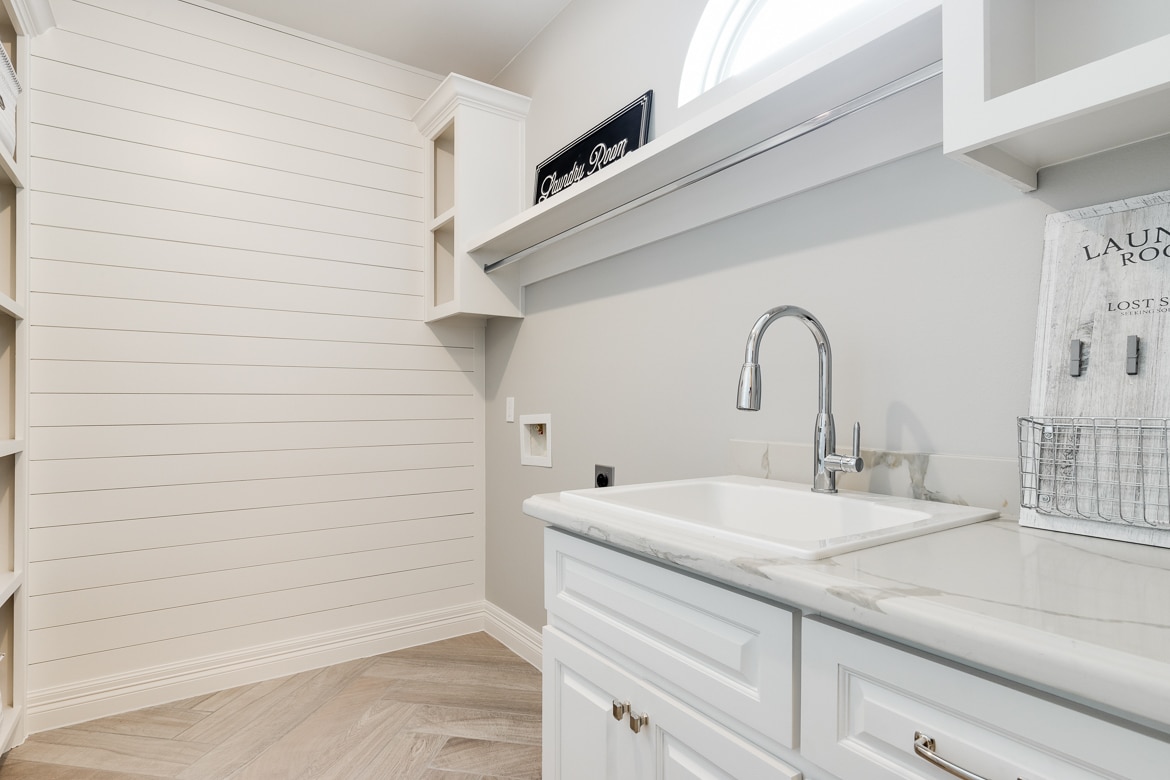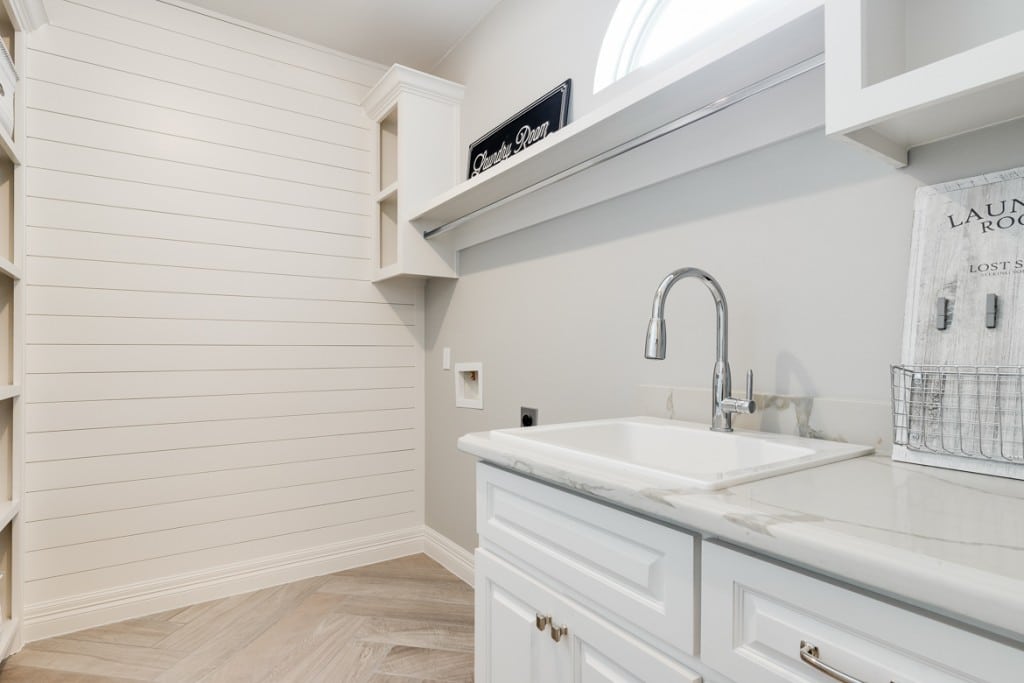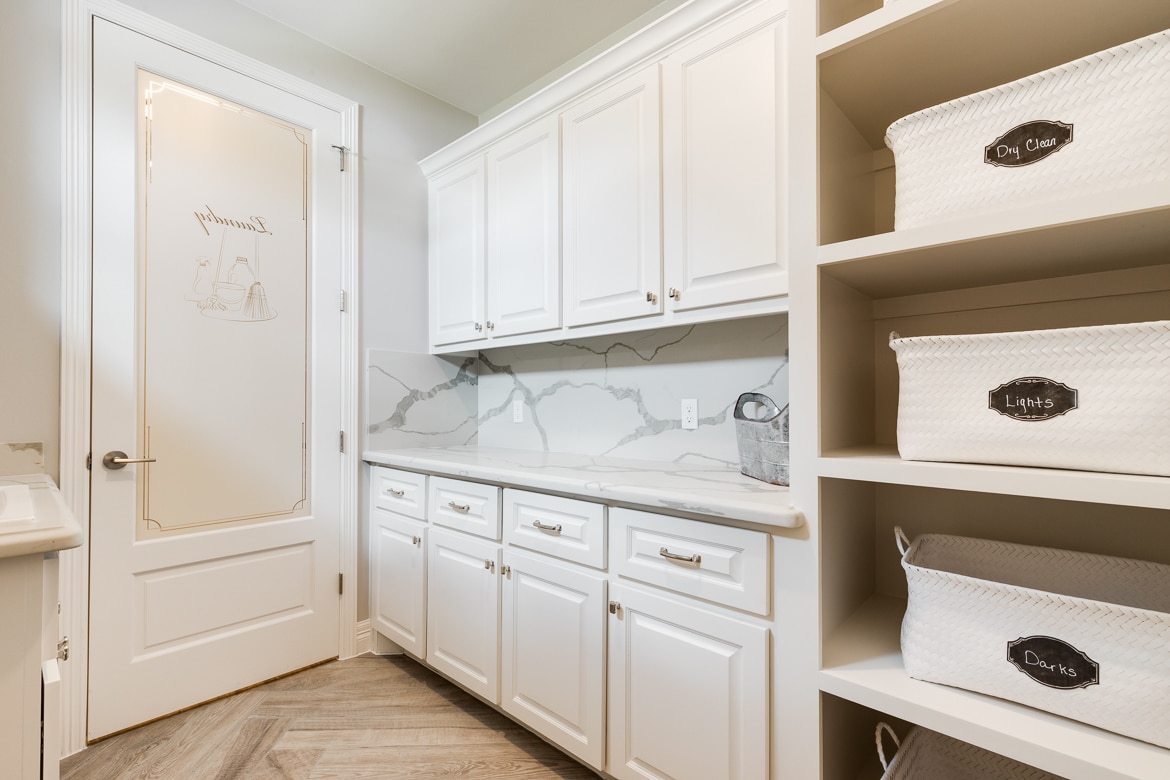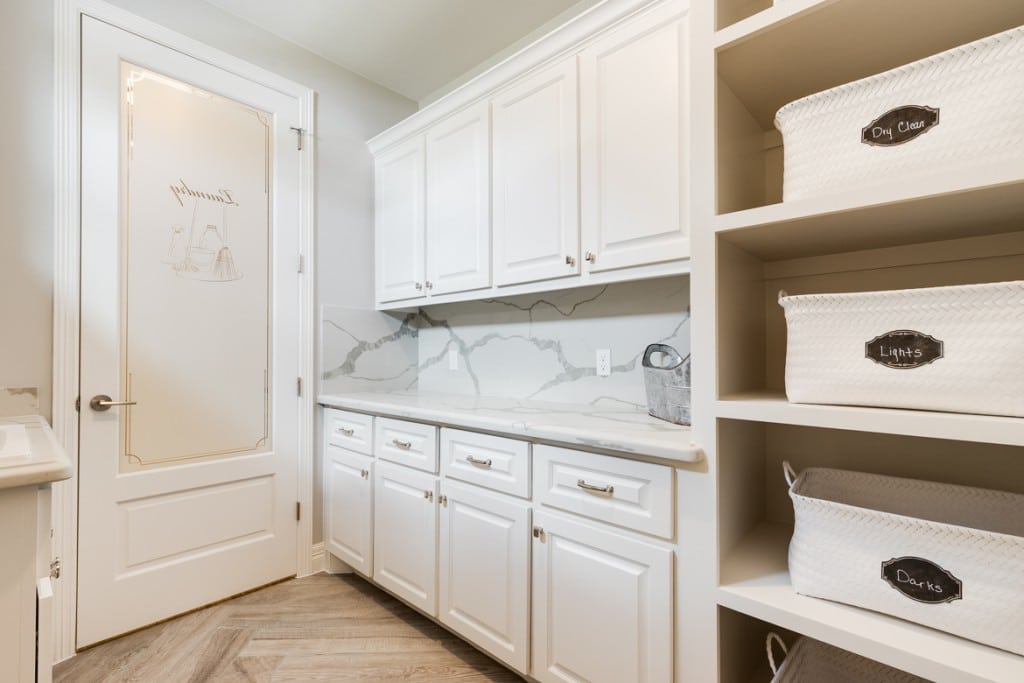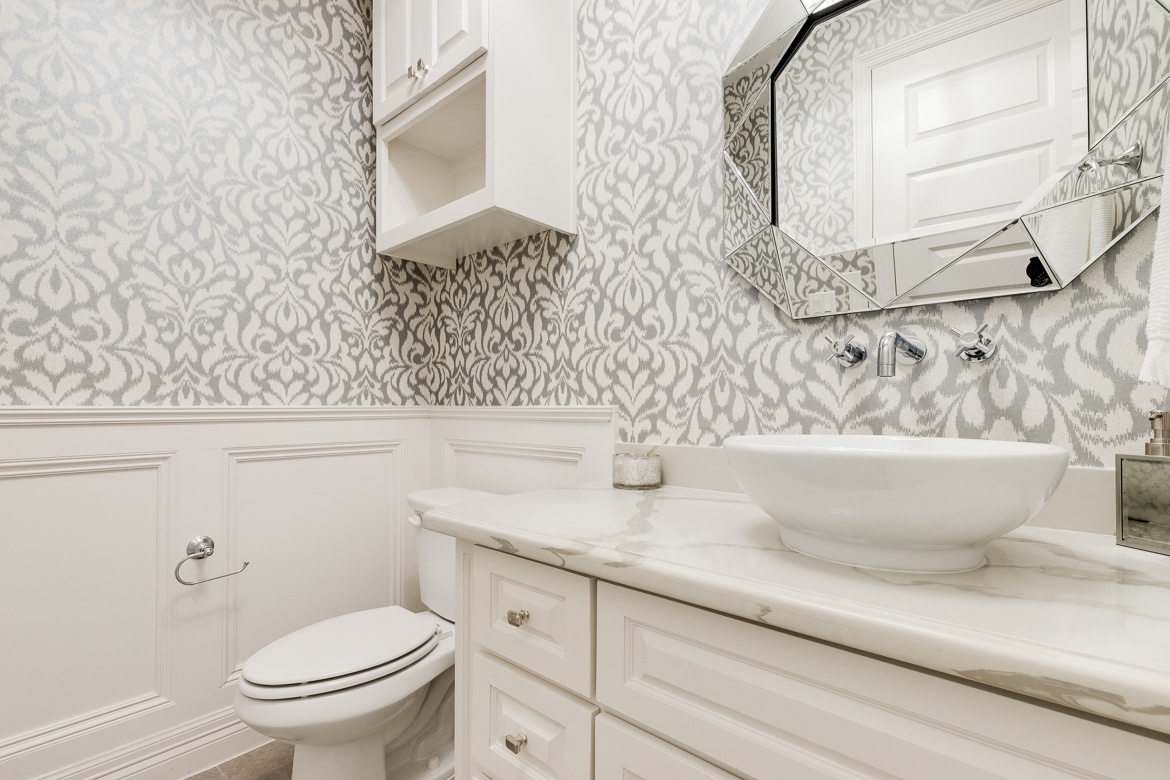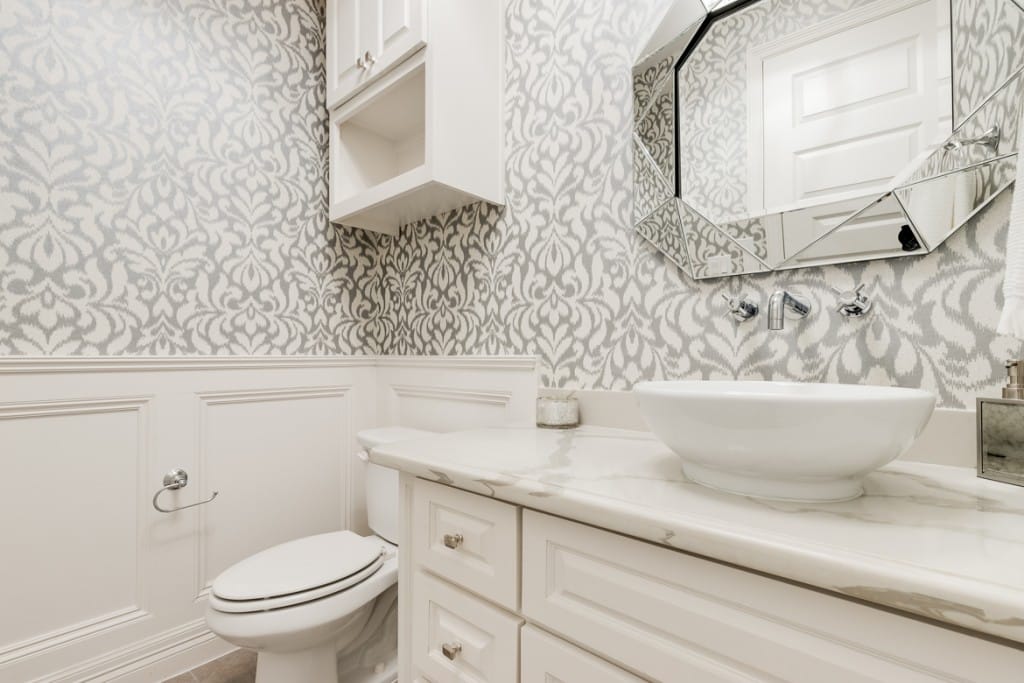 The backyard of this "Best of Show" and "Best Single Family Home in the $301-350K" contains a covered patio with a pergola, and a large covered barbeque area, perfect for entertaining. It comes complete with a TV, gas grill, sink, and refrigerator; plus, it is fully privacy fenced.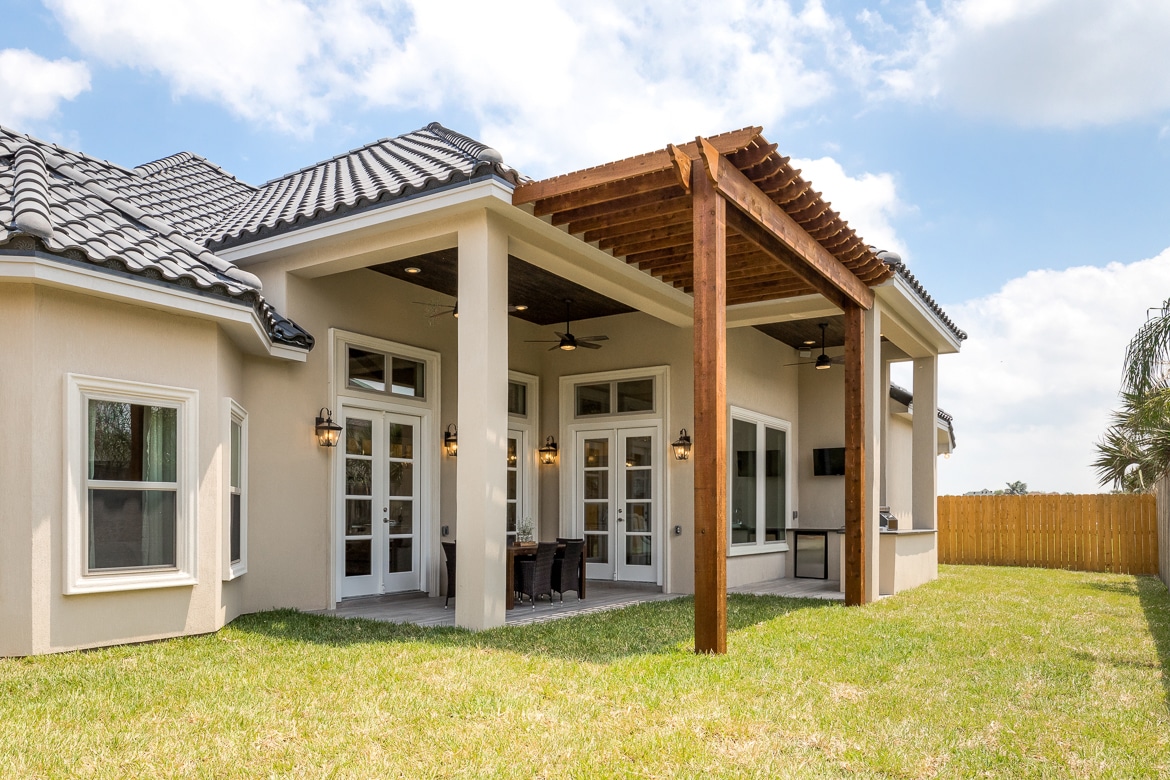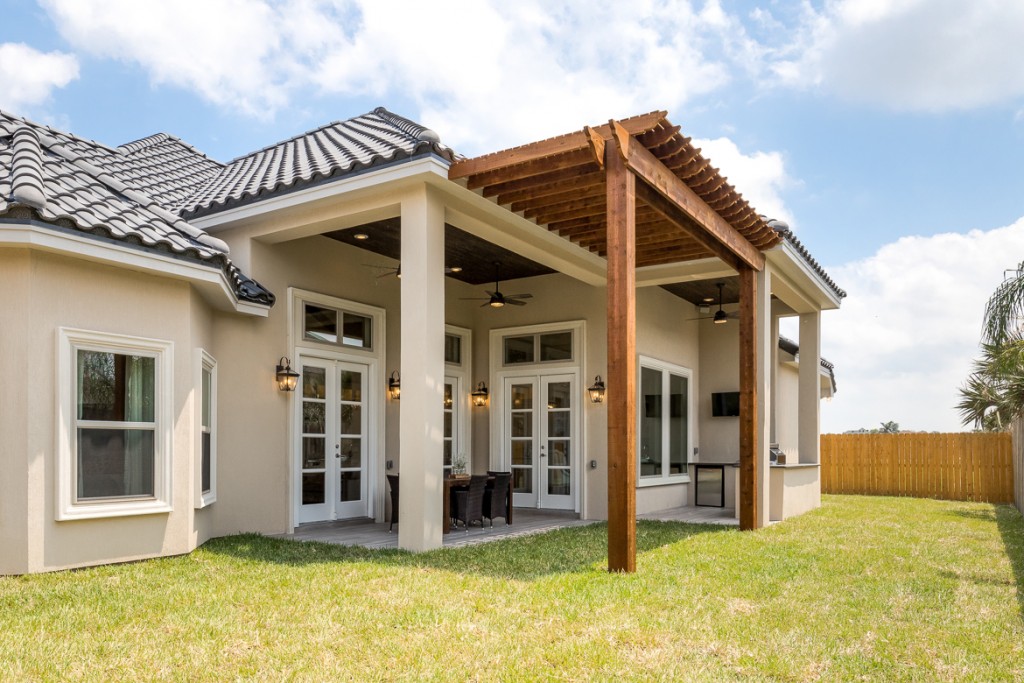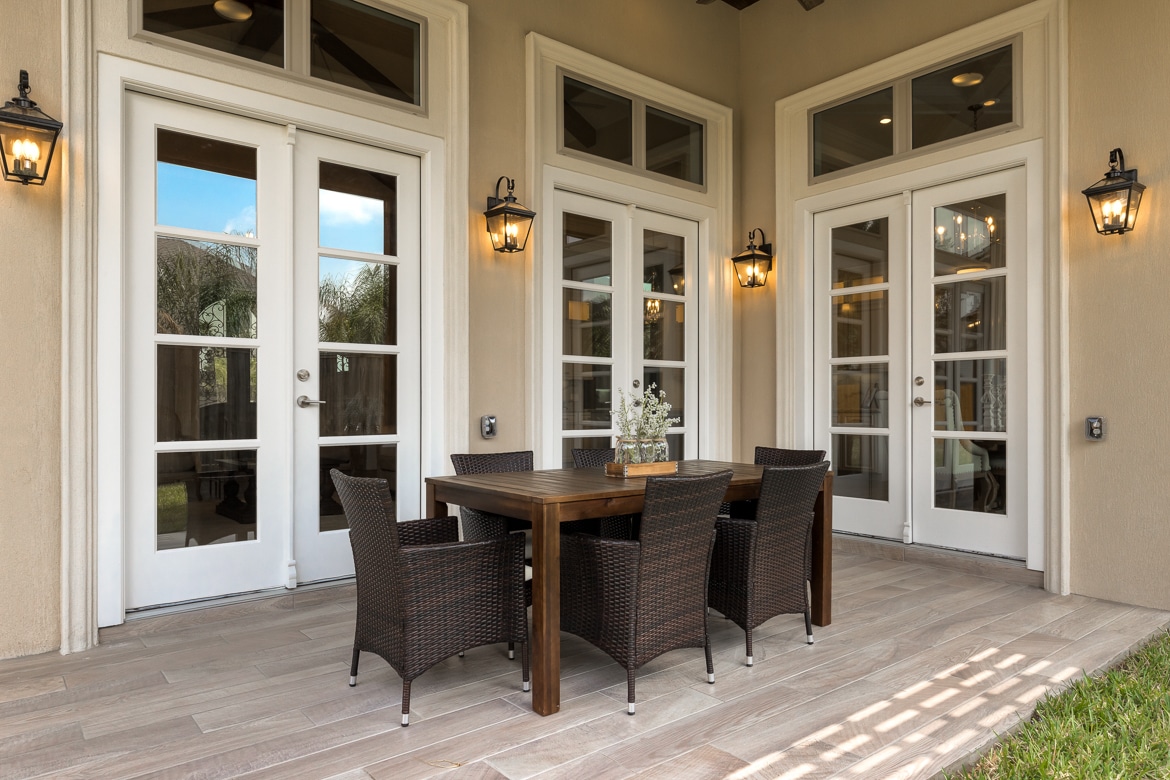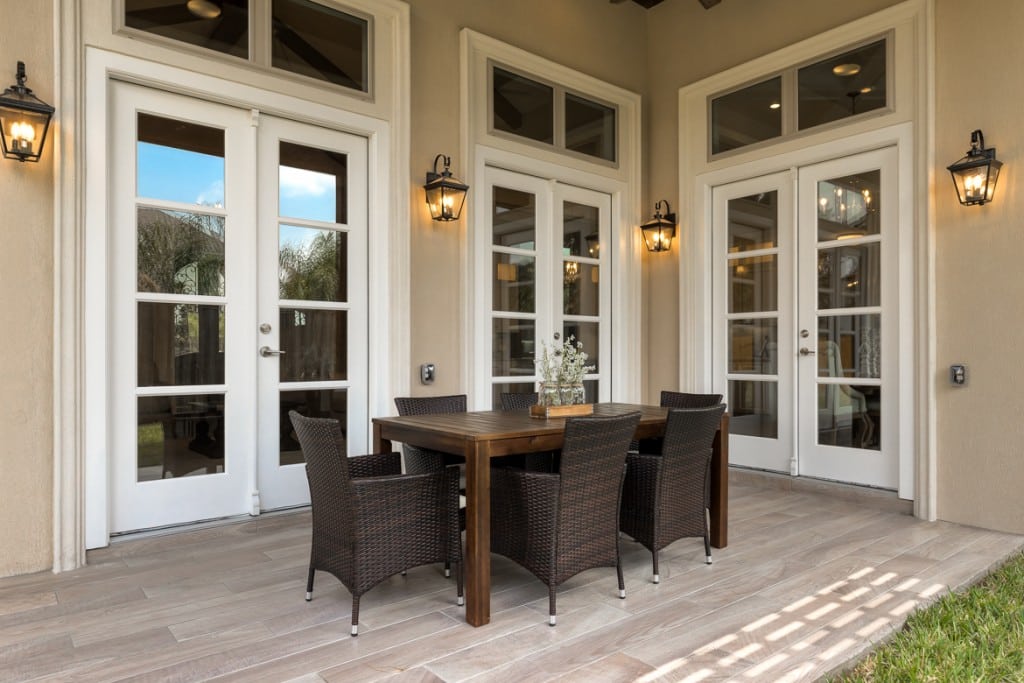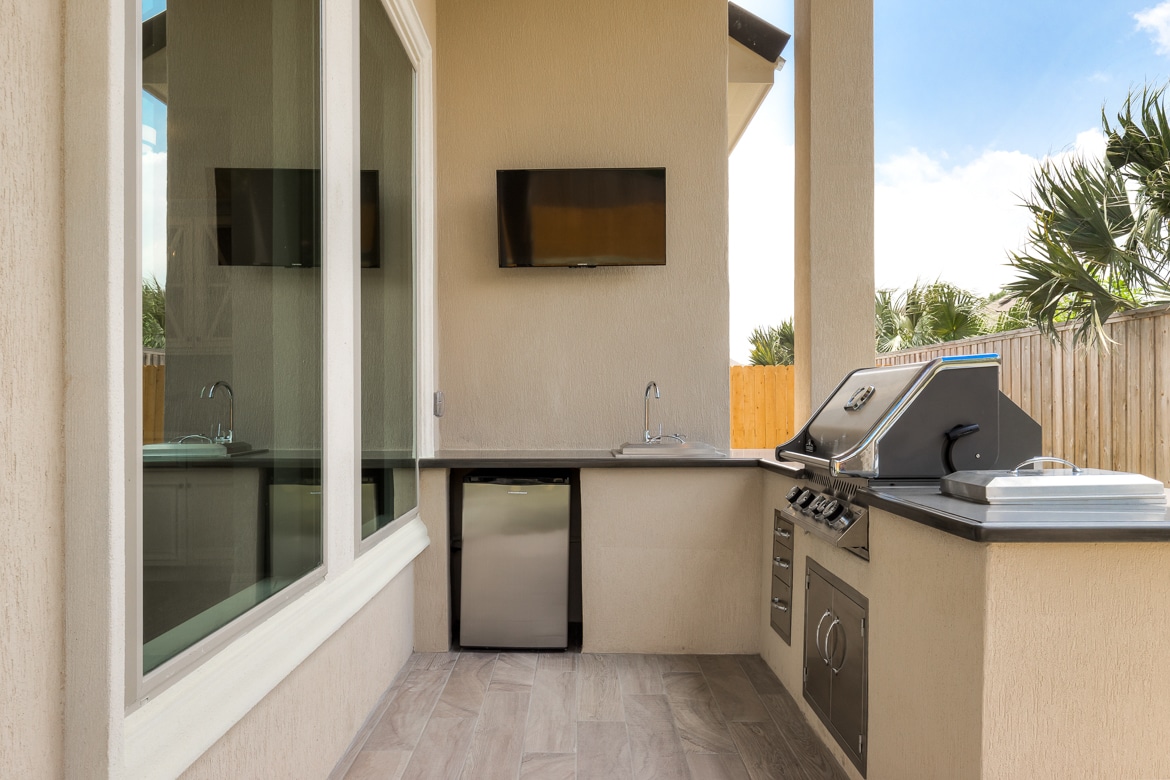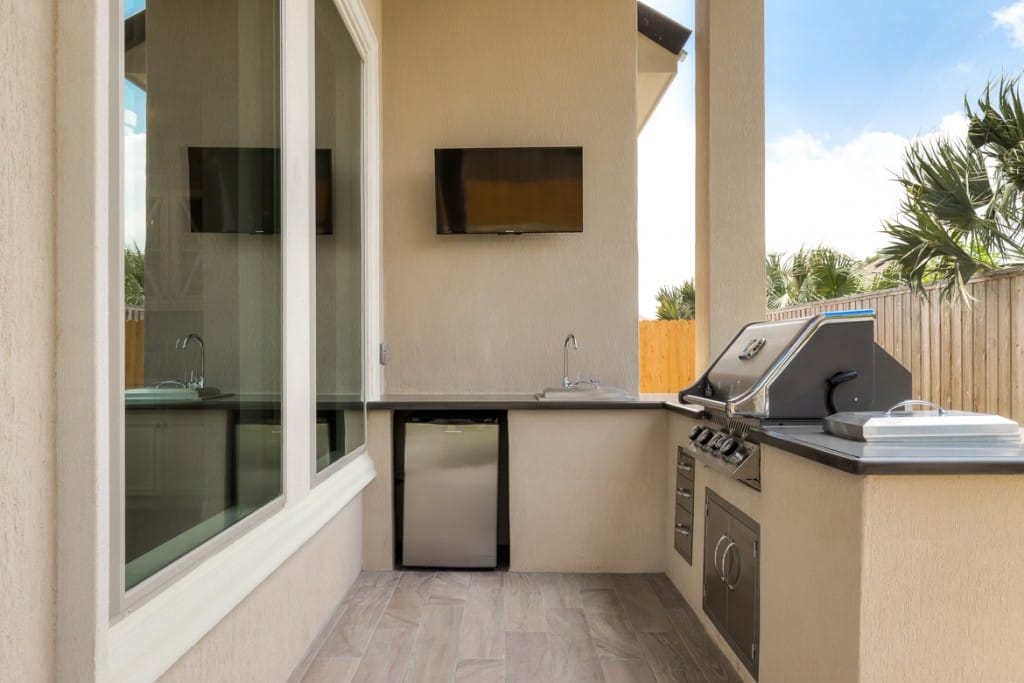 Finally, what makes a perfect home truly…perfect? Being totally energy efficient! Villa Homes did not forget the hot South Texas climate. With spray foam insulation, energy efficient appliances, and LED lighting throughout, the home has acquired Built To Save™ certification, which promises tight construction, great indoor air quality, and money savings over the life of the home.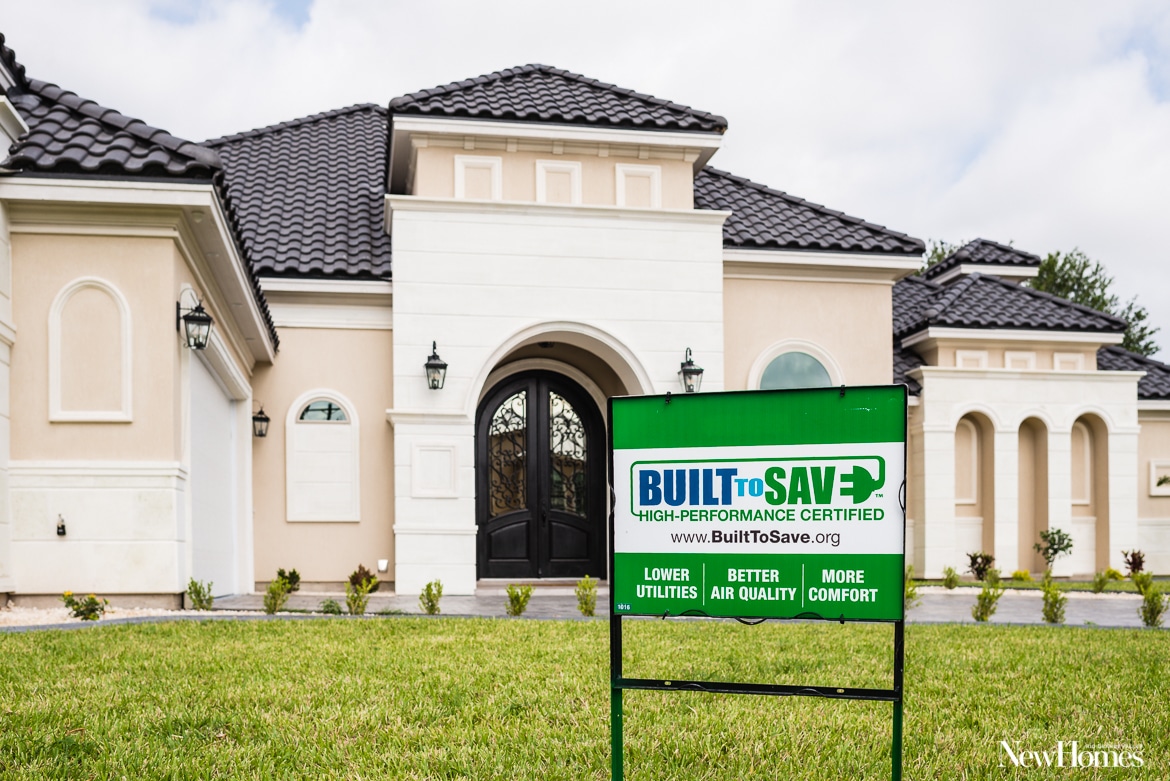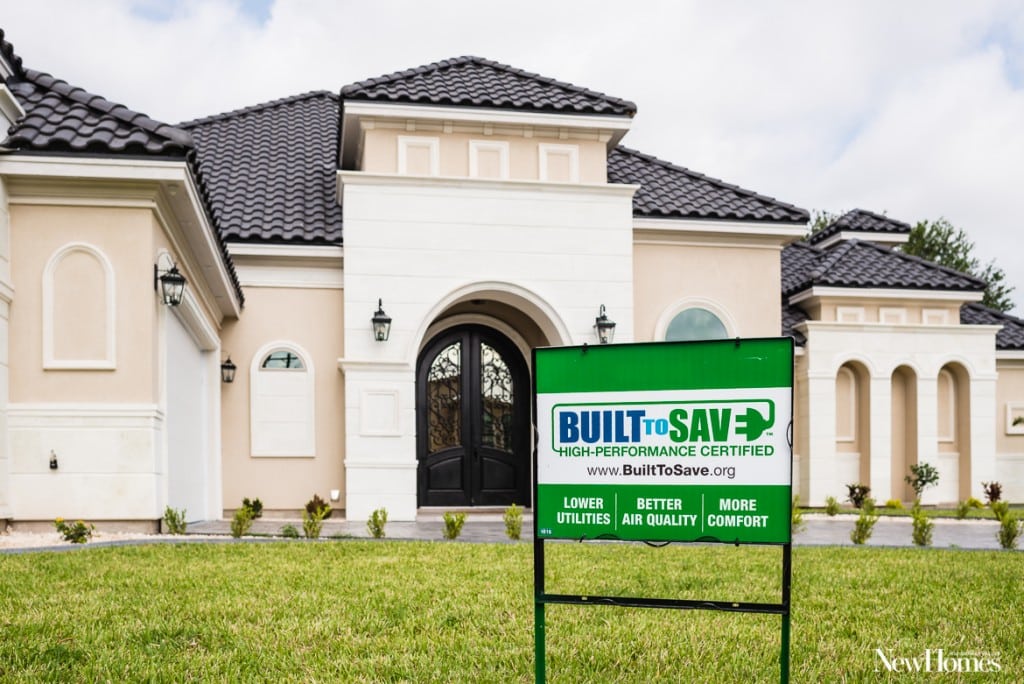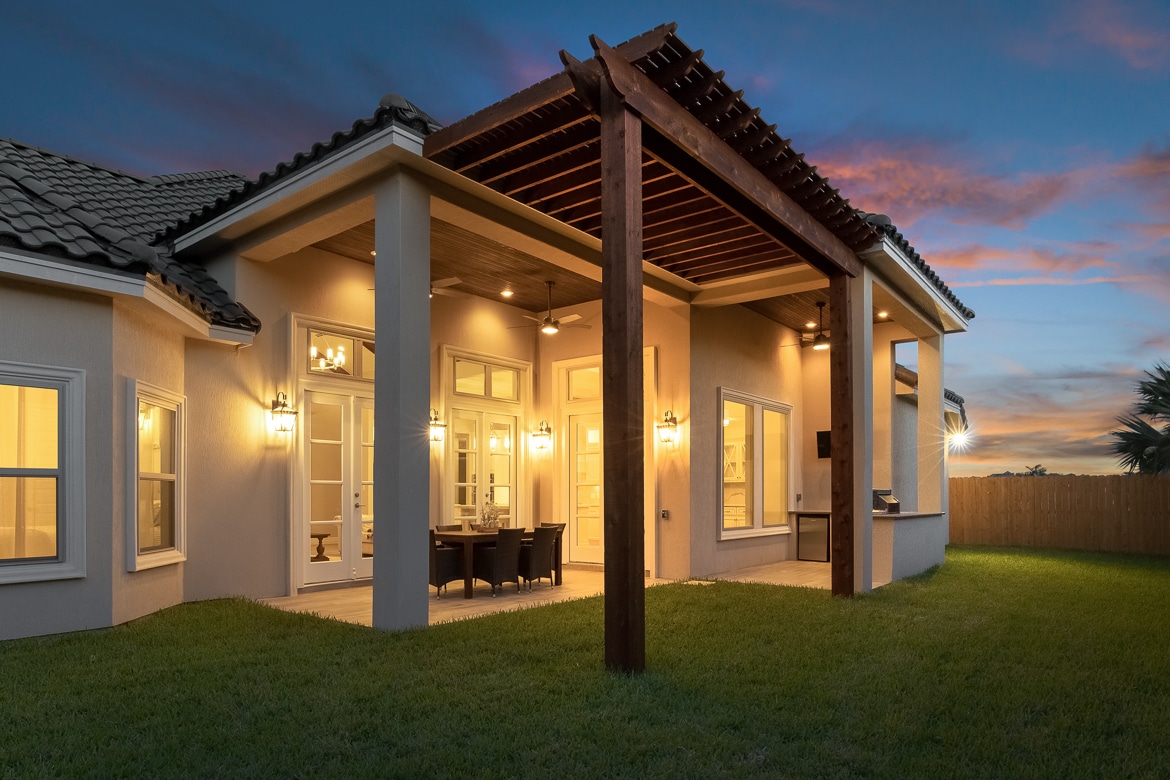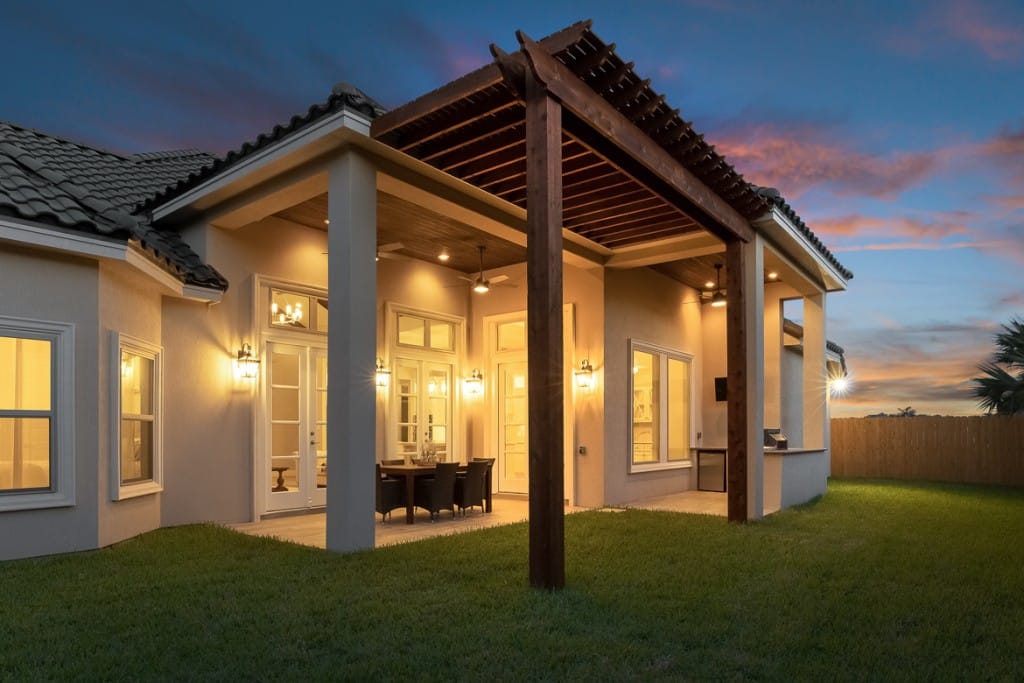 As an addendum, this particular award-winning home by Villa Homes in the community of Sommerset Court has been sold and is no longer available. However, Villa Homes has available lots in the same exclusive subdivision, Sommerset Court Estates, and encourages you to visit them and let them design your new home—it could become the next award winner, as well!
Call (956) 431-0376 or email them at info@villahomesrgv.com to schedule an appointment, and make sure to visit their website. Also, follow them on Facebook and Instagram!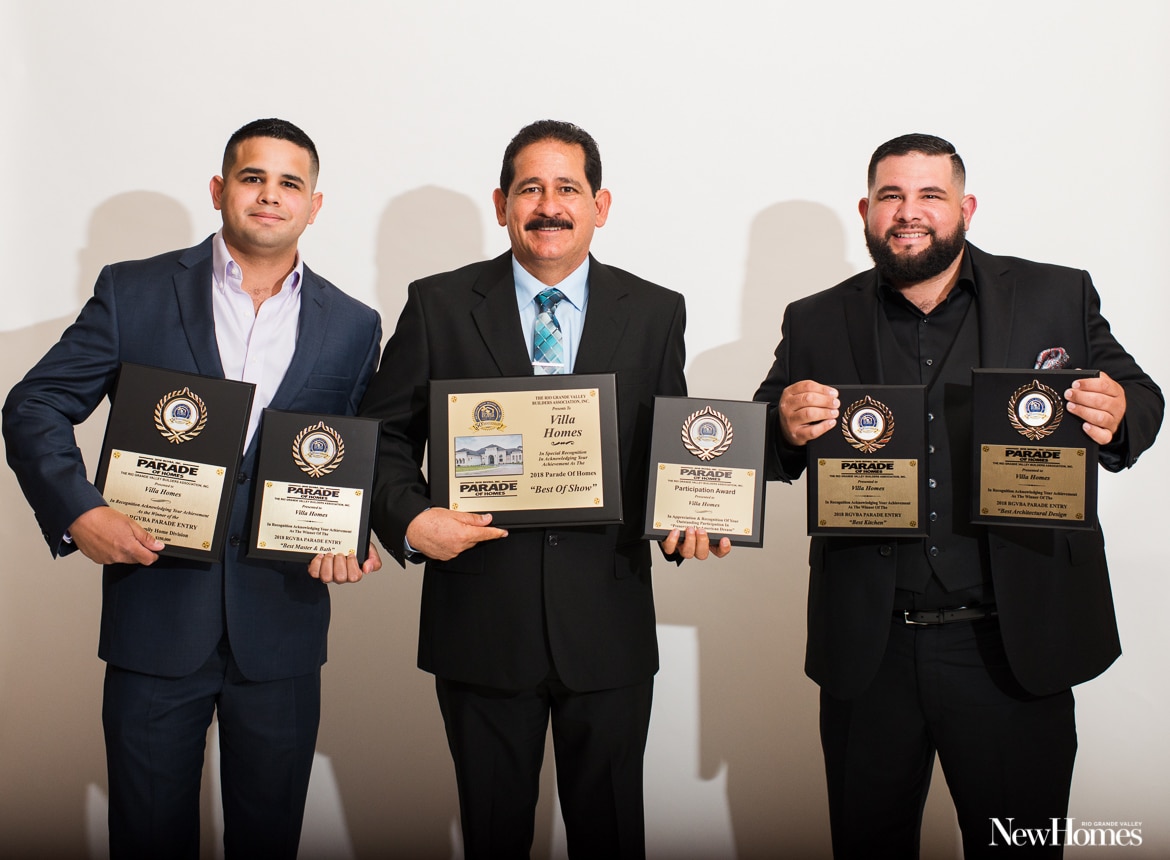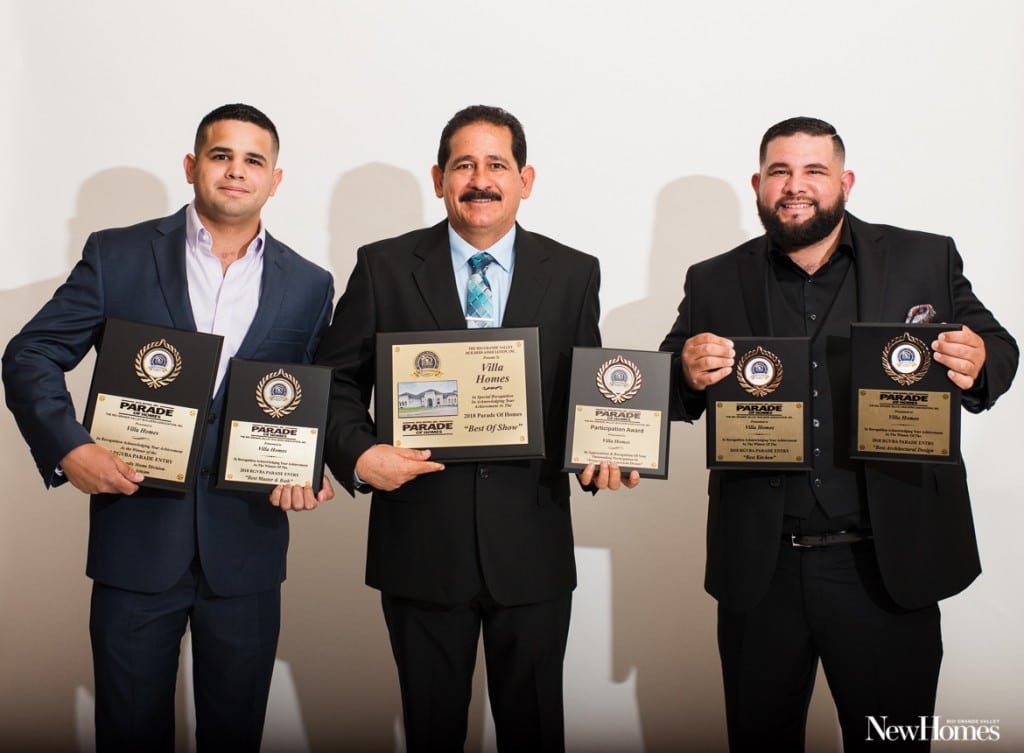 (L-R): David Villanueva, Emigdio Villanueva Jr. and Emigdio Villanueva III founded Villa Homes in 2013. From watching and helping their father at a young age, David and Emigdio knew they wanted to follow in his footsteps and create a construction company of their own. With their father's help, they started Villa Homes with one goal in mind—to provide affordable luxury homes in the Rio Grande Valley. From the beginning, Villa Homes has remained true to their clients by providing not only excellent customer service, but also quality craftsmanship because of their keen attention to detail and decades of experience in the industry. When you choose Villa Homes, you can rest assured that their team of design and construction professionals will walk you through all decisions, keeping both your budget and timeline in mind. Villa Homes is here to help your dream home come to life with every detail you had in mind.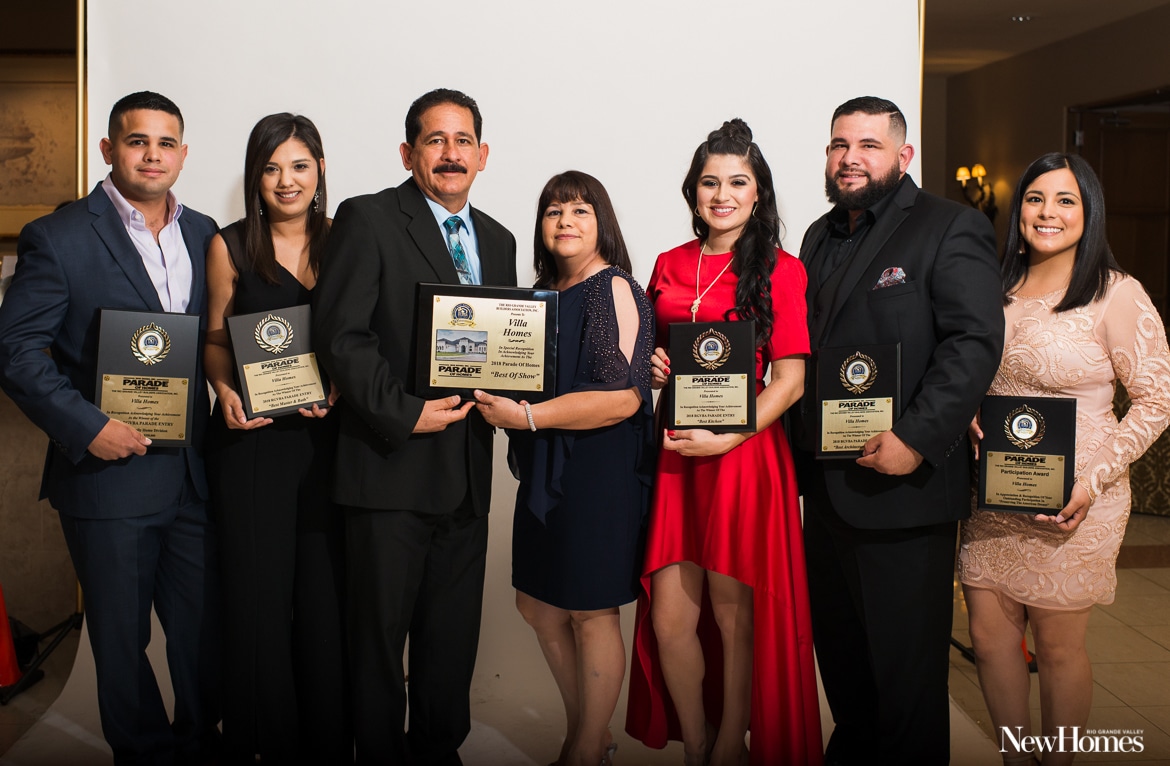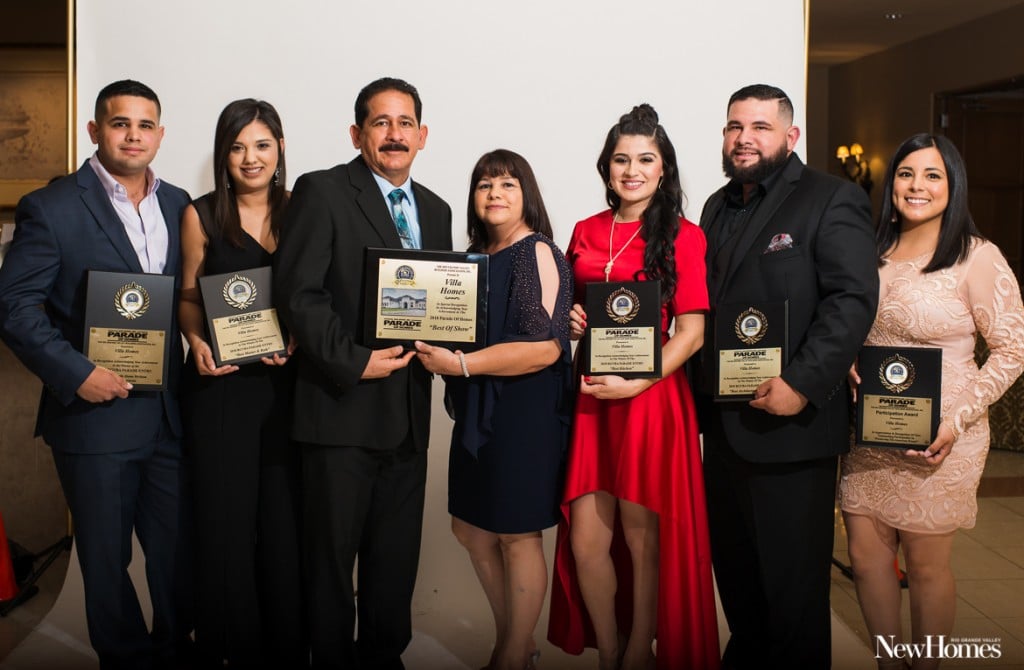 Photos by: © Photograph RGV & © RGV New Homes.
Special thanks to the Rio Grande Valley Builders Association for putting together an excellent Parade of Homes event.
We'd love to hear your thoughts about this home. Use the comments section below to show some love.
Follow us on Instagram for a daily dose of beautiful new homes in the Rio Grande Valley! Click here: @RGVNewHomes
© 2018 RGV New Homes Guide & Across Media Marketing, LLC.
Unauthorized use and/or duplication of this material without express and written permission from this site's author and/or owner is strictly prohibited. Excerpts and links may be used, provided that full and clear credit is given to RGV New Homes Guide with appropriate and specific direction to the original content.