Discover the Unique Touch of an Antre Home
Home by: Antre Homes
Style: Contemporary
Subdivision: Marbella
City: McAllen, Texas
Home Specs: 4 Bed / 3.5 Bath / 2 Garage / 2,660 Sq. Ft. (Living) / 3,330 Ft. (Total)
Property Status: MOVE-IN Ready.
2018 RGVBA Parade of Homes Awards:
• Best Model in the $251K – $300K Category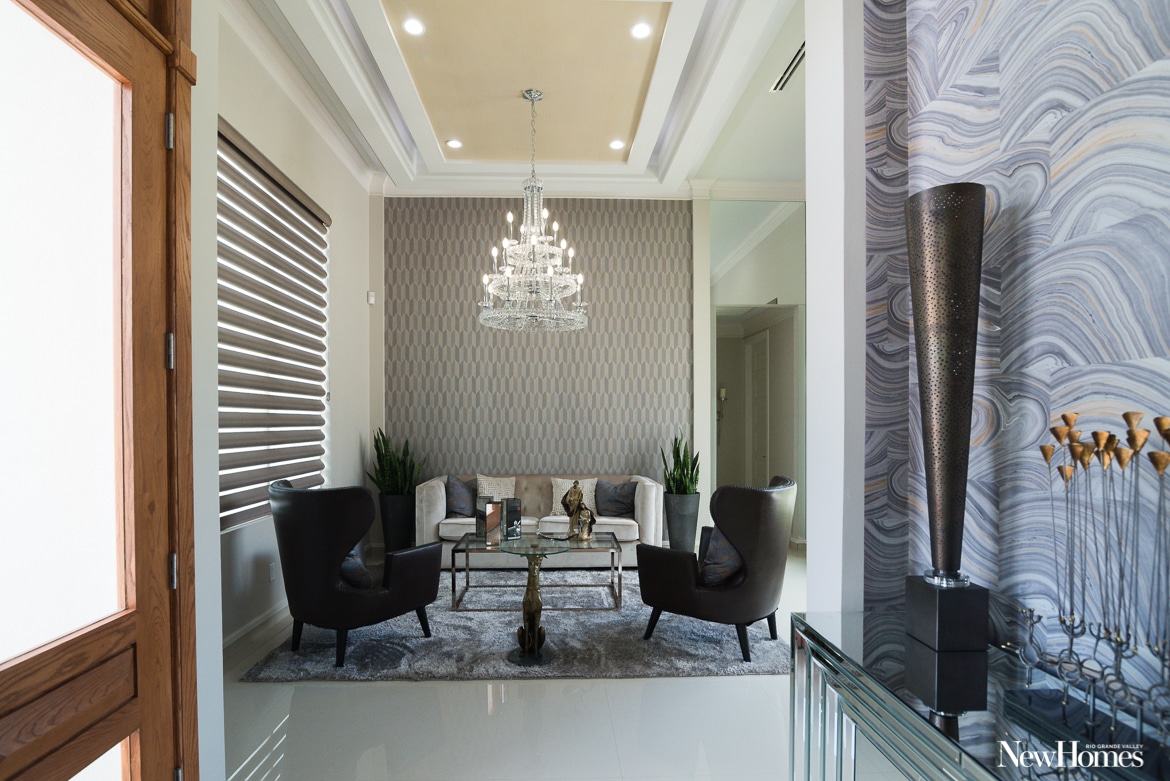 In France, when someone knocks on your door, your friendly, welcoming response is "Entrez-vous," which means, "(Please) Come in!" This same idea of welcome and enter—only spelled a little differently—holds true for Rio Grande Valley's Antre Homes. Angel Trevino and his wife Lily, through their company Antre Homes, have been building custom new homes since 2004. Quality and value are their primary goals, but building a welcoming home for their clients is an absolute top priority, as well.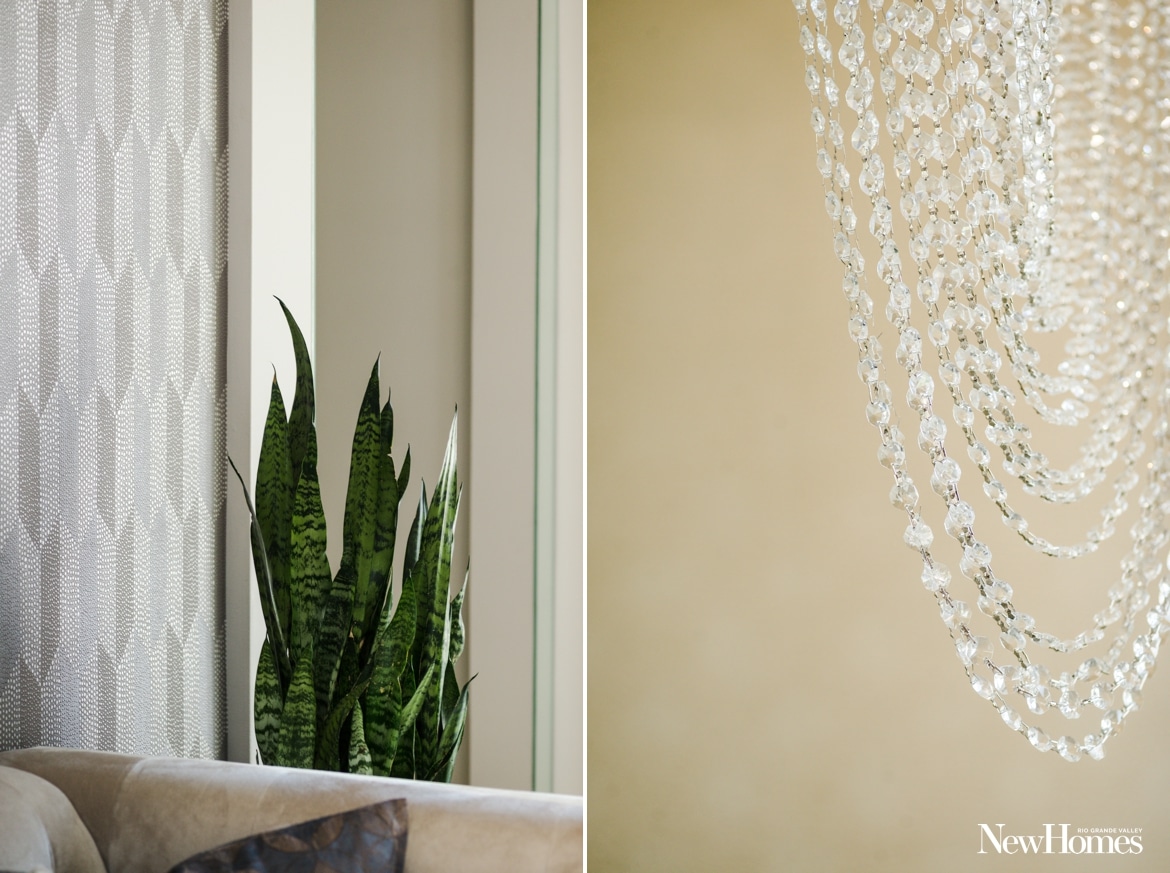 Antre's entry into the Rio Grande Valley Builders Association's 2018 Parade of Homes, their 4 bedroom, 3.5 bath model home in McAllen's Marbella subdivision, received a top award: Best Model in the $251K-300K category. It is a welcoming home, beginning with the exterior: clean lines, modern stucco in soft creamy beiges, and extra large stamped concrete pavers leading up to an attractive dark wood and glass door.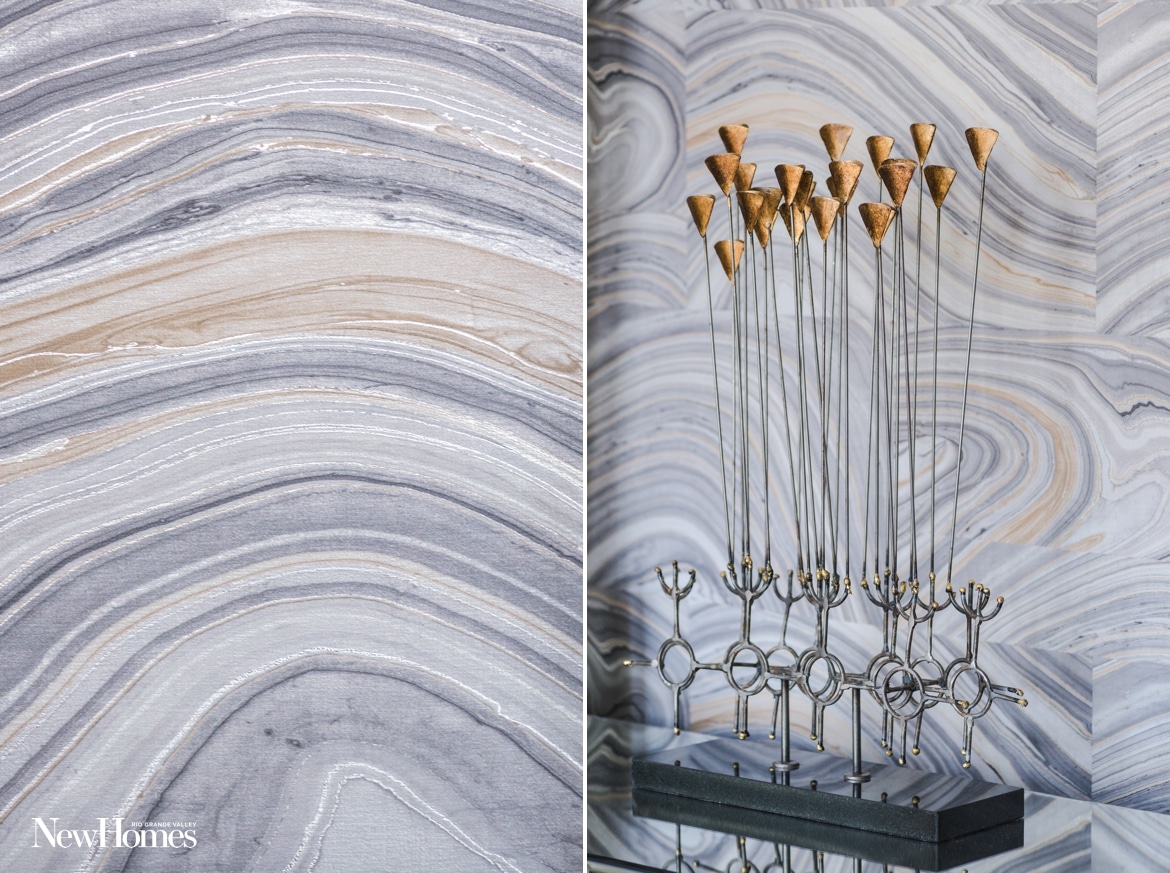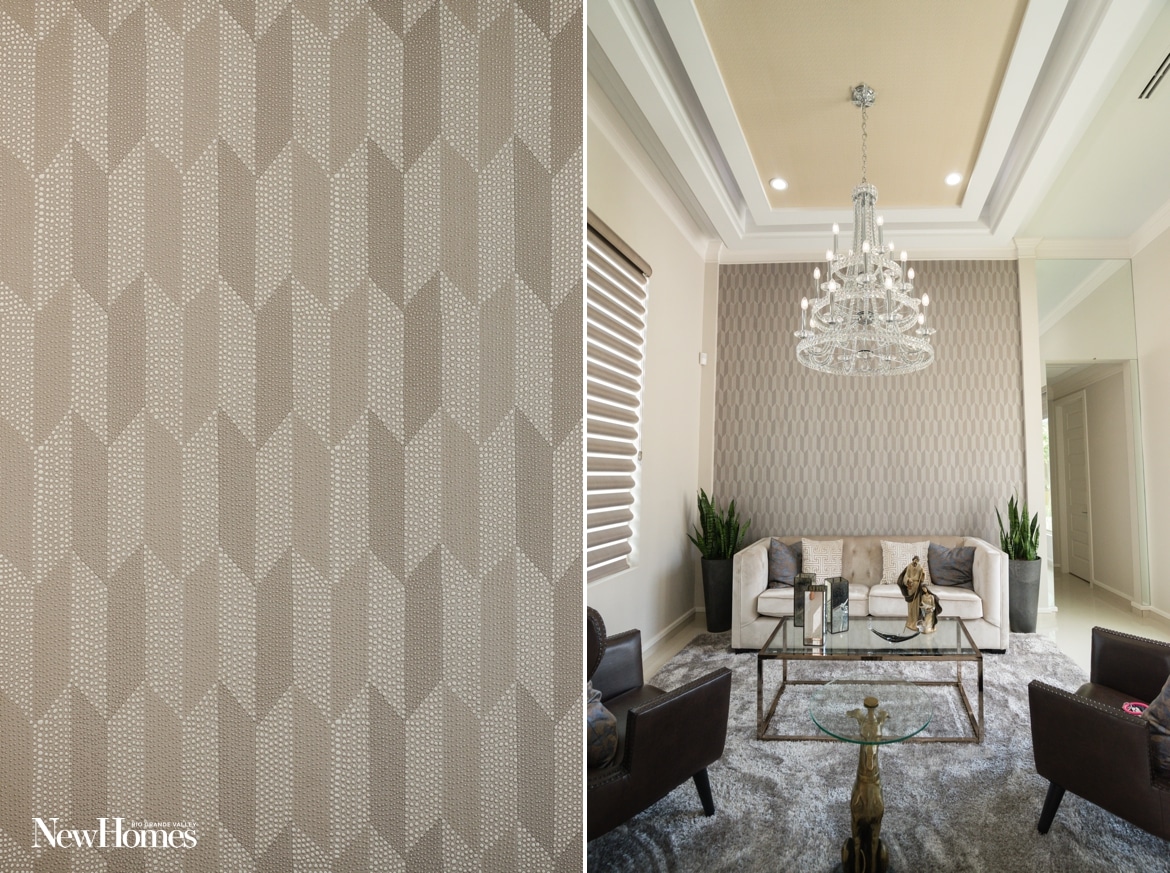 The interior of this award-winning Antre home is glorious. On the left of the entrance is a cozy separate living area with a 3-tiered crystal chandelier elegantly hanging from a tray ceiling with recessed lighting. Large windows with Hunter Douglas shades and modern op-art café au lait wallpaper span three of the walls. A hallway off the living room leads to a guest ½ bath: truly a work of modern art with its labyrinthine designed wallpaper and matching mirror, and a marbled quartz countertop with a visually striking green and gold glass vessel sink.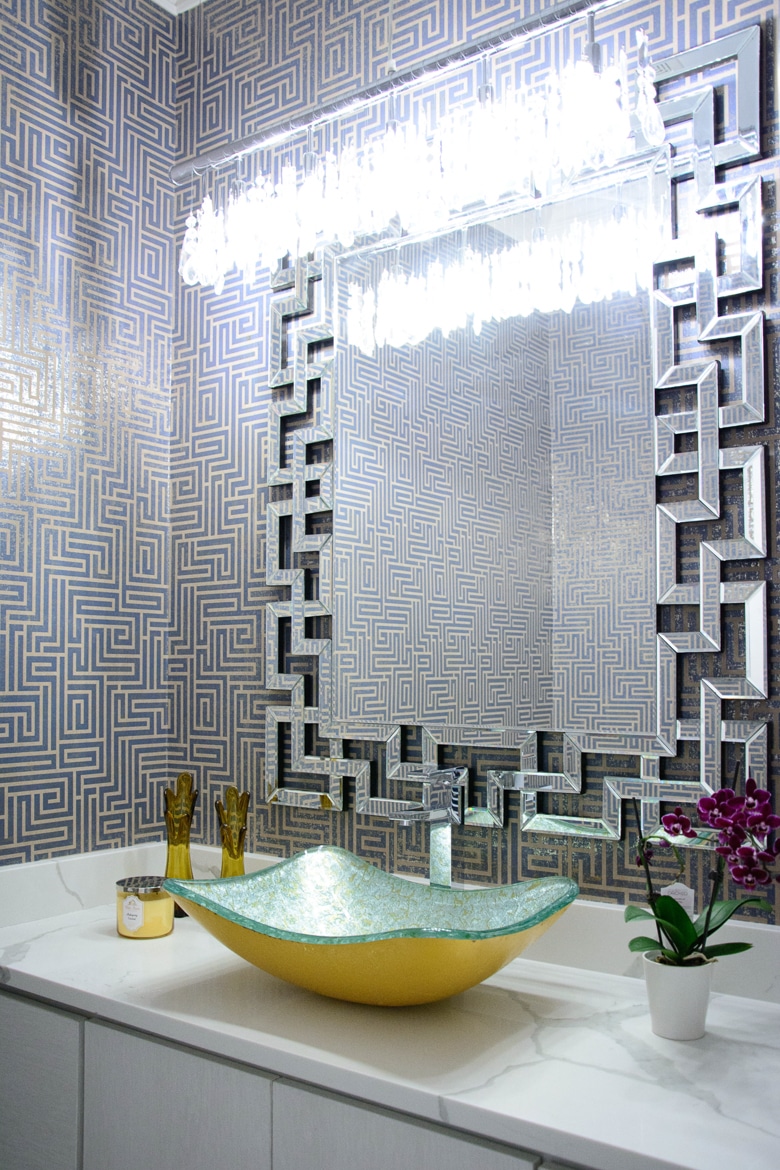 The hallway leads to the garage area…but this is no ordinary garage! Opening on both sides—the street side and then the inner private courtyard side that has a connecting outside kitchen—the space can be used as a garage, or, with the opposite courtyard/outdoor kitchen door fully opened, as a place for covered family fun: barbeques, family parties, or just an extra area of relaxation. The design is perfect for our Valley weather, and this is certainly a superior space in which to welcome friends and family.
The surprises do not stop there. The main area of this uniquely designed home is centered around a private inner courtyard. To the right of the entrance is a formal dining area—not often found in today's new homes. Antre Homes stepped up the appeal of this area with a centered wall of lovely toffee-colored wallpaper and a floor to ceiling mirror. And the pièce de résistance: a magnificent lengthy draped crystal chandelier.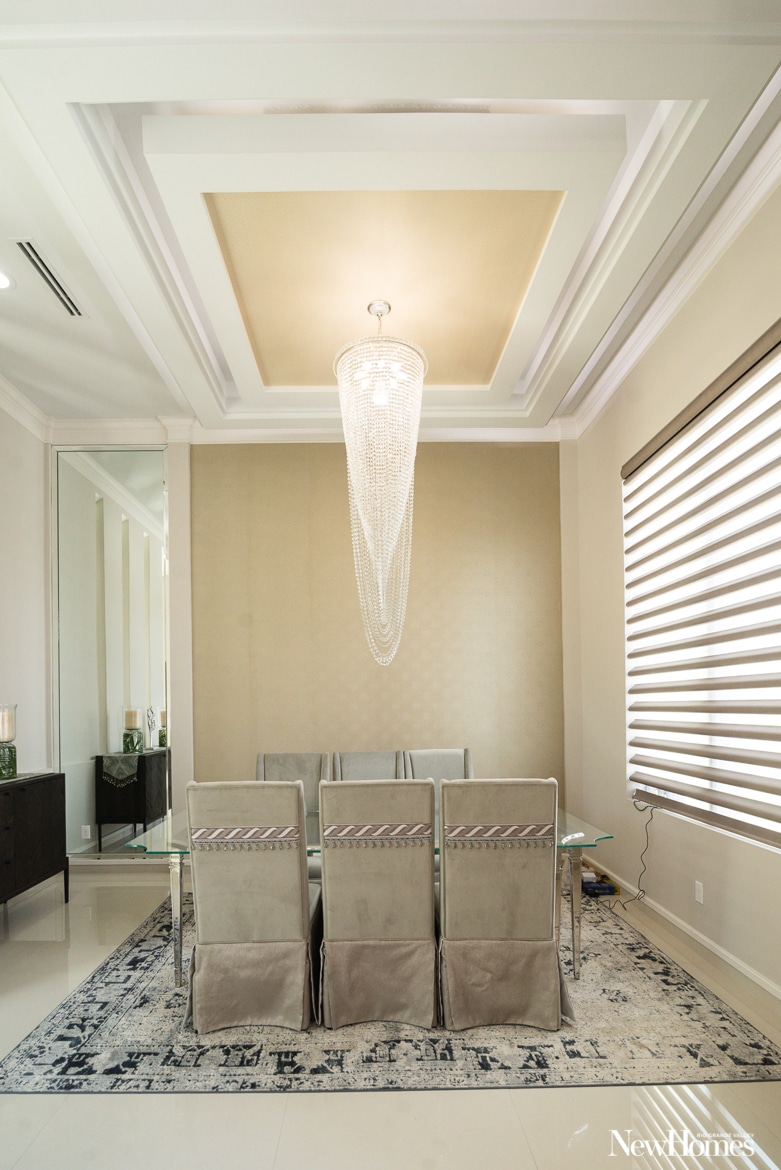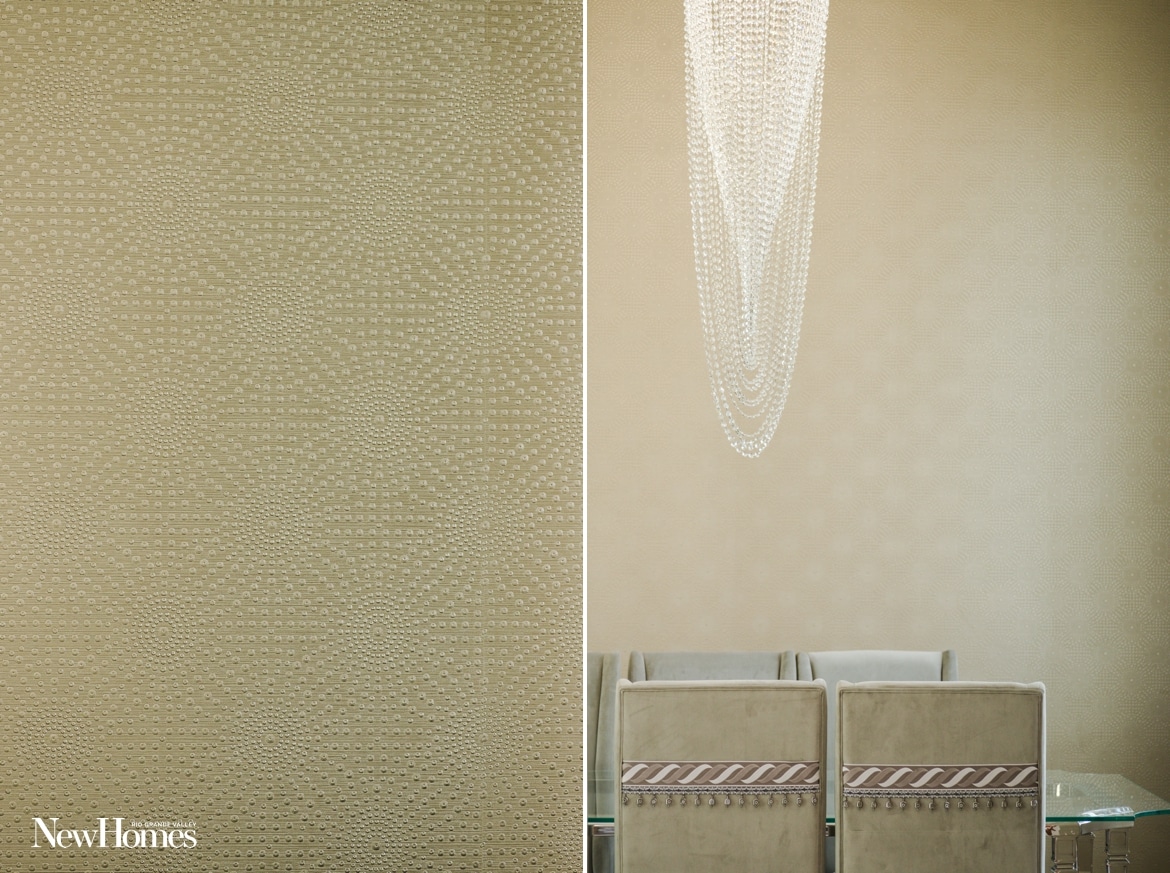 Triangulated ceiling-high columns separate the dining area from the kitchen, a chef's delight. Stainless steel and white marbled quartz countertops and backsplash highlight the dark high gloss cabinetry. A large eat-at marbled quartz island with a deep stainless farmhouse sink, and then the surprising addition of a rectangular crystal chandelier above, add the visual excitement of both a crisp, clean modern style with more traditional luxury.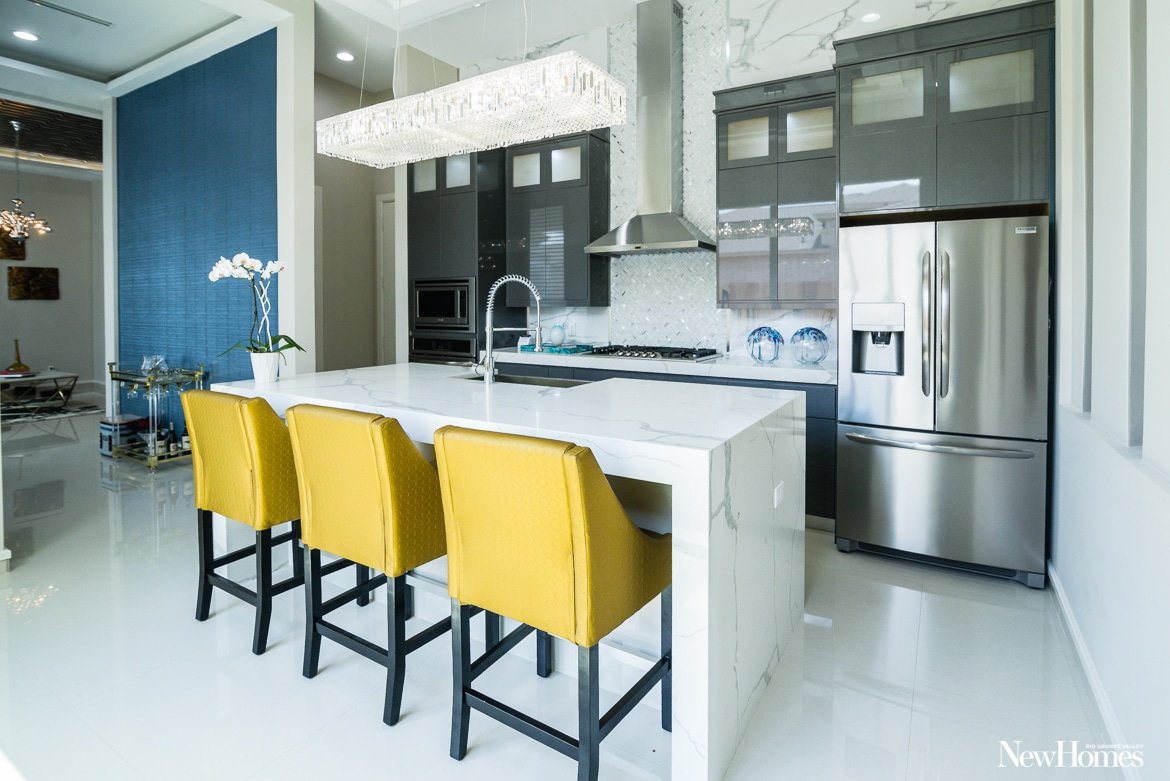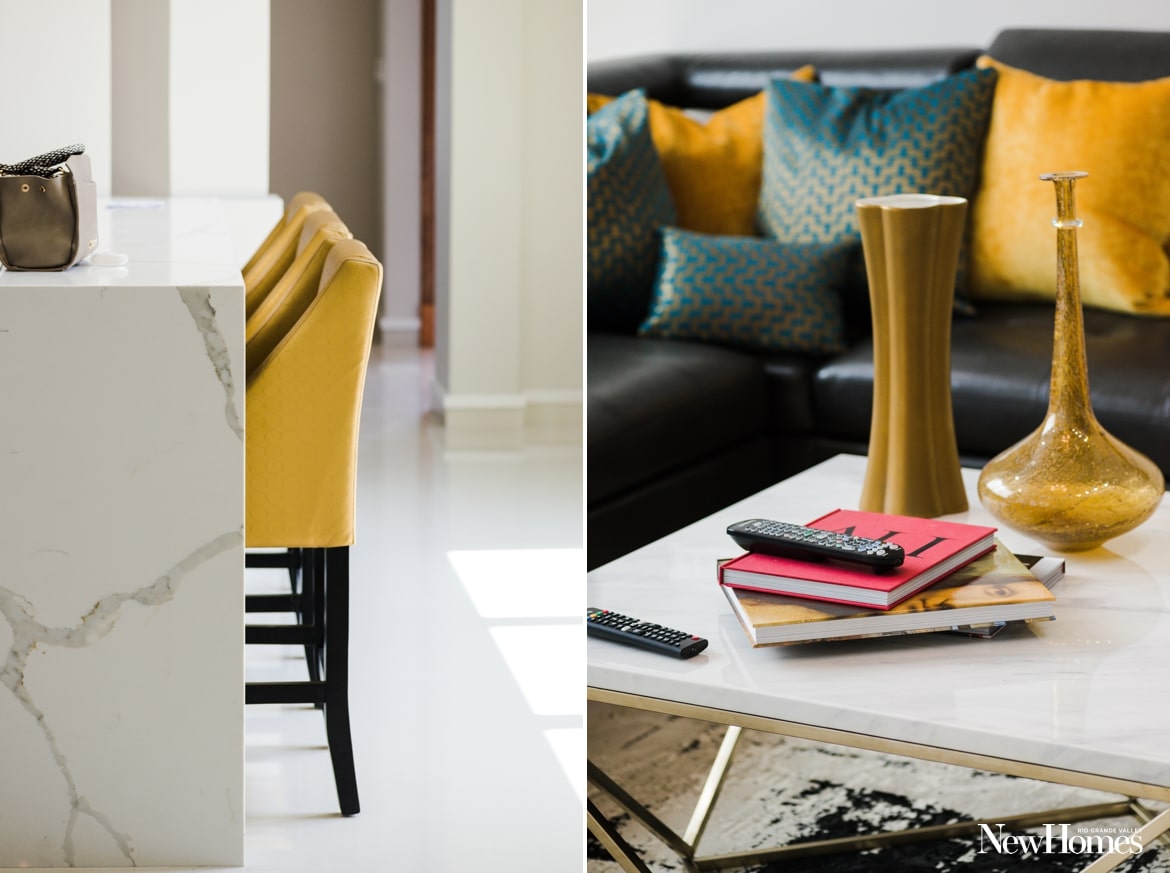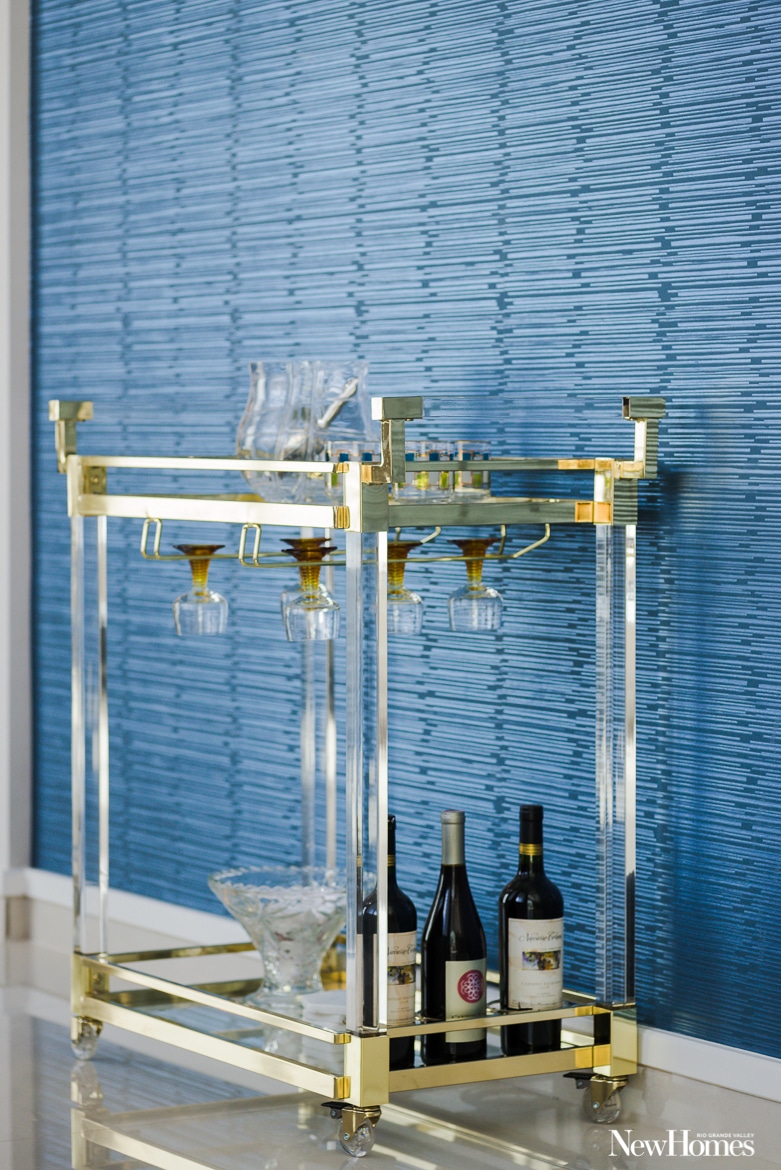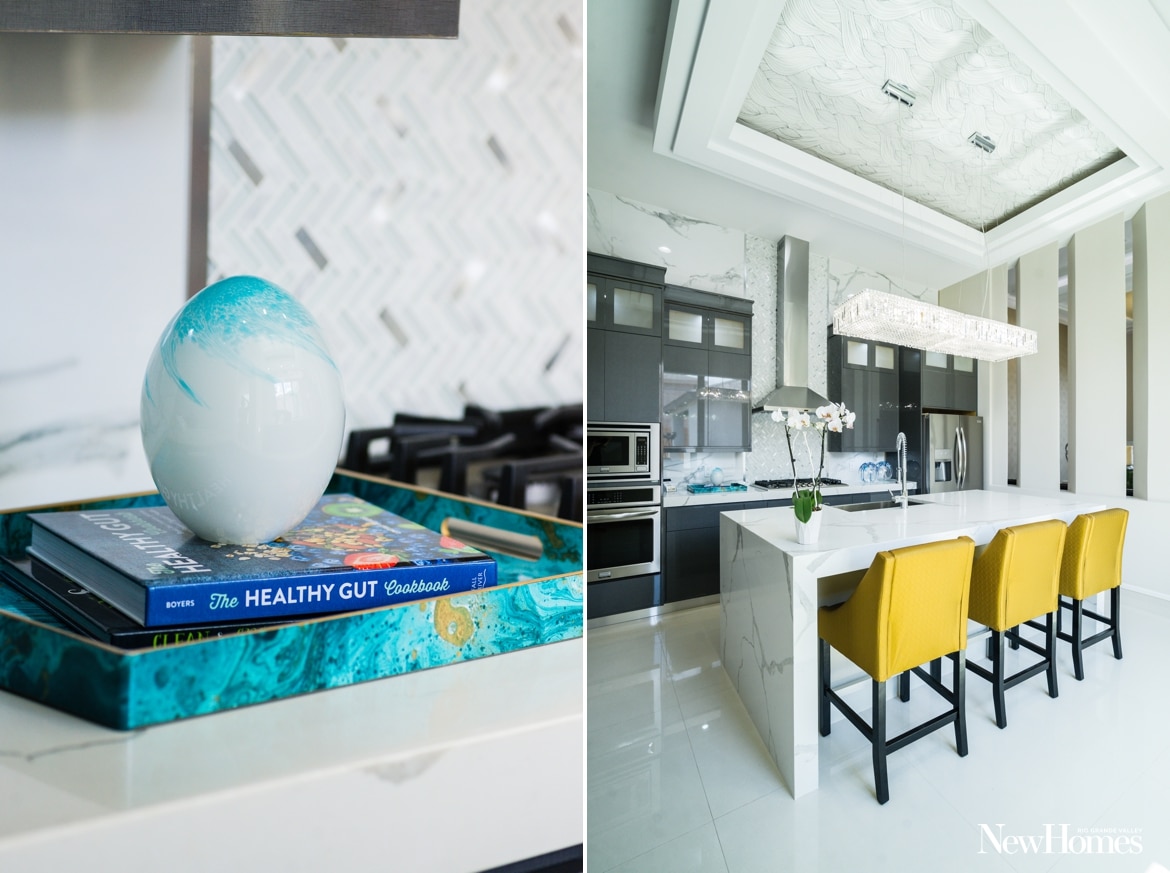 Past the kitchen is the family area. This room has fascinating op-art wallpaper on the central wall as well as on the ceiling, electric Hunter Douglas Silhouette shades, a cool and refreshing 32" x 32" creamy porcelain tile flooring (that extends throughout the home), and a modern silver chandelier. It is a wonderful indoor space for the family to gather and watch TV, play games, or have stimulating conversations with guests.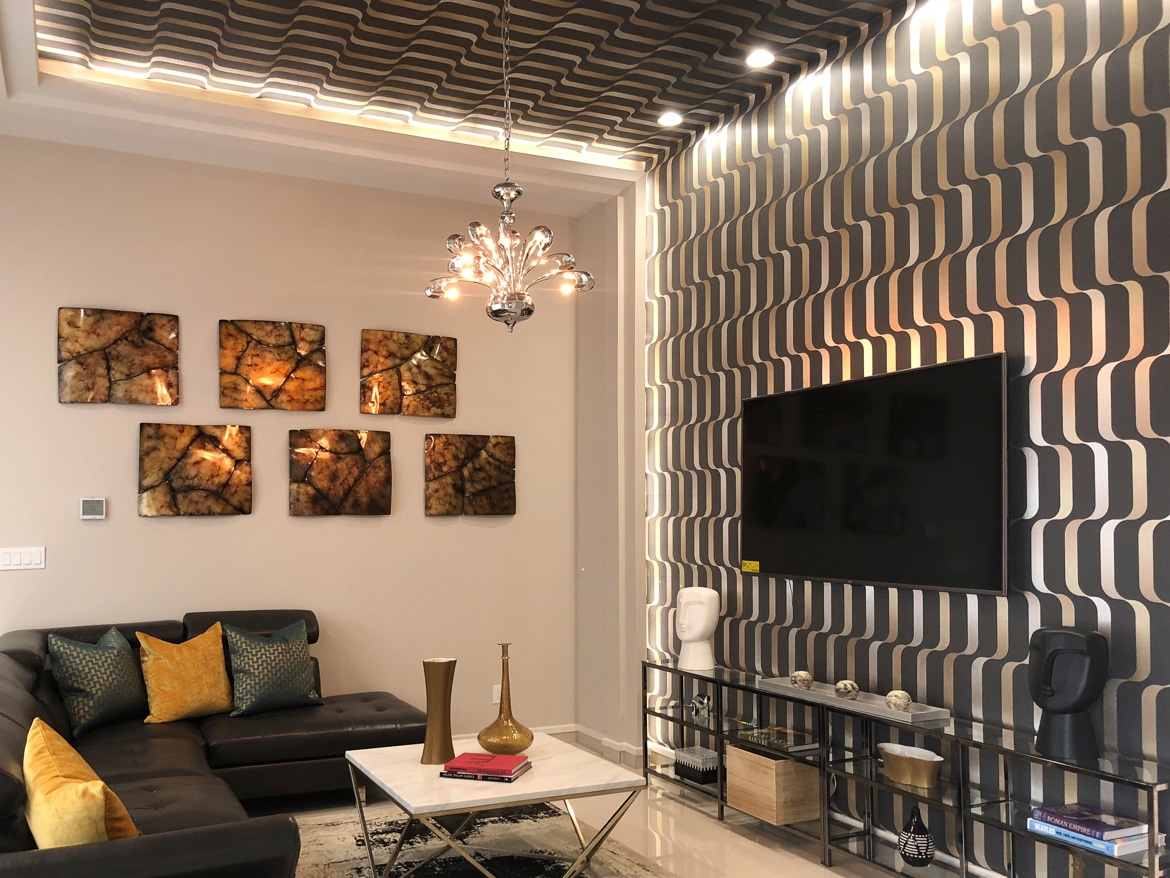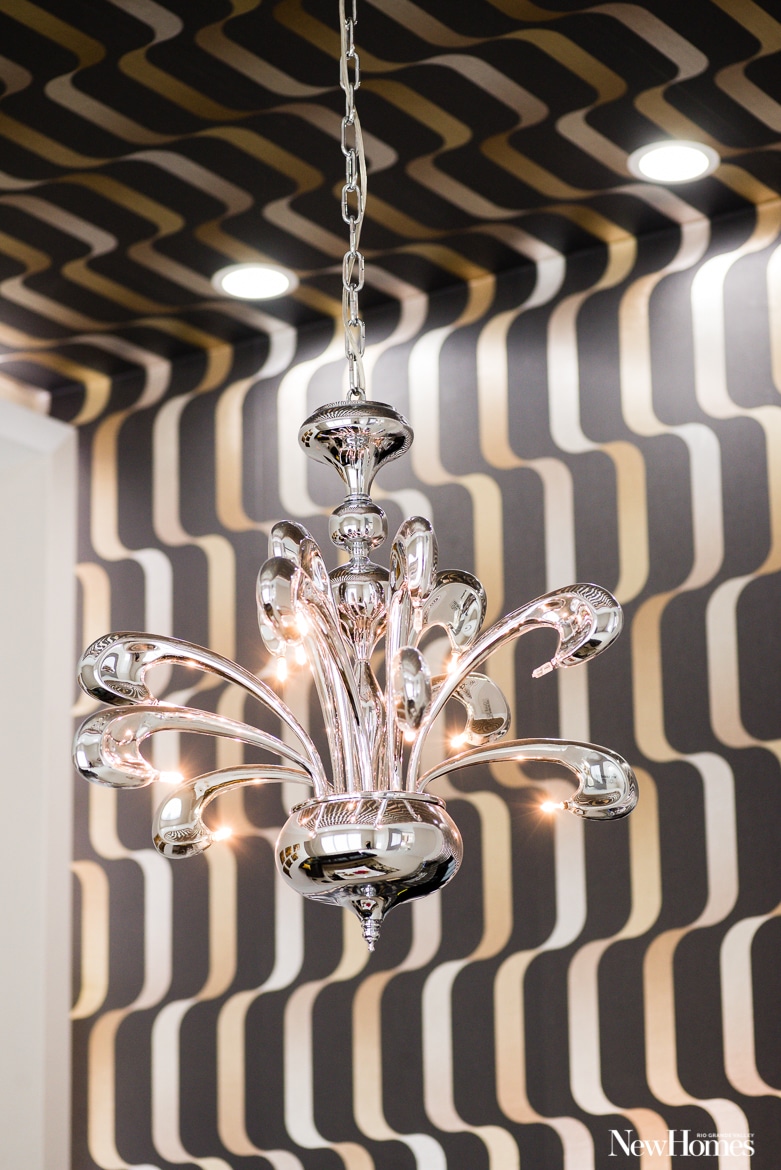 Further past the family area are three oversized bedrooms with dramatic tray ceilings and walk-in closets with built-ins; as well, there is a large full bath area with glass shower, rippled cream-colored tile, another gorgeous wallpaper design, a distinctive mirror, and a large sink area with quartz countertop.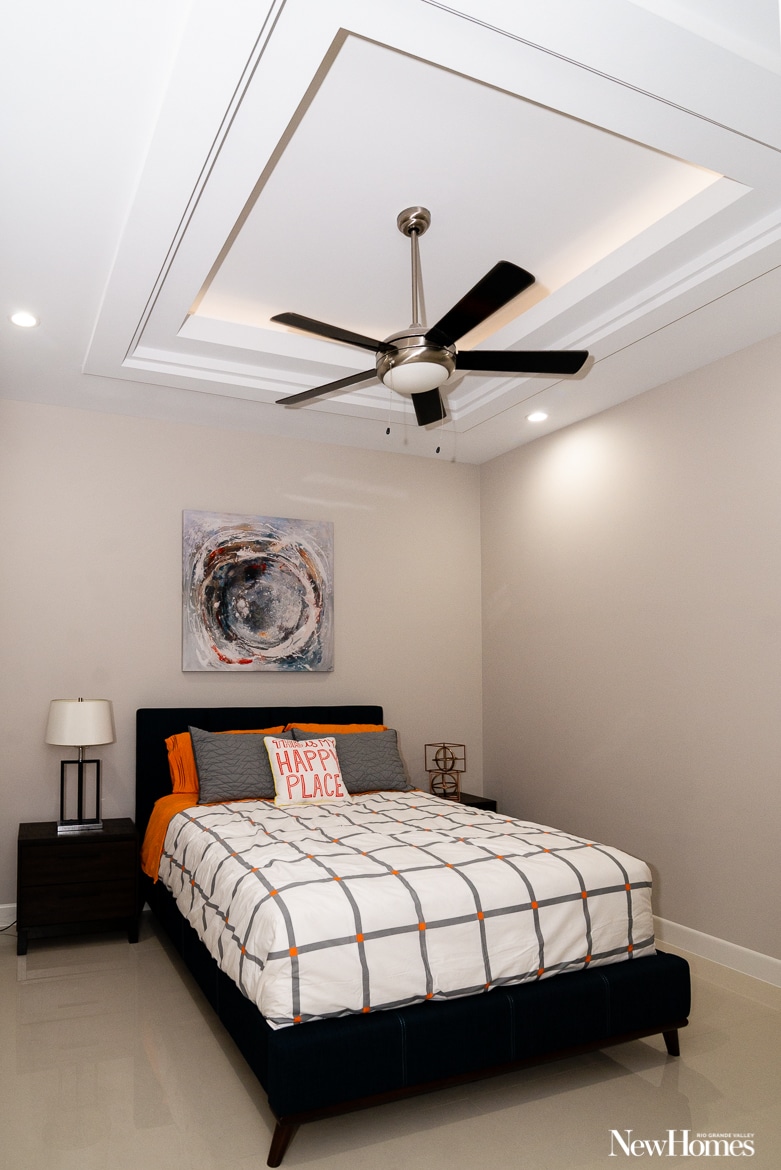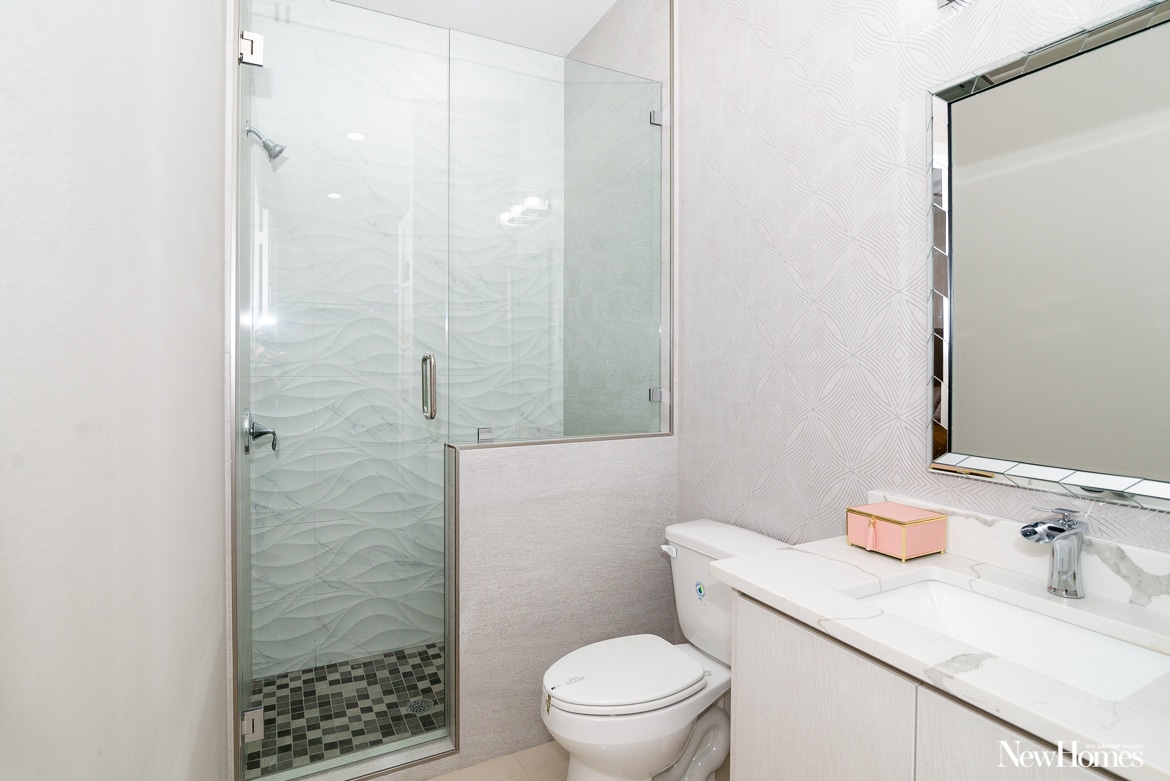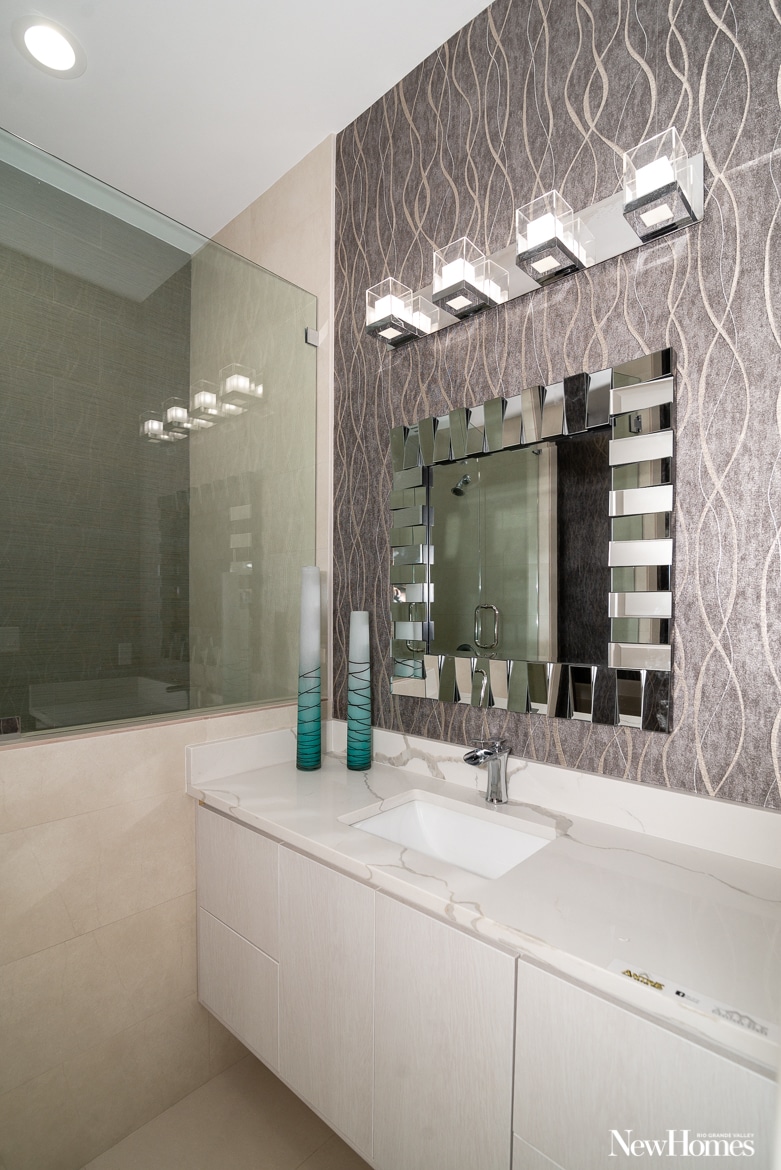 This particular Antre home has a delightful U-shaped floorplan that terminates with the Master Suite down a hallway—separate and secluded. The Master bedroom is spacious and airy, with large windows overlooking the outdoor private courtyard. An elaborate tray ceiling with indirect lighting, a shining porcelain floor, and sophisticated wallpaper designs highlight the area.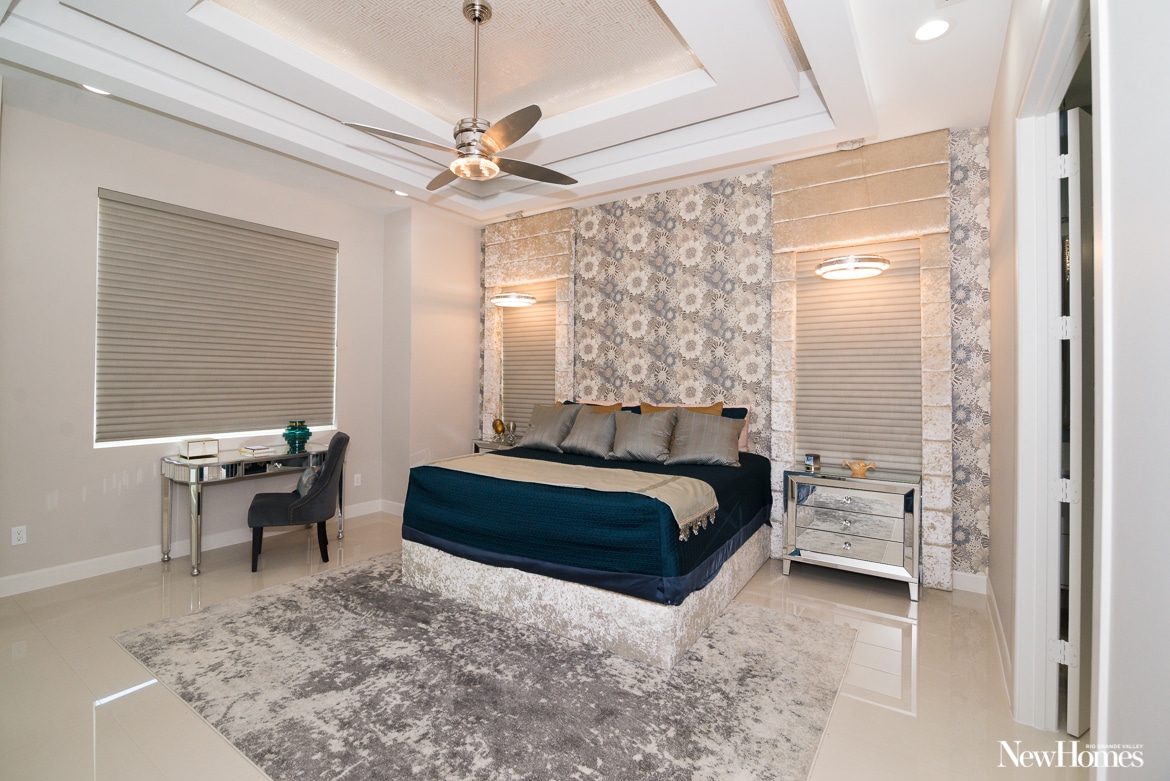 The Master Bath continues the sophisticated look, with crystal chandeliers, separate His and Hers sinks have marbled quartz on top of floating cabinetry. There is also a stunning glass shower with backlit columns and rippled tile. The Master Bath flows into the Master closet—commodious with many built-ins—and the Master closet flows into a laundry room—an extremely well thought out design because why shouldn't there be a laundry room near where most of the dirty laundry is generated!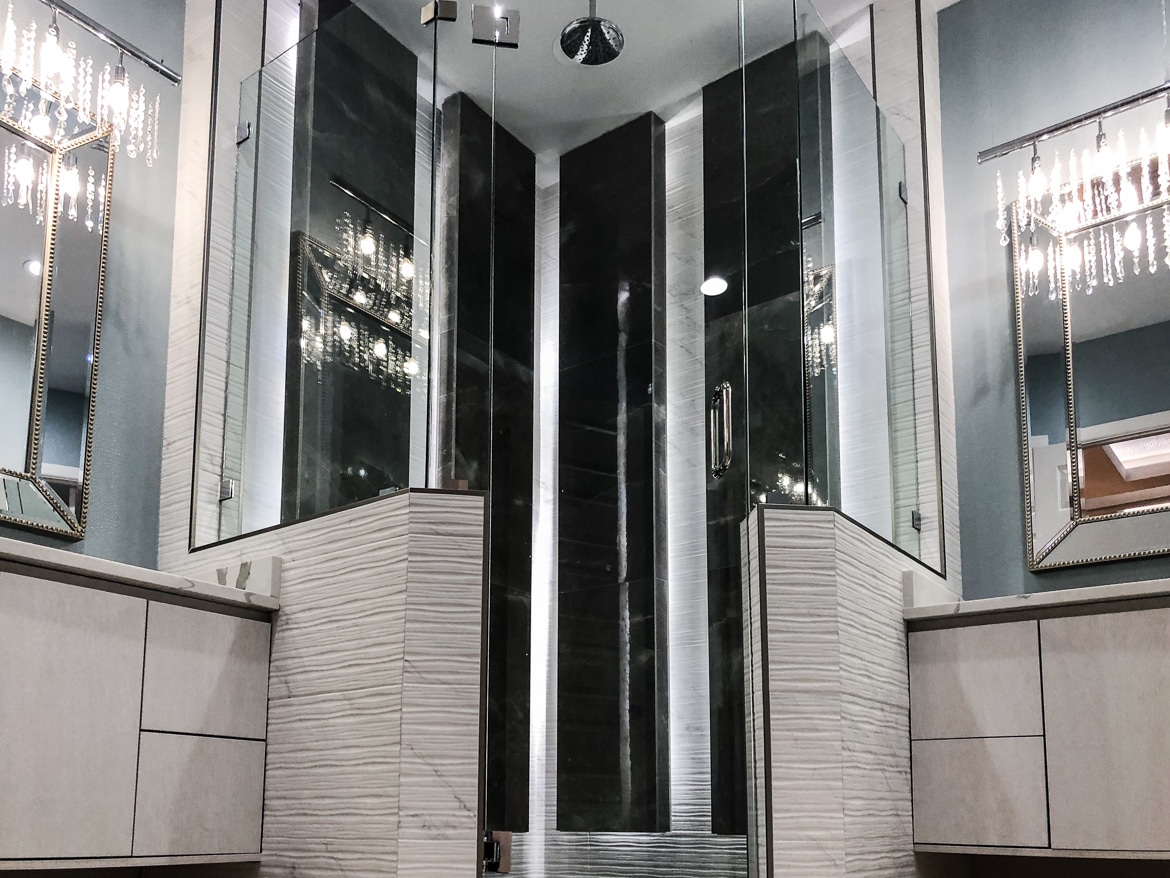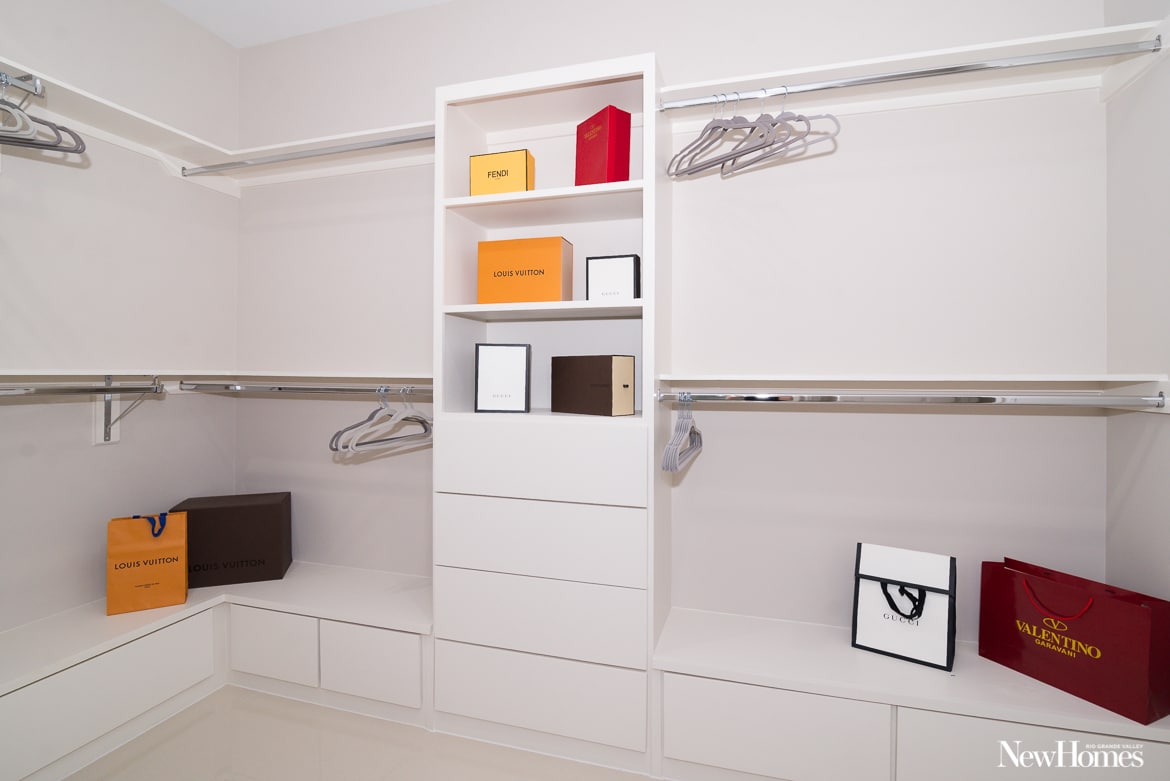 If one could sum up what Antre-built homes are all about, it would be incomparable floor plans and unique touches—from utilizing surprising wallpaper, to creating a juxtaposition of modern and traditional elements, to unique touches like a dual purpose garage and a Master laundry area. This award-winning home built by Antre is definitely true to their motto: "Think different, think original, think Antre." Antre likes to construct homes that mirror the lives of their clients, are different from others, and, especially, homes that are welcoming to friends and family alike.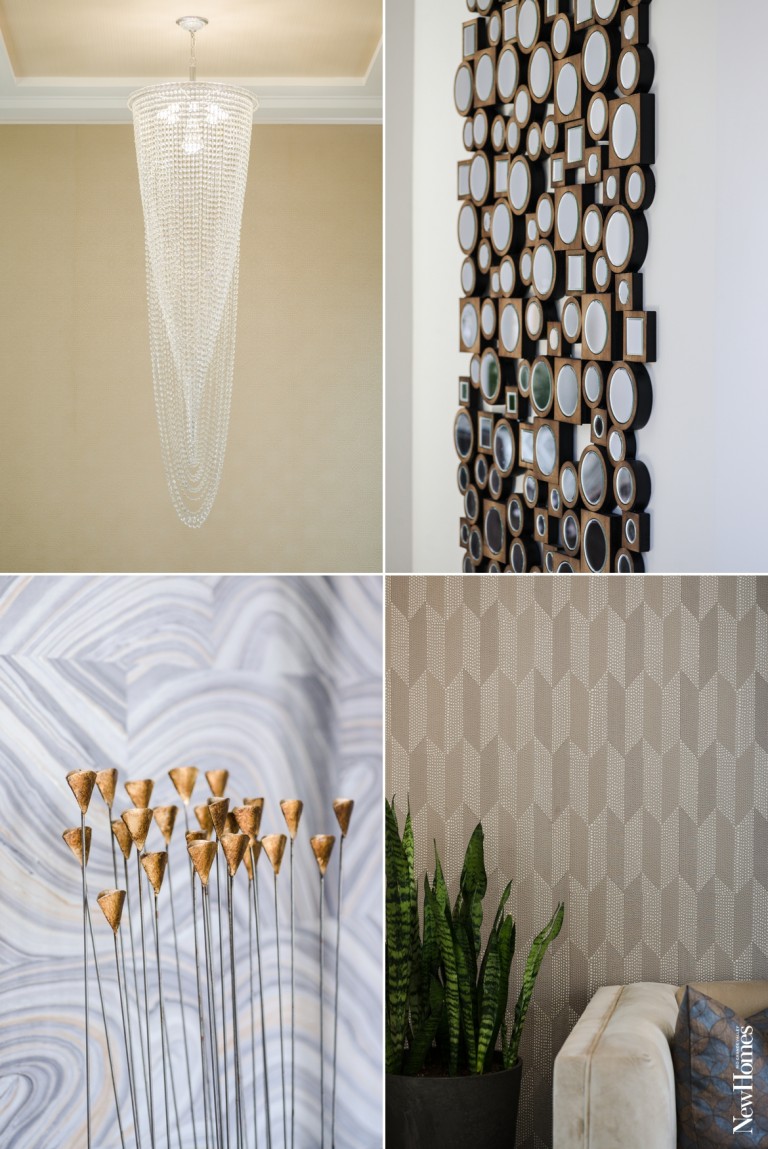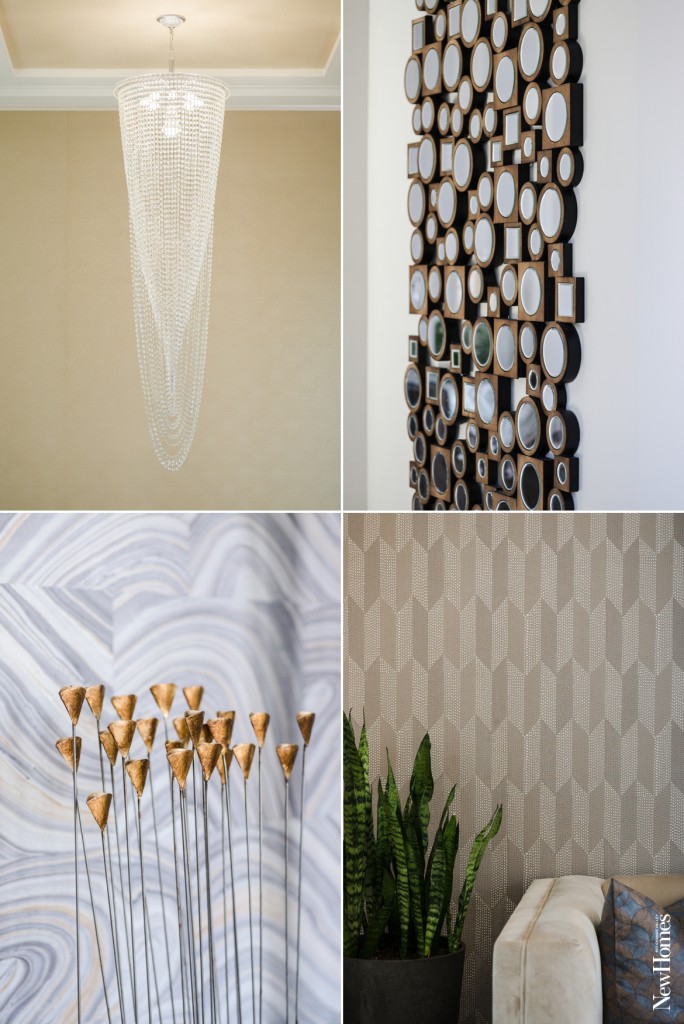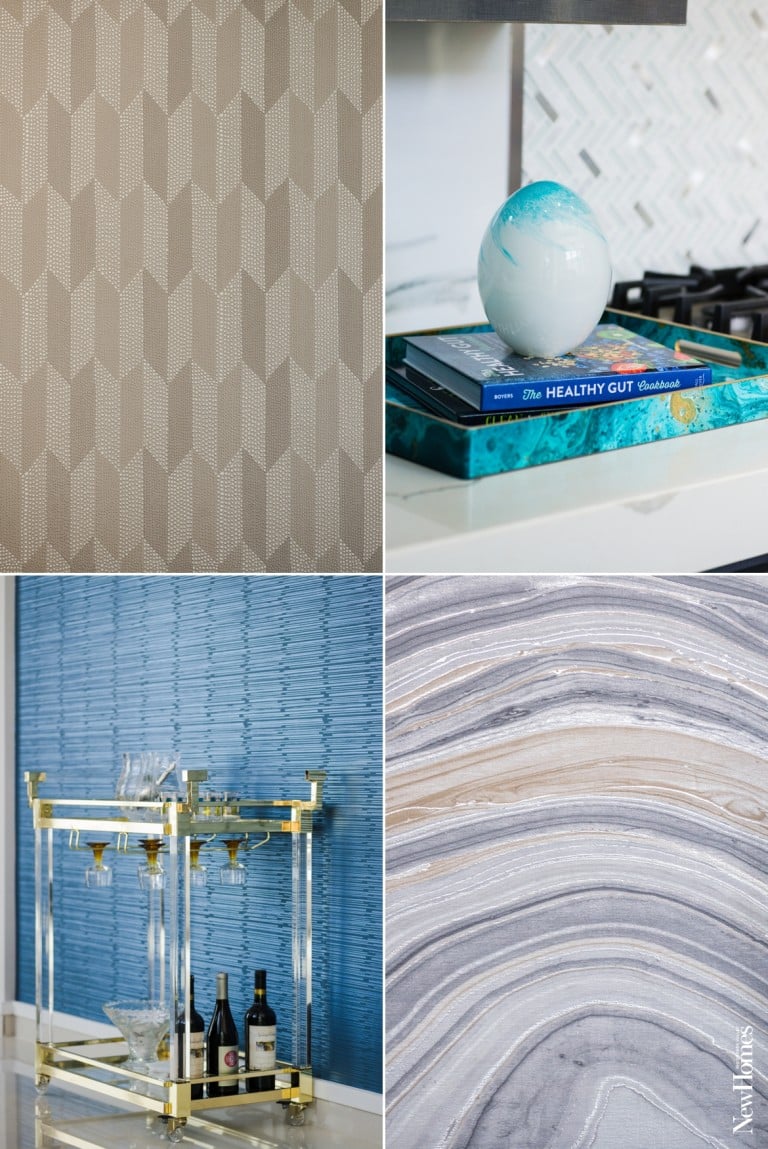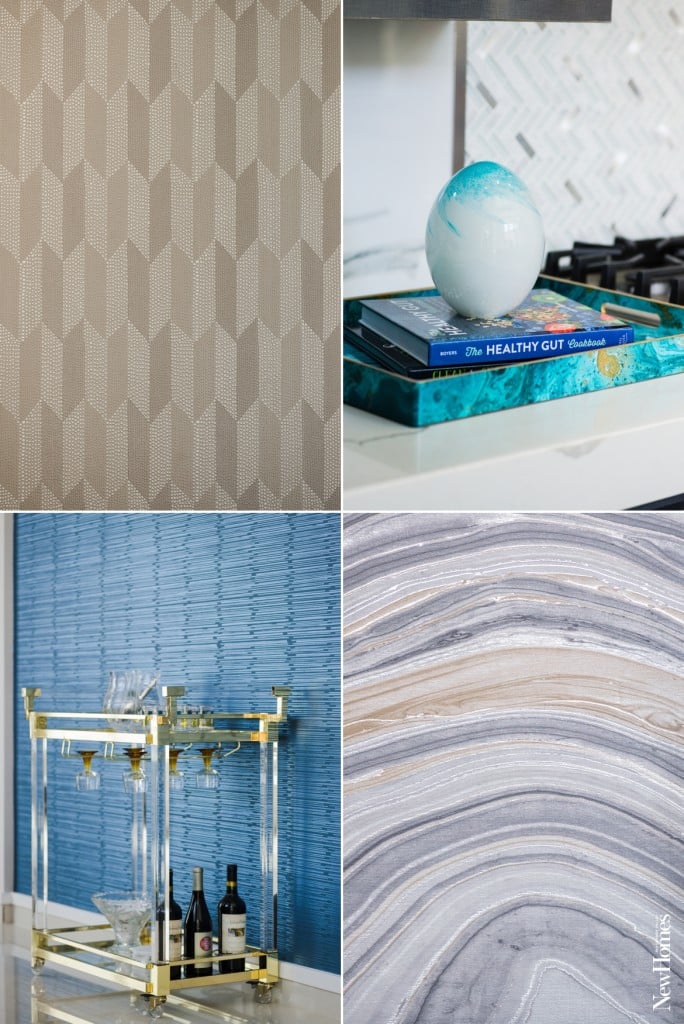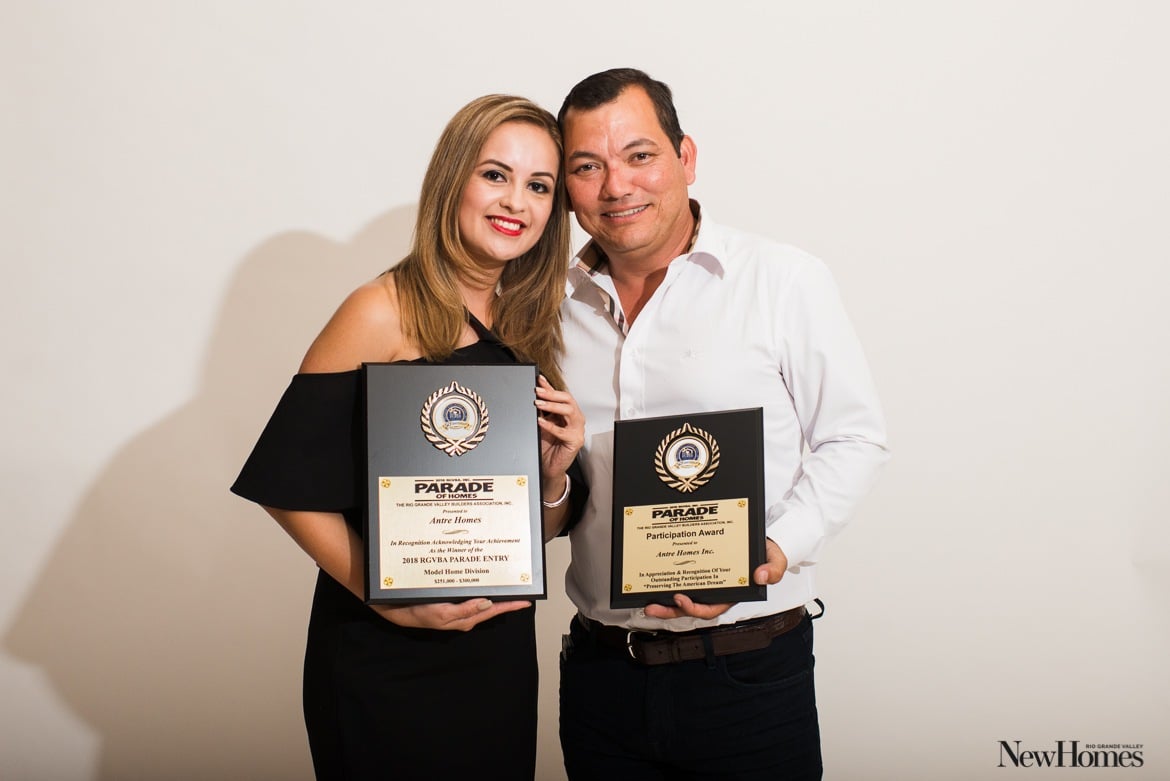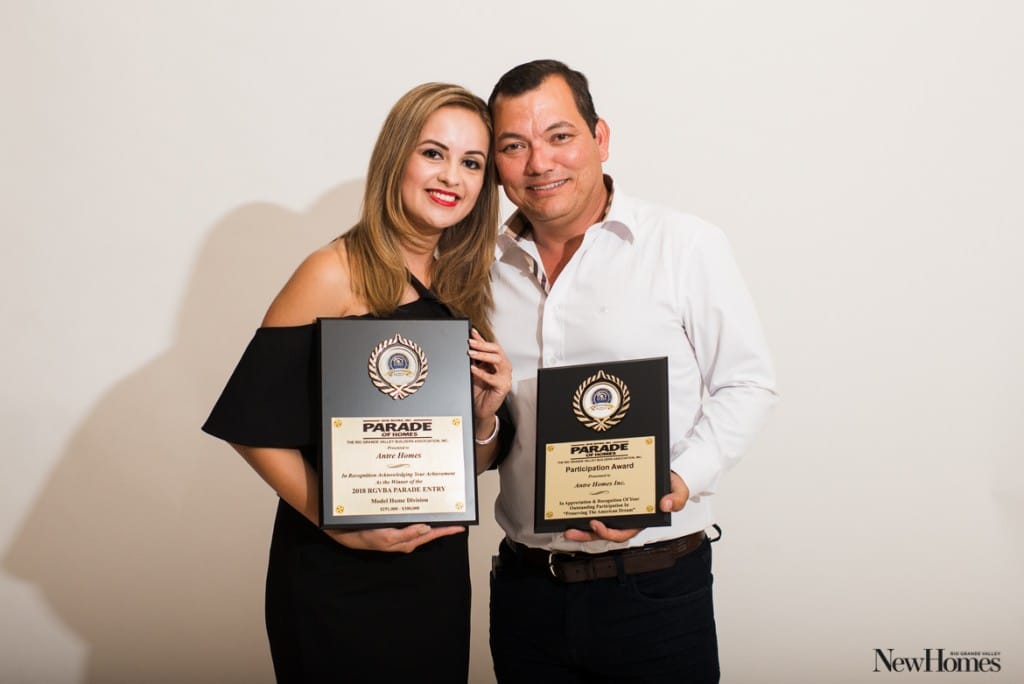 Lily & Angel Treviño.
If you would like to tour this particular Antre model home, if you have any questions—or if you want the Antre Homes team to design your dream home, please call Angel Trevino at (956) 225-9067 or (956) 212-9605. You can also email at angeltrevino@antrehomes.com. And, please visit their website at or Facebook for even more new home excitement!
Special thanks to the Rio Grande Valley Builders Association for putting together an excellent Parade of Homes event.
We'd love to hear your thoughts about this home. Use the comments section below to show some love.
Follow us on Instagram for a daily dose of beautiful new homes in the Rio Grande Valley! Click here: @RGVNewHomes
© 2018 RGV New Homes Guide & Across Media Marketing, LLC.
Unauthorized use and/or duplication of this material without express and written permission from this site's author and/or owner is strictly prohibited. Excerpts and links may be used, provided that full and clear credit is given to RGV New Homes Guide with appropriate and specific direction to the original content.