Should You Buy a New or Existing Home?
The main reason people prefer to buy a new home over an old one is fairly simple—we all prefer a home that no one else has lived in before. It's no different than when buying a car.
And like when buying a car, the price—and what we can afford—usually determines whether we buy new or old. But while new homes may be more expensive than existing homes, the advantages of buying new are well worth the investment, especially when compared to the disadvantages of buying an existing home.
Let's take a look at both.
Benefits of Building or Buying a New Home
Buying or building a new home means you will get to plan or choose a living space that is customized to your needs. You can build or choose a home that reflects your individuality and your unique tastes and lifestyle.
Customized Floorplan: In a new home, you can design your living space the way you envision it. Imagine being able lay out your dream space the way you want it and not have to settle for someone else's idea of a perfect space. You can control where you want open spaces, large windows, and how you want your kitchen designed. Customize the size of your rooms, the height of your ceilings and how they look, your patio, your entertainment areas, and, best of all, you can make sure the size of the home is perfect for you.
Personalized Home: This is the exciting part of buying or building new. You get to choose the way your home will look—from its exterior architectural style to how the home will look inside. Imagine being able to choose the type of floors, wall
colors, doors, and windows that appeal to you, and being able to personalize your kitchen with backsplashes and countertops that cater to your tastes and dreams.
More Energy Efficiency: New homes—especially those certified by a high-performance home program like BUILT TO SAVE®–provide superior energy efficiency, which means your utility bills will be much less than an older home's. Advances in building science and energy-saving materials have transformed the way homes are built today. From windows to insulation, almost all products that have an impact on how much energy your home uses have improved. Building code requirements, like the International Energy Conservation Code, are updated every six years, thus raising the bar for new home construction to ensure that homes are built to provide better energy efficiency and better building practices.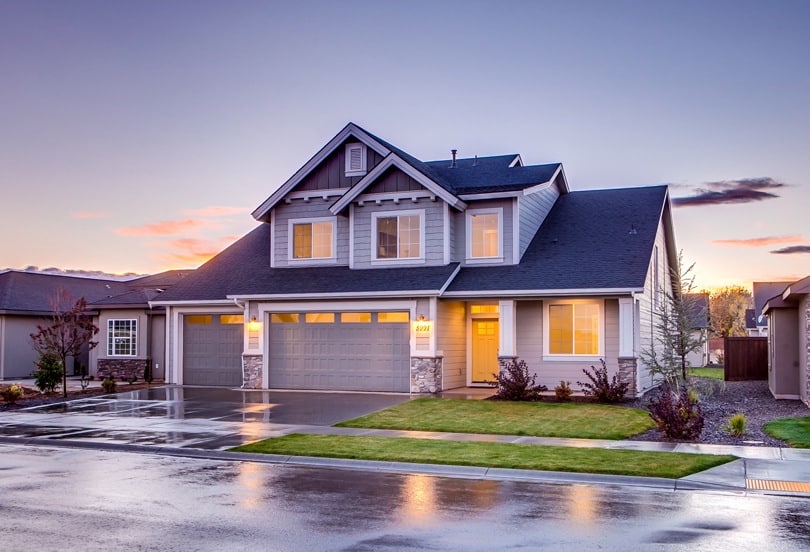 Healthier Indoor Spaces: This may seem like a small detail, but it should not be taken for granted. Compared to existing homes, the air quality in a new home will not be contaminated by such things as asbestos or lead paint. Today's new homes are built using safer and healthier products like low and zero-VOC (volatile organic compound) paints and building materials. Additionally, the home's envelope is built to tighter standards and provides more protection from outside pollutants. That said, it's important to install proper mechanical ventilation systems available today, especially if spray foam insulation is used.
Less Maintenance: Buying new means you shouldn't need to worry about costly repairs or having to replace appliances. And even if you do have problems, almost everything should be under warranty. Most new home builders offer structural and other warranties that should cover a variety of problems for a limited time.
Location: New homes are likely to be built in new home communities that offer locations convenient to schools, medical services, shopping, business districts, entertainment, and provide easy access to major roads.
Financing: Getting a home loan for a new home may be easier than you think. Home builders may offer their own in-house home loan financing or may have established relationships with lenders that they work with, and they have a vested interest in helping you get a loan. With near historically low interest rates available today, there has never been a better time to buy a new home.
Disadvantages of Buying an Existing Home
Fixed Floorplans: What you see is what you get. If you want to personalize or customize the floorplan to your needs, you will have additional remodeling costs to contend with. How much more will depend on the changes you will want to make. Basically, you will have to make your needs fit what was the previous owner's needs. With a little luck, they will match.
Less Energy Efficiency: Older homes were not designed especially with energy efficiency in mind. There may be issues with the old windows which are not energy efficient like those required today. From the water heaters to the appliances, an existing home may not be equipped with today's energy-saving products. More importantly, there is no way of knowing about the home's construction and what's behind the walls. The utility bill, however, will be a good indicator if it is high.
Indoor Air Quality: Without knowing what's behind the walls, the type of construction and insulation, the quality of the indoor air will be questionable. As important as indoor air is—considering the amount of time we spend in our homes and how this can affect our health—why would anyone risk not knowing what we are buying when we buy an older home?
More Repairs and Maintenance: Compared to buying a new home, buying an existing home will require more repairs and maintenance in a shorter period of time, depending on how old the home is. The repairs can be minimal, like replacing a water heater, or costly, like replacing the roof—but they are inevitable when buying an older home.
Location: Existing homes are generally located in established, older neighborhoods. These locations may not have the proximity to newer, commercially developed areas of the city. The neighborhoods of these older homes, more than likely, do not offer some of the new home community amenities like a neighborhood playground, swimming pool, or other common areas for leisure activities.
If buying a new home is your preference, there is some good news. The Rio Grande Valley Builders Association's Parade of Homes took place on June 12-13 and 19-20. This is a perfect opportunity to visit over 22 new homes in various locations throughout McAllen, Edinburg, Weslaco, Pharr, and La Feria, Texas. You will be able to see the latest trends in new homes from some of the Rio Grande Valley's finest builders. Take advantage of this once-a-year opportunity. Tour the model homes, visit with the builders, talk to mortgage lenders who may be at the homes, and make your dream of a newly-built home a reality.