Luxury & Design Under One Roof—And It Could Be Your Roof!
Trevino Construction is a team of leading-edge designers and visionaries in the field of new home construction. As soon as you walk into a Trevino Construction home, you'll know you are seeing a one-of-a-kind creation—a unique vision of luxury, beauty, and quality craftsmanship that makes other homes pale by comparison.
And more lasting than the beautiful interiors and timeless exteriors will be the enjoyable and happy memories from a home building and home buying experience that will remain with you for the rest of your life—that's the promise you get when you build your home with Trevino Construction.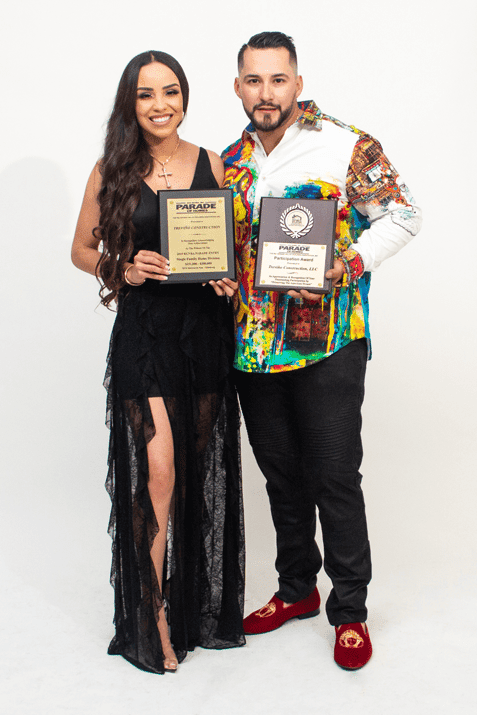 The company's founders, Mario Trevino and Marisol Villanueva de Trevino, have been building luxury custom homes in the Rio Grande Valley for over 15 years.

The couple was honored to be recognized by their industry peers for their excellence in construction in the RGVBA's 2019 Parade of Homes competition with the award for "Best Home" in the Single-Family Home Division in the $301,000 to $350,000 Category. The home is a majestic example of the company's attention to detail throughout every room.

The award-winning residence at Jackson Heights in Edinburg is an impressive home that surrounds visitors with elegance and beauty as soon as they enter. It is a showcase of rich details, innovative design, and artistic use of trending materials.

Trevino Construction's superior craftsmanship is visible from floor to ceiling and includes many extras that personalize a home as standard—extras that others would consider upgrades.

We invite you visit with the team at Trevino Construction and bring your new home vision to these "visionary" experts. You'll discover, at that first meeting, what others before you already know. It will be the beginning of a builder/homebuyer relationship which will offer you the guidance, advice, knowledge, and individual attention that will continue to flourish even after you move in to your dream home.

Visit Trevino Construction's website or call (956)534-6305 for more info.