2023 Leading Energy Efficient Builder: Villanueva Construction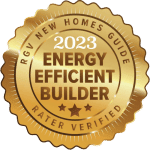 Founded: 1985
Price Range: $150's – $400's +
Areas Served: Hidalgo and Cameron County
Construction Type: Residential
BUILT TO SAVE® Member Since: 2016
2-10 Home Buyers Warranty: Available
Martin Villanueva, Owner/Builder
Founded: 1985
Price Range: $150's – $400's +
Areas Served: Hidalgo and Cameron County
Construction Type: Residential
BUILT TO SAVE™ Member Since: 2016
2-10 Home Buyers Warranty: Available
Martin Villanueva, Owner/Builder
What distinguishes a quality energy-efficient builder from the competition is their ability to construct excellent homes again and again. This definition describes Villanueva Construction perfectly. Founded in 1985, the company builds high-performance homes with the kind of confidence that can only be acquired after nearly four decades of hands-on experience. The sheer gratitude of Villanueva homeowners alone is a testament to the quality, value, and energy efficiency of their homes—but that's not all.
Villanueva Construction has been a leading energy-efficient builder in the BUILT TO SAVE® program since joining in 2016. Year after year, the company has received an award for building the most BUILT TO SAVE® certified homes in the Rio Grande Valley—and 2022 was no exception. For the sixth year in a row, BUILT TO SAVE® has recognized Villanueva Construction with their Outstanding Achievement Award for the most homes certified in the BUILT TO SAVE® program.
Villanueva Construction's outstanding track record of building high-performance homes stems from the values that founder Martin Villanueva instilled in the company. With passion and integrity at the heart of everything they do, Villanueva Construction refuses to settle for anything but the best when it comes to homebuyer satisfaction. Their commitment to energy-efficient construction combined with an array of potential homesites, floorplans, stunning architectural styles, and building materials allows them to build superior dream homes. Taking each homebuyer's budget, personality, needs, and desires into account, Mr. Villanueva personally supervises every project, ensuring a customized experience down to the last detail.
In addition to living in a home built specifically to match their needs, Villanueva homeowners benefit from lower utility bills, better indoor air quality, and long-term durability. As a result of their dedication and craftsmanship, Villanueva Construction experiences some of the highest levels of customer satisfaction in the Valley—the ultimate proof of their success.
Schedule a consultation with Villanueva Construction and start your individualized homebuilding journey today.
Outstanding Achievement Award
PRESENTED TO VILLANUEVA CONSTRUCTON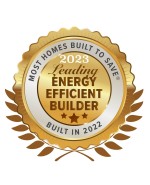 For the sixth year in a row, Villanueva Construction was honored with the Outstanding Achievement Award: "Most Homes Certified in the BUILT TO SAVE® Program in 2022."
From the very start of the company's membership in the BUILT TO SAVE® program in 2016, Villanueva Construction has received this award and continues to be a leader the Rio Grande Valley's new home construction industry by building high-performance homes. In addition to its exemplary excellence in energy efficiency construction, the company has earned a reputation for excellence in customer service–before and after the sale–thanks to their staff's one-on-one personalized attention, and their family-centered way of building homes. When Villanueva Construction says they build homes of absolute quality, beauty, and value, they mean it. The company's commitment to building superior high-performance homes is a testament to that.
The BUILT TO SAVE® initiative, sponsored by Magic Valley Electric Cooperative (MVEC), is a voluntary home certification program for builders who build to superior standards than what is required by minimum building code requirements. As a steward of energy conservation, MVEC has been a major contributor to the BUILT TO SAVE® Program, thereby helping to reduce energy costs for homeowners and improve the quality of new home construction in the Rio Grande Valley.
The BUILT TO SAVE® program is sponsored by Magic Valley Electric Cooperative, that as a steward of energy conservation, provides incentives to builders in the program who construct homes in MVEC territory. Magic Valley Electric Cooperative is committed to promoting high-performance home construction and improving the quality of life for Rio Grande Valley residents with new homes that are more comfortable, more durable, and superior in energy efficiency.
Most Homes Certified BUILT TO SAVE®
Get In Touch With Villanueva Construction
Contact Villanueva Construction for a private viewing of their model home, or for a consultation on having them build your new dream home.