Discover The Possibilities Of An Open Floorplan
Imagine standing in your kitchen, either cooking dinner or checking on what's for dinner. Your children are playing in the family room in front of you while your spouse is working at a computer station. The television in the living area is showing the evening news as you grab a cool drink from the refrigerator.
Welcome to the open floorplan! This design is one that meets the needs of families with young children, as well as people who enjoy entertaining. The concept is simple. In a traditional layout, walls divide the kitchen, living room or family room, and the dining room. An open floorplan is different because it removes those barriers to create one large room that is the center of a family's activities.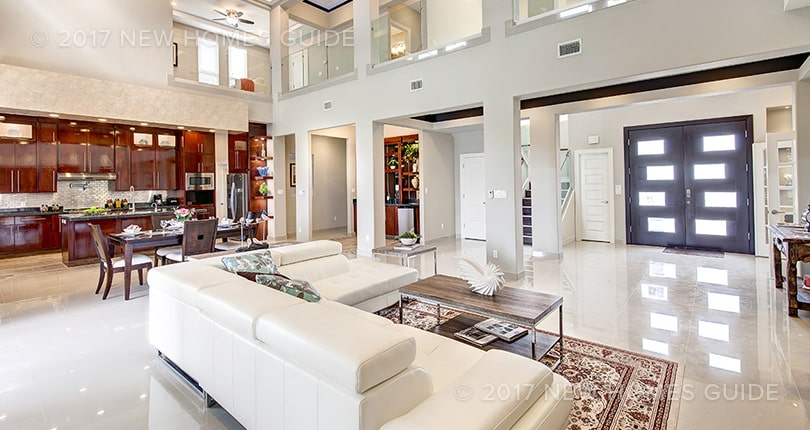 Home by
Camino Real Builders
Why People Love an Open Floorplan
What are some of the advantages to choosing a home with an open floorplan? First, it lets you visualize the entire space. For instance, you can be in the kitchen cooking or washing up while your young children play in the living room within eyesight.
Second, if you love to entertain, you likely want to spend time with your guests. An open floorplan lets you prepare food in the kitchen and chat with them as they mingle in the living area. You can be part of the action at all times.
An open floorplan also offers more natural light. The sun can shine through windows that are shared by the living, dining, and kitchen areas. You can even extend this open living to the outdoors with a deck accessible through glass doors.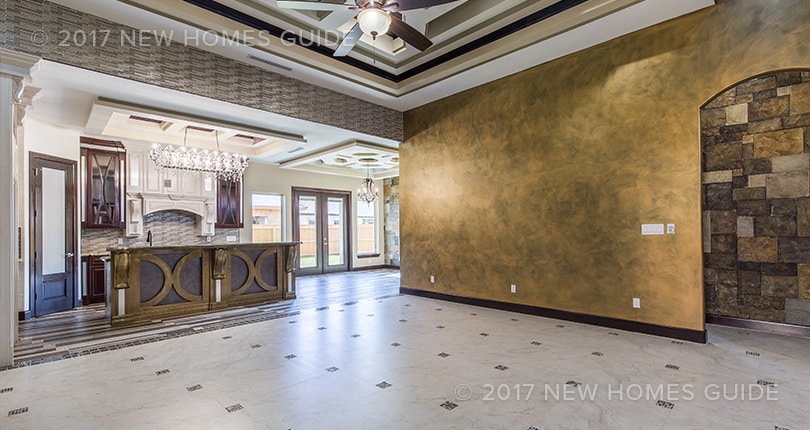 Home by
Treviño Construction
MAKING AN OPEN FLOORPLAN WORK FOR YOU
How can you make an open plan one that's as functional and as beautiful as possible? Here are some tips:
Use low furniture: Small couches and other low-profile seating and tables lend themselves to the airy feel of this plan.
Have comfortable seating: The large open floorplan room is one you'll be in most of the time, so why not go for comfort?
Think about buying durable furniture: If you have kids, pets, or lots of guests, you need furniture that can be cleaned easily. Choose colors and materials that can hide spills and won't tear or sag when used daily.
Remember storage: Without walls for closets, your furniture should also serve as spaces to store your stuff. Look for bookshelves, ottomans, and coffee tables with removable baskets that double as places to hide toys and books.
Consider light, sheer curtains: Let that light in to maintain a breezy, open feeling.
Multi-purpose seating works: Keep lots of small seating choices accessible. This could be slim or foldable chairs and stackable ottomans that can be pulled out when needed.
And most important—a cohesive color palette: When you design an open floorplan, consider the big picture. Make sure that your colors and style complement each other from one space to the other. You want the entire large space to look coordinated.
An open floorplan gives your home a bigger feel, no matter what your square footage is overall. When you're exploring options for new home construction, consider how this plan might work into your life. You might be surprised at how easily one big room can bring everything and everyone together.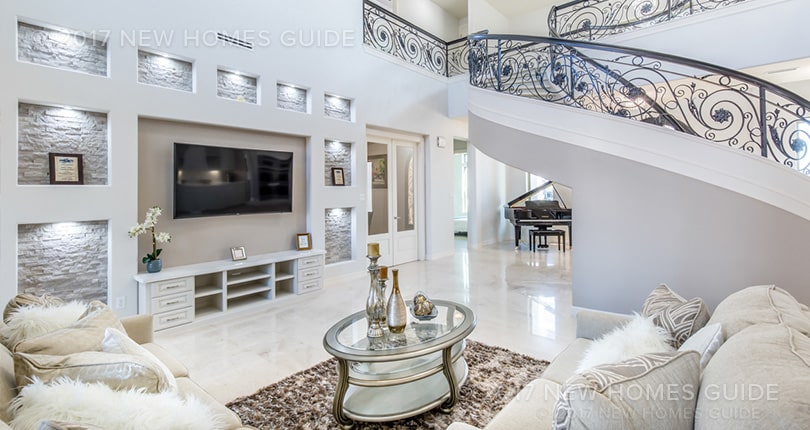 Home by
Innovative Construction
Featured home by Waldo Homes
---
© 2017 RGV New Homes Guide & Across Media Marketing, LLC.
Unauthorized use and/or duplication of this material without express and written permission from this site's author and/or owner is strictly prohibited. Excerpts and links may be used, provided that full and clear credit is given to RGV New Homes Guide with appropriate and specific direction to the original content.