4 Tips to Choosing the Right Community for Your New Home
Touring around on a beautiful day to check out local neighborhoods can be a lot of fun, especially if you are considering building or buying a new home. The Texas Coastal Bend has dozens of neighborhoods to choose from, each offering houses of different styles and sizes and with many great amenities. Whether you are looking for a starter home in a community with a pool, a large home in a community with lots of walking trails, or a resort-style home on or near the beach, there is a perfect community for you.
Understanding Different New Home Community Types
Is your heart set on a community with beautiful trees, a golf course, and exercise facilities? Do you want a neighborhood with extra security? Or are you looking for something that's perfect for young families with lots of features for kids? Thankfully, there are neighborhoods in our region that meet all of these needs. Figuring out which one is right for you starts with understanding the different community types available.
New home owners looking for the perfect fit for a family will want to consider selecting a community with basic features like local schools and medical facilities close by. You'll also want to look for features that were built with kids in mind, such as sidewalks, parks, and even swimming pools. These communities may also offer homeowner associations that organize local activities aimed at children, as well as Neighborhood Watch programs for added safety.
[bg_collapse view="link" color="#333333″ expand_text="READ MORE →" collapse_text="← READ LESS" inline_css="font-size: 13px" ]
For older adults, there are active communities with both large and small housing options and locally organized events designed to help you enjoy a lively and full lifestyle. These communities often include social clubs, fitness facilities, and programs aimed at seniors. Some even offer transportation to local cultural events for groups.
Luxury planned communities have even more amenities available exclusively to local homeowners. These can include private lakes for fishing and kayaking, exclusive golf courses, spas, and clubhouses, as well as security features that ensure only those with permission are allowed on the property. You'll feel safe and pampered inside one of these communities.
Living in a community aimed at your lifestyle means it will be easy to get the most out of your new home. Before you decide which type is right for you, enjoy an afternoon driving around and touring a few. Which ones feel like they match your hopes and needs?
Factors To Consider When Choosing A New Community
Now that you understand the different types of communities, you'll need to determine which one is the right fit for you. We've come up with some tips for how to choose the best neighborhood in which to build your new home.
[/bg_collapse]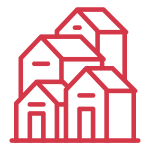 TIP #1 – SIZE :
Consider how much space you'll need—both inside and outside. Some communities offer smaller starter homes or townhouses while others have only larger properties. Think about the house and yard size you and your family will need, and look at communities that offer houses that fit within your current expectations.
• • •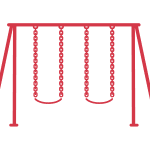 TIP #2 – DESIRED FEATURES:
Which of these amenities would you use and what value you would place on having them nearby? Many new communities are built outside urban areas and provide access to larger parks, nature preserves, golf courses, and water sport areas.
• • •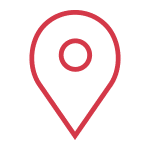 TIP #3 – LOCATION:
What features do you want nearby? If you have children, look at the school zone of a community – does it have the right schools for your kids? Consider whether your new home will be close to your job as well as your favorite shopping, church, and dining options. And don't forget to do a local search to find out if there are the right hospitals and medical providers such as dentists and clinics for your needs.
• • •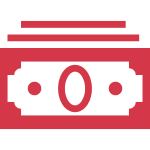 TIP #4 – BUDGET:
How much extra can you spend for amenities? Living in a planned community may involve paying monthly or annual fees for additional features. Some provide yard upkeep, caretaking for shared outdoor spaces, and management of community features such as fitness facilities and parks. This gives you extra time to spend enjoying time with your family, but it will add to your budget.
Once you have figured out which communities you think would be the best fit, you may want to spend time talking to homeowners who already live there. Get their insights on what it is really like to live there to help you determine if various features offer the value you think they will.
Remember, you are buying more than just a house; you are buying your family's home and neighborhood. This is where your children will make friends and memories, where you will sit down for dinner every day, and where you will walk down the street to chat with your neighbor. Make sure you choose the perfect community in which to build your perfect home.
• • •
The New Homes Guide has been a leading source of information for new home buyers for over 27 years. Today, in addition to being a quarterly publication distributed throughout the Rio Grande Valley, the New Home Guide publishes its content on the web and on social media platforms like Facebook and Instagram for the convenience of readers. Today's home shopper is a "digital shopper." According to a recent survey of homebuyers, 9 in 10 start their search for a new home on the internet, and over 80% use a mobile device. To keep up with this new breed of mobile, digital shopper, we at the New Homes Guide are proud to introduce a new member of our staff—Johnny Vasquez, The New Homes Guy.
Over the past few months, The New Homes Guy, has been visiting new home communities throughout the Rio Grande Valley from Rio Grande City to Brownsville, Texas. He's visited many new home communities with a huge variety of amenities. And there are so many amenities and/or options to choose from, such as location in a particular city; whether the neighborhood is gated or not gated; if it is near a park or community swimming pool; what are lot sizes; if there is a Homeowner's Association; are there building restrictions, etc. The list goes on and on.
The good news is that now you, our readers, don't have to spend your personal time and money driving to these communities to find one that's right for you. Here's where The New Homes Guy can save you time from scrolling and searching an endless sea of information, and can help you narrow your search. We've been compiling a growing list of new home communities. The New Homes Guide already features a FIND A COMMUNITY section that displays some of the area's newest up and coming communities in various price ranges and with a variety of amenities. With the addition of The New Homes Guy, we will be able to bring you live feeds from these outstanding communities, as well as featured blogs for more information. Our commitment to you is simple: we will bring you the latest developments and the finest building professionals in the Rio Grande Valley.
www.RGVNewHomesGuide.com will keep you up to date on the best builders, developers, vendors and suppliers, and everything you need to know about buying a new home. Look for Johnny Vasquez, The New Home Guy, on your mobile device!
The New Homes Guy, Johnny Vasquez, has been involved in the home building industry since 2001. He is a current feature in the RGV New Homes Guide's weekly LIVE Program "LIVE with the Guide" where he travels around the RGV looking for all the newest communities and furnished model homes. You can see a weekly update on our Facebook Page @RGVNewHomesGuide, plus, for a behind-the-scenes look and other homebuilding news from his perspective, check out @NewHomesGuy on Instagram. Builders and Developers: If you have a new home community, you can request a FREE listing in The New Homes Guide's online and printed maps. Contact Johnny Vasquez, The New Homes Guy at (956) 778-4254 today!
Tune In Every Thursday For A New RGV Community Live Video.