2022 RGVBA Parade of Homes Preview
The Rio Grande Valley Builders Association brings you a preview of the 2022 Parade of Homes scheduled for June 4-5 and 11-12. During these two weekends, some of the Valley's finest builders will open their homes to the public for viewing with no admission fee from 10am to 6pm during the Parade dates.
Use this Sneak Preview to plan your visits to tour some beautiful homes in the Valley. The Parade of Homes will showcase the latest in interior and exterior designs, including trending building materials and décor. Tour homes of all sizes, architectural styles, designs, and budgets in many new home communities in the Rio Grande Valley—covering McAllen, Mission, Edinburg, San Juan, and Brownsville.
If you are shopping for a new home or are thinking of buying one in the future, take advantage of the opportunity to speak individually with the builders and get a personal tour of their homes. At many of the homes, you will also be able to meet on-site mortgage lenders who will help answer questions and provide valuable financing information.
With so many homes to see, this Parade of Homes Sneak Preview will allow you to plan your visits more efficiently to find the home that best meets your needs. Remember to download the RGVBA Parade app when it becomes available to get information and driving directions to each home. The app will be invaluable since most of the home's addresses are new and may not appear correctly on Google maps.
Additionally, when using the RGVBA Parade app, you, as a Parade visitor, will be able to rate the homes you visit, and the collected ratings will determine the winner of the "People's Choice" award. Best of all, when you rate a home using the app, you will be entered to win a large screen TV or a pellet grill.
For more information, visit RGVBA.org or call (956) 686-2932.
6 Tips to Make the Best Out of the Event:

Download the "RGVBA Parade" App
to plan your route, rate homes, and participate in a flat-screen TV raffle:
Download for Apple and Android devices.
---

Pick up a Parade Guidebook at any of
the Parade Entries (available during Parade).
---

Confirm your attendance via our Facebook Event & be the first to know of any Parade updates
---

Remember to look for the official Parade Signs in front of the Parade Homes to find your way into the official homes!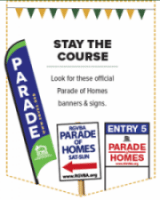 ---
Enjoy the Parade! This is an event that the Rio Grande Valley Builders Association brings to us for 2 weekends every year. So gather a group of friends or family members, plan your route, get some mocha frappes and cruise around the Valley making a stop at all 33 Parade entries. It's time to stop staring at those Pinterest boards and come see the real thing brought to life at the 2019 RGVBA Parade of Homes!