2019 RGVBA Parade of Homes Preview
The Rio Grande Valley Builders Association is pleased to present a preview of its 2019 Parade of Homes entries. This year's lineup includes 32 of some of the Valley's most beautiful homes built by the Association's builder members. We invite you to visit all the homes to see the newest trends, popular floorplans, styles, designs, and innovative materials on the market today.
The Parade will take place on the last weekend in April (27 & 28) and the first weekend in May (4 & 5). On these two weekends (Saturday and Sunday), the homes will be open to the public from 10 a.m. to 6 p.m. for viewing. Parade visitors will have an opportunity to visit with the builders and get a close-up and personal tour of their homes. Mortgage lenders and other industry professionals will be available at many of the homes to help with any questions you may have about the home-buying process.
The 2019 RGVBA Parade will feature homes of all sizes, styles, and prices in a variety of communities throughout the Upper Valley. With so many homes to see, the Parade preview in this publication and online is a valuable tool to plan your home visits so that you can make better use of your time.
A Parade app will also be available for download onto your mobile device from the app stores after April 10, 2019. With the Parade app, you will be able to get driving directions, home and builder details, photos and information on every home. While at each home, with the app, you will be able to give your feedback and register to win a large Flat Screen TV that will be given to one lucky winner at the end of the Parade.
6 Tips to Make the Best Out of the Event:

Download the "RGVBA Parade" App
to plan your route, rate homes, and participate in a flat-screen TV raffle:
Download for Apple and Android devices.
---

Pick up a Parade Guidebook at any of
the Parade Entries (available during Parade).
---

Confirm your attendance via our Facebook Event & be the first to know of any Parade updates
---

Remember to look for the official Parade Signs in front of the Parade Homes to find your way into the official homes!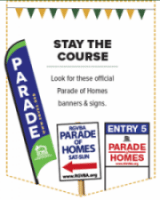 ---
Enjoy the Parade! This is an event that the Rio Grande Valley Builders Association brings to us for 2 weekends every year. So gather a group of friends or family members, plan your route, get some mocha frappes and cruise around the Valley making a stop at all 33 Parade entries. It's time to stop staring at those Pinterest boards and come see the real thing brought to life at the 2019 RGVBA Parade of Homes!